Chicago's signature dishes: La Madia & Riverview Tavern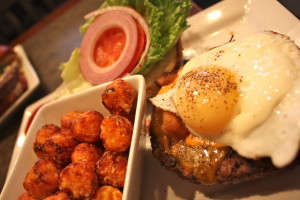 An inside look at a pair of standout dishes from two popular city establishments
By Trent Modglin
Riverview Tavern
1958 W. Roscoe
www.RiverviewTavern.com
Riverview Tavern, a long-time Roscoe Village favorite, got a much-needed facelift when the owners of Merkle's (Wrigleyville) and Bad Dog Tavern (Lincoln Square) took over this spring. With that facelift came a serious upgrade to a menu that is now as diverse as any. And their craft beer list borders on the r
idiculous, especially for IPA fans.
Oink-tweet-moo burger
The burgers, using only Angus or Kobe beef, are a staple at Riverview, and for good reason, considering all the creativity they put into them. Example: Our choice, after more deliberation than we care to admit, was the "Oink-Tweet-Moo." Yep, that's right. It's topped with sharp cheddar, smoked bacon, a fried egg, 1000 island dressing, lettuce, tomato and onion. It's difficult to put this experience into words, so we'll just add that the sweet potato tater tots are a nice complement.
Buffalo chicken pizza

My friend Mark said it best, suggesting that, "A lot of places are jumping on the buffalo chicken pizza bandwagon, trying to combine two things people love at bars, but it doesn't work very often. Here, it really does." No doubt. The ownership group also took over the former Robey Pizza Co. next door and have become masters of the thin-crust, Neopolitan-style straight from the wood-fired oven. Our choice was generously topped with buffalo sauce, grilled chicken, mozzarella, bleu cheese crumbles, ranch and red onion.
La Madia
59 W. Grand Ave.
www.DineLaMadia.com
Thoughtful, urban Italian may be the best description for La Madia, a River North gem that believes in the culinary philosophy that when simple, local ingredients are not only utilized, but respected, the flavors speak for themselves. The lunch, dinner and late-night menus are designed for sharing, which allows for more exploration of a menu that features 75 wines by the glass.
Shrimp risotto carnaroli
I am a fan of shrimp, in any form or fashion, and when I see shrimp combined with risotto, it's a virtual a no-brainer. La Madia's jumbo sautéed gulf shrimp are tempting enough on their own, but they become a perfect complement when paired with creamy local summer squash risotto carnaroli.
Housemade fennel sausage & sweet onion pizza

The core of La Madia's menu is Neapolitan-inspired pizza. Chef Jonathan Fox mixes his pizza dough a specific way, topping it with refined ingredients and then firing the pizza into a self-designed, wood-burning oven. The result of this process is a pizza that is chewy and flavorful while still maintaining a slight crunch. We chose the house-made fennel sausage pizza that arrived topped with sweet onions, tomato sauce and mozzarella cheese. It's delightfully simple, allowing the incredible fennel sausage to serve as the centerpiece. Right where it should be.