The Local Corner: Exploring the Grand and Noble intersection in West Town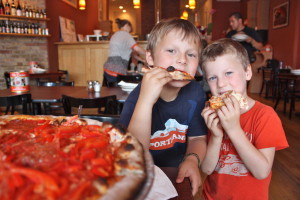 Your ads will be inserted here by
Easy Ads.
Please go to the plugin admin page to set up your ad code.
Exploring Chicago's neighborhoods, one street corner at a time
Featured corner: Grand & Noble in West Town 
By Nicole Weddington
Oggi Trattoria
1378 W. Grand Ave.
www.OggiTrattoria.com
From the grape lights and ivy vines to the murals on the wall, the décor in Oggi Trattoria will transport you to the vineyards of Tuscany. The Padilla family's home-made buns and secret recipe for their unique pizza sauce are just a few things that make this neighborhood gem so delicious. Pizza by the slice is available during the day and made to order. The restaurant carries a sizable selection of Italian and Californian wines, and the tiramisu is amazing.
Grand & Noble Wine & Spirits
1408 W. Grand Ave.
www.GrandNobleWineStore.com
Grand & Noble Wine & Spirits offers the neighborhood an alternative for craft beers, select liquors and uncommon wines. "We carry a choice selection of wine and spirits in a convenient location at an affordable price. My price range is 12 to 20 dollars," says owner Michael Zels. The store focuses on up-and-coming regions for its wine selections, like New Zealand and Argentina, and is proud to represent the Midwest with its beer selections. 
Green Grocer Chicago
1402 W. Grand Ave.
www.GreenGrocerChicago.com
This cute organic grocery store carries fresh produce, grains and frozen and canned food items, as well as a nice selection of alcohol. Everything in the store is either local or organic. "By next year, all of our store items will be anti-GMO, free of genetically-modified organisms," says manager Emma Roetzer. Part of the philosophy at Green Grocer is to educate their customers about the products they carry and impact the world in a positive way.
Pinky Nail Chicago
1400 W. Grand Ave.
www.PinkyNailChicago.com
This quaint salon (with additional Chicago locations) offers the most relaxing manicure and pedicure I've had in Chicago. Aside from the fact that the technicians are fast and efficient, the mani/pedi comes with four separate massages, including feet and calves, hands and forearms, and neck and shoulders. It has become a monthly ritual for me and is completely worth the money.
Your ads will be inserted here by
Easy Ads.
Please go to the plugin admin page to set up your ad code.
Coalfire Pizza
1321 W. Grand Ave.

www.CoalfireChicago.com
Coalfire Pizza is hands-down the best thin-crust pizza I've had in Chicago. The pizzas only come in one size and with one type of crust, but you won't hear any complaints. My favorites are the sausage pizza with local sausage made in-house and the white pizza with prosciutto and egg. "Our pizzas are made in a coal-burning oven and take roughly two-and-a-half minutes to make, so you don't have to wait long to eat," says server Erin Pintens. The family-friendly Coalfire also has some great drink specials like half-priced bottles of wine on Tuesdays and half off imported beer on Wednesdays.
Pasta Puttana
1407 W. Grand Ave.
www.PastaPuttana.com
For homemade pasta that is one of a kind and takes minutes to cook, look to Jessica Volpe's creations at Pasta Puttana. The owner and "Head Puttana" offers a plethora of flavored pastas like roasted squash, whole wheat and wild mushroom, "paying homage to the crazy family dinners" of her childhood. Allpastas are hand cut and made from scratch. Volpe's seasonal ingredients come from local farms, and her farm-fresh pasta can be found at Green Grocer Chicago, Green City Market and Whole Foods.
Upper Crust
1332 W. Grand Ave.
www.UpperCrust-Bakery.com
Sisters Dina and Giorgia Spentzos and Christina Intounas recently expanded their wholesale bakery to include a storefront café. Upper Crust now offers a variety of hot and cold sandwiches, salads, coffee and tea in addition to delivering its fresh baked goods all over the city and suburbs. "We love food," says owner Dina Spentzos. Try their tasty signature sandwich "The Leftover," made on cranberry walnut bread with turkey and swiss cheese from Dietz & Watson. The homemade yogurt with honey and granola is decadent, and breakfast sandwiches are made with fresh eggs beaten daily. The café also offers free wi-fi and parking and an adorable patio for those lazy brunches. Upper crust is currently open daily until 3 p.m. but will be expanding its hours shortly.
Your ads will be inserted here by
Easy Ads.
Please go to the plugin admin page to set up your ad code.