First Look: "Charlie Brown and The Great Exhibit" at the Museum of Science & Industry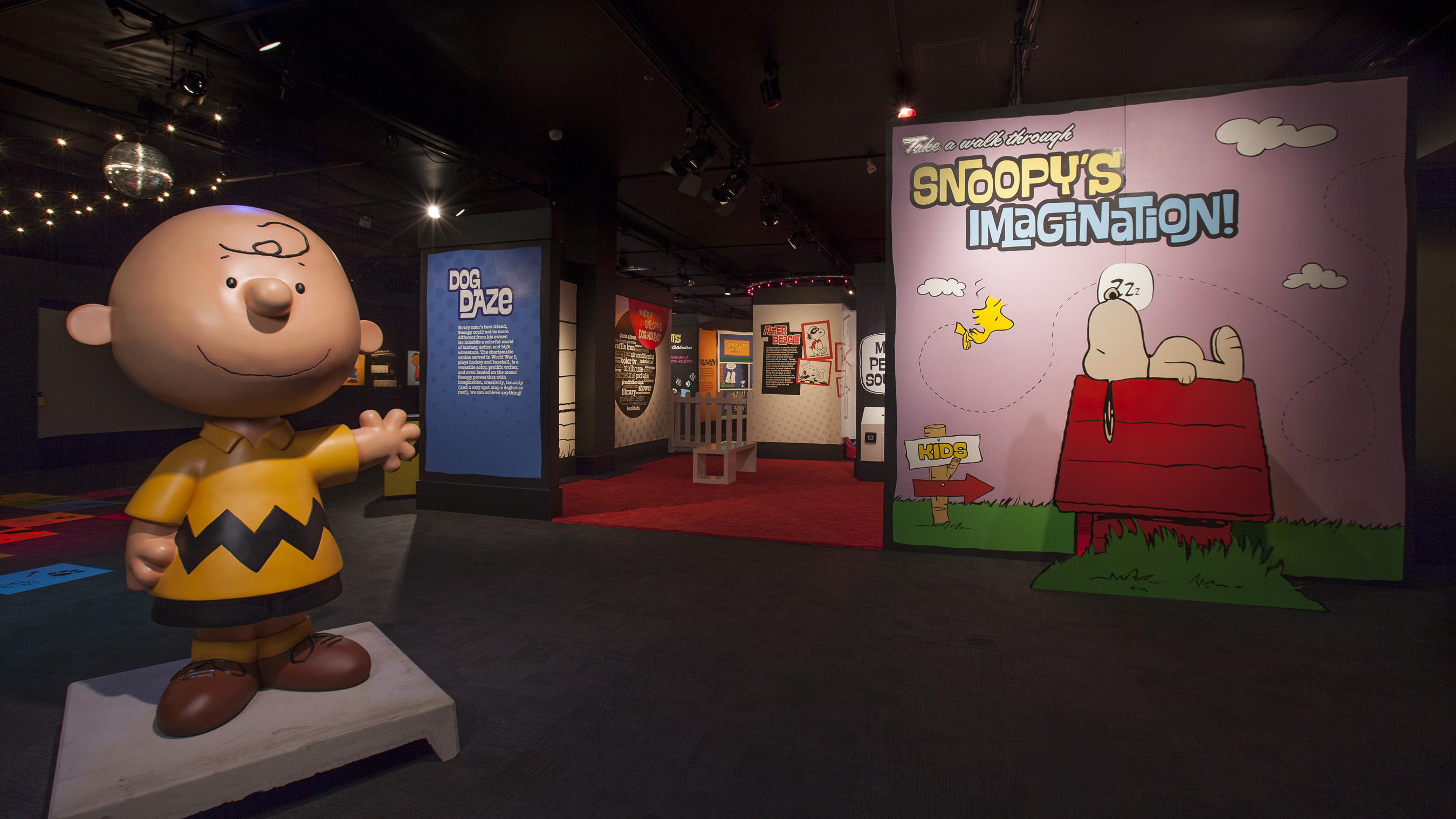 Charles Schulz's classic Peanuts cartoon characters take over the Museum of Science and Industry
By Zak Waltner
The exhibit: The Museum of Science and Industry and Charles M. Schulz Museum in Santa Rosa, Calif., have collaborated to bring "Charlie Brown and The Great Exhibit" to Chicago. The exhibit looks at the life and work of Charles Schulz, the creator and main inspiration behind the classic Peanuts comic strip.
Original cartoons, reproductions and Peanuts-related memorabilia (like an Emmy award and the Silver Snoopy pin that was worn in orbit aboard Apollo 10) allow guests to see how their favorite characters like Charlie Brown, Lucy and Snoopy have evolved over time.
Why check it out: Everyone knows Charlie Brown — he's the loveable loser we can all identify and sympathize with. This exhibit gives kids, young and old, the chance to visualize the progression of their favorite comic strip and characters and exercise their inner-Schulzian creativity.
"The exhibit is really hands on," Beth Boston of the MSI said. "There's a lot of interactive elements and
kids activities, as well as a great history of the Peanuts and Charles Schulz."
Activities include learning how to draw your favorite Peanuts character, a functional, oversized "Schroeder" piano, and Snoopy's Imagination Land for the young ones. There's even a chance to make a zoetrope and create some animation of your own.
There's a ton of Peanuts history on display, too. The exhibit will take fans on a journey from 1950, when the gang appeared in only seven newspapers, up until Schulz's retirement in 1999, when they could be found in more than 2,600 papers spanning 76 countries.
You'll also be taken on a tour of the holidays, Peanuts style. The most memorable strips from Halloween, Thanksgiving, New Year's Day, Christmas and Valentine's Day each have their own wall-sized display.
What stood out: The Great Exhibit makes a point of focusing on the man behind the drawings. The first part of the exhibit examines Charles Schulz the person, even showcasing some of his childhood effects.
And for the first time on tour, Schulz's personal studio in California has been recreated, and it is one of the coolest things on display. Complete with his photographs, sports equipment and art supplies, this part of the exhibit gives people an intimate look into the personal life of the beloved illustrator.
Did you know? In 1934, the Schulz family was given a black and white dog named Spike. The pup was incredibly intelligent, with the ability to understand about 50 words, and it would later become the inspiration for Snoopy.
Charles Schulz originally wanted to name his comic strip L'il Folks, but his first publisher insisted on the name Peanuts, a term of endearment for small children.
Schulz got the idea for the character Pigpen from a friend in Colorado who referred to his children by
strange names, Pigpen being one of them.
Exhibit information: "Charlie Brown and the Great Exhibit" at the Museum of Science and Industry runs through Feb. 18, 2013. The museum is open daily (excluding Thanksgiving and Christmas day), 9:30 a.m.-4 p.m., with extended hours until 5:30 p.m. offered Nov. 16-18, Nov. 23-25 and Dec. 8-9.
The exhibit is not included with the museum's general admission and requires an additional timed-entry ticket — $3 for children 3-11 and $5 for adults.
Museum of Science & Industry
5700 S. Lakeshore Dr.
www.msichicago.org