First Look review: "Jurassic World: The Exhibition" at the Field Museum is a fun, sophisticated blend of real-life science and cinematic wonder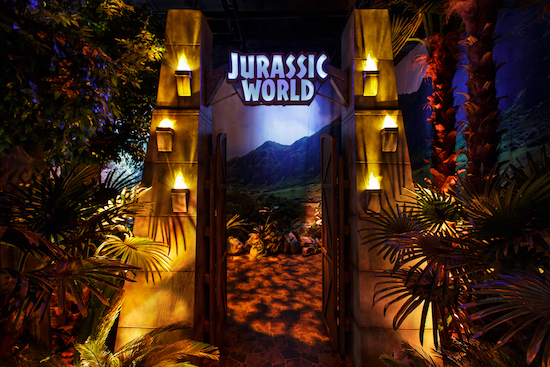 Your ads will be inserted here by
Easy Ads.
Please go to the plugin admin page to set up your ad code.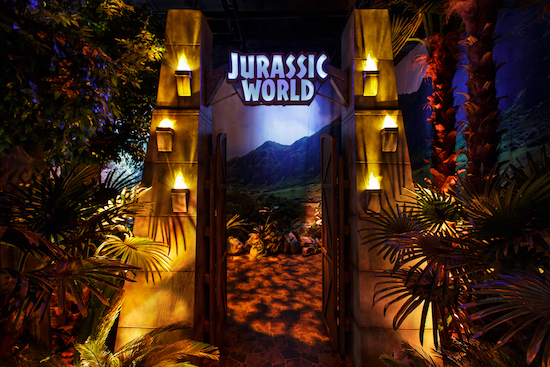 By Olivia Polony
Where: At the west end of the Field Museum of Natural History, (1400 S. Lake Shore Dr.), a boat waits to take visitors of all ages across rocky waters to an island where the wilderness is thick and dinosaurs roam. Running through January 7, 2018, Jurassic World: The Exhibition, based off the blockbuster hit movie franchise, Jurassic World, is open seven days a week from 9 a.m.-5 p.m., and 5-9 p.m. through Labor Day, with fall evening hours to be announced.
Ticket prices are $10 for children and $15 for adults for daytime entry (in addition to general museum admission) and $20 for children and $25 for adults for evening entry. For more information, visit www.FieldMuseum.org
What to expect: After passing beneath an arch boasting the definitive Jurassic World trademark, guests are greeted by a towering brachiosaurus sweeping its long neck over trees and giving onlookers a glimpse of the cutting-edge technology that lies ahead. Not only can visitors walk amongst vivid simulations of prehistoric beasts, but interactive opportunities also present themselves with stations where you can design and build your own dinosaurs, take educational quizzes and even measure the bite of a T-rex. Dinosaur fossils and bones, and even a large pile of dinosaur poop, are on display for visitors to examine as well.
Your ads will be inserted here by
Easy Ads.
Please go to the plugin admin page to set up your ad code.
The exhibit was developed in close collaboration with renowned paleontologist Jack Horner,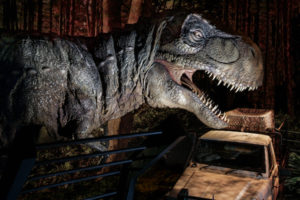 who served as an adviser on the movie series, and focuses on the real-world science of dinosaur DNA that allowed Jurassic World to come to life.
What stood out: Claiming to have the closest simulation of dinosaurs ever created, this exhibition does not fail to live up to that expectation. After marveling at a realistically moving and breathing Pachyrhinosaurus and witnessing a Velociraptor be vigilantly trained from behind an iron cage, the experience reaches a peak when, from out of the shadows, visitors come face to face with a jaw-dropping Tyrannosaurus rex standing more than 24 feet tall. From head to tail, these reproductions are carefully detailed and provide a rare opportunity for humans to experience what it would have been like to live among these creatures that walked the earth millions of years ago.
Final thoughts: You don't have to be a long-time Jurassic World fan to enjoy this exhibit. Though containing frequent nods to the film with actual scenes playing in the background and rooms that feature the Gentle Giants Petting Zoo and the glass-enclosed Hammond Creation Lab, this exhibition is designed to appeal to all audiences. It is a sophisticated blend of real-life science and cinematic wonder.
Your ads will be inserted here by
Easy Ads.
Please go to the plugin admin page to set up your ad code.