Cozy on up: We asked active Chicagoans for their favorite spots to warm up in the city this winter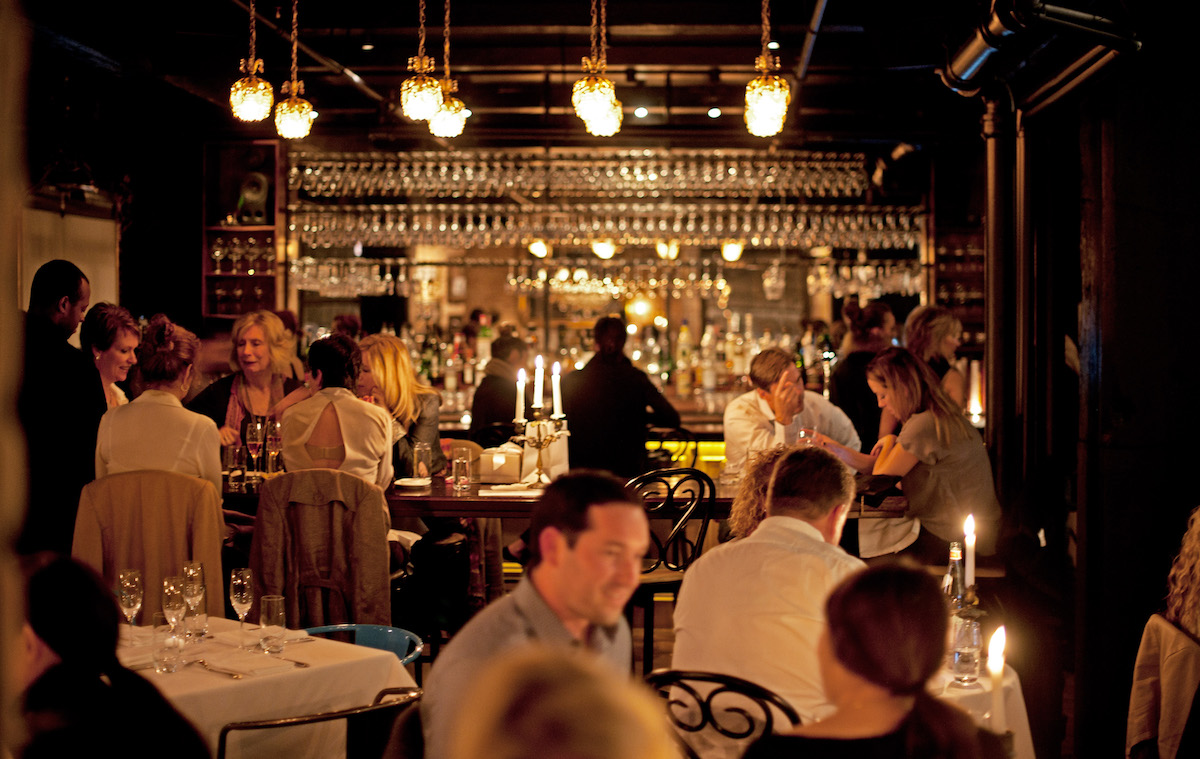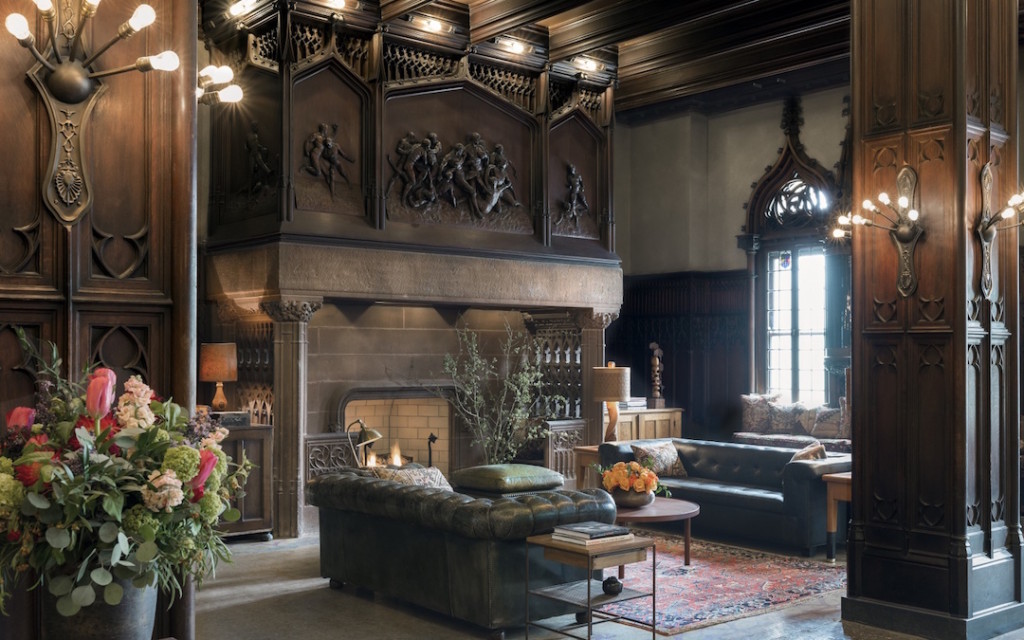 If you're looking to warm up after a skating session at Millennium Park's McCormick Tribune Ice Skating Rink, pop across the street to the new Chicago Athletic Association Hotel (12 S. Michigan). The Drawing Room on the second floor boasts three roaring fireplaces perfect for gathering. The extraordinary original German millwork covering the walls takes you back in time to the turn of the century. It's the perfect spot to grab a bite, sip an old fashioned and snuggle up by the fire.
— Krista Krauss Miller, concierge at the Chicago Athletic Association Hotel
Guthries Tavern (1300 W. Addison) is a great place to warm up with some fantastic brews and a great selection of board games on the wall. Particularly during the colder months, they have a great assortment of winter beers on draft. Expedition stout and Jenga, anyone?
Nestled into the ground floor of the classic Drake Hotel (140 E. Walton), Coq D'Or feels like a time warp away from the typical Chicago sports bar. Old-school charm includes a menu of classic cocktails and a lounge singer belting out Sinatra. If you're looking to stay awhile, ask an up-sized version of any drink by ordering "an Executive."
— David Nickell
One of the warmest places in Chicago is the Red Room in the Tortoise Club (350 N. State). The red walls will immediately make you feel warm and cozy. There is also a lovely fireplace that will take the chill off of any snowy night. Start with a bourbon-based Chicagoan cocktail and then choose one their delicious entrees, such as the pheasant pie or a big steak. You will be warmed to your soul.
Another favorite cozy spot is the Argo Tea in Connors Park (871 N. Wabash). It is housed in a glass building that resembles a greenhouse. It's great to sit around the fireplace and watch the snow fall. It's like a warm island in a wintery sea.
— Jan V. Viscum, concierge at Hyatt Chicago Magnificent Mile
One cozy place that I like to visit during the dark days of winter is Osmium Coffee Bar (1117 W. Belmont) in Lakeview. It has a unique but warm vibe, and the baristas are outgoing and play fun music. They have a creative menu, and the drinks are delicious. I love Starbucks, but Osmium is a really nice change of pace and a great spot to get some work done or catch up with a friend.
— Nikki Gaub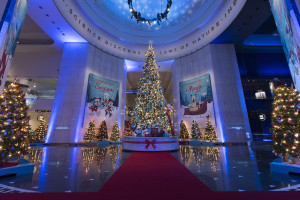 One of my favorite places to warm up around the wintertime is the Museum of Science and Industry (5700 S. Lake Shore Dr.). Yes, it's off the beaten path of downtown museums and holiday shopping spots, but it's definitely worth the trip. Every year they do the Christmas Around the World exhibit that features Christmas trees from all over the globe. It's really interesting to see how people decorate their trees in other areas of the world. The Museum of Science and Industry is one of my favorite museums all year round, but it really gives off that magical holiday spirit in the winter. When you're done at the museum, the surrounding neighborhood of Hyde Park is a great spot to view some neighborhood light displays, and there are plenty of fabulous restaurants in that area.
— Monica Reyes, concierge at The Wit Hotel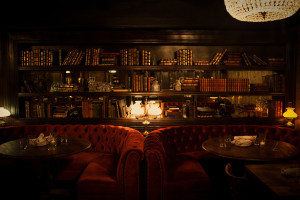 Getting around is an ordeal in the Chicago winter, so I choose one good spot and post up for the evening with a group of friends for a night of good conversation and a lot of laughs. One of my favorite spots to warm up is the downstairs "library" at Gilt Bar (230 W. Kinzie). Their sidecars and Manhattans are incredible, and the place looks like the set of Mad Men. When I'm there, I forget all about the freezing temps outside!
— Nicole Vasquez, TheShiftChicago.com
Mott Street (1401 N. Ashland) is the perfect place to go for a cocktail (or mocktail) and delicious food, especially in the heart of winter. The staff is not only friendly, but it is evident they know their food and libations and love what they do. Sit at the communal tables, or snuggle up at the cozy bar. Play it safe with familiar flavors or be a little more adventurous and try something such as the stuffed cabbage, which includes napa kimchi stuffed with pork butt and sticky rice, then pan seared. It's hard to leave this place without a full and satisfied stomach.
Alliance Bakery (1736 W. Division) is a well-known neighborhood bakery and a great place to escape the cold for a treat and some coffee. Attached to the bakery is a cute and quiet space where you can study, read or simply relax, indulge and keep warm.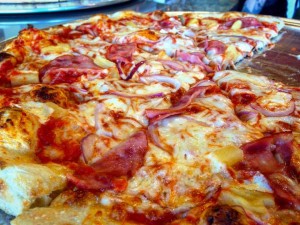 Craft Pizza (1252 N. Damen) because, as a born and raised New Yorker, I love pizza. Nothing feels more like comfort food or home to me than a great slice of pizza. You cannot go wrong with any of their selections, but I would highly recommend the seasonal option. I was so happy to find this amazing restaurant and quickly became a regular along with my husband and son. They certainly get bonus points for being BYOB and having the kindest staff in the city.
— Meghan Johnson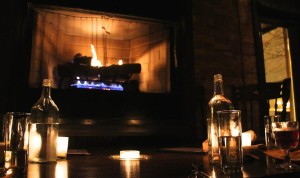 As a gin drinker, Scofflaw (3201 W. Armitage) had been on my list for a long time. Once I finally made it, I was very pleased to find an intimate and inviting atmosphere with a fireplace for cozying, couches for snuggling, and a fantastic rotating menu of cocktails and snacks. Pro tip: Plan your visit a little late in the evening and enjoy a free, freshly baked chocolate chip cookie, served to all customers at midnight.
— Mary Krupka
What's more cozy than a fireplace? Sipping champagne next to the fireplace at RM Champagne Salon (116 N. Green) is all sorts of perfect. Flickering candles, bubbles, getting toasty in more ways than one… that's a perfect cozy evening to me. Chowing down on a their burger doesn't hurt either.
Another thing I find equally as cozy as a fireplace is copious amounts of red wine. I could sit at the bar at La Sardine (111 N. Carpenter) for hours (especially on Mondays because bottles of wine are half off). I don't leave until my lips are 50 shades of purple and my frites-coma kicks into high gear.
— Kara Lichtenstein, President of Hungry Social/@HungryInChicago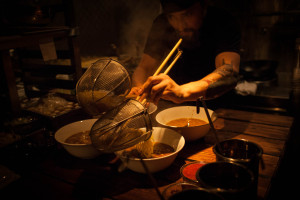 What better way to warm up in this cold weather than with a nice bowl of ramen? High Five Ramen (112 N. Green) is a tiny little restaurant located just underneath Green Street Smoked Meats in the West Loop. The space is dark and cozy and only has 16 seats. You just sign your name in and have a drink at the bar upstairs while you wait. The half-spice ramen is just enough spice for me, but if you're feeling brave enough, you can always go full. The alkaline noodles they use are thick and chewy with a great texture. The broth is spicy and delicious! Overall, this bowl of ramen is definitely satisfying to the soul.
The library bar is a hidden gem at Gilt Bar (230 W. Kinzie). You walk downstairs and there is a hidden door in the hallway that leads to the library. The ambiance is dimly lit with red-velvet plush booths, candles and bookshelves throughout. It's cozy and also perfect for a date night. The cocktails are incredible; I highly recommend the Southside. It's refreshing with gin, mint, lime and egg white. Also feel free to indulge in one of their simple yet incredible desserts — opt for the decadent chocolate cake or indulge in the carrot cake.
— Gertruda Popinara, concierge at Hotel Allegro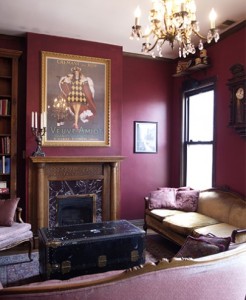 The Bourgeois Pig (738 W. Fullerton) coffee shop — I love the vibe in this simple yet classic coffee house. There are two levels, with the upstairs mimicking your great-grandparent's house with several rooms that contain soft couches, old wooden floors and dusty books on the shelves. The variety of warm drinks, pastries and an extensive sandwich list will meet you needs for any time of the day. Whether it's to relax solo, meet up with friends or study for that exam, this is the right spot for you!
One of my favorite winter bars to hang out in is Guthries Tavern (1300 W. Addison). Everything is just right: the lighting, the drinks and the coziness. This bar provides guests with an extensive game board selection to play with your friends on a cold night while throwing down a cold IPA; it takes you back to the good ol' days. Monopoly anyone? Although there is no food, there are plenty of menus floating around to order in. And if you're lucky, the tamale guy may be walking around selling some fresh ones!
The Elephant and Castle (185 N. Wabash) is a city favorite in my opinion. Quality beers that'll warm you up and some bangers and mash — this Irish establishment will bring in the winter season with a smile. If it's cold outside, enjoy the warm fireplace and the extensive food menu that will satisfy almost any appetite. And being so close to the CTA makes it easy to keep your car parked at home and enjoy some spirits.
— Debbie Podmore
The recently renovated Osteria La Madia (59 W. Grand) offers rustic woods, a fireplace in the lounge area, an oval bar with great craft cocktails, communal-table seating and wines on tap. You can belly up to the open kitchen counter and watch the wood-burning oven cook delicious Neapolitan-inspired pizzas. Great cozy spot for Sunday brunch as well. Tip: Try the wine of the week.
When in River North, warm up with ‪made-to-order, Parisian-style hot chocolate at Firecakes Donuts (68 W. Hubbard). Chef Fox balances Belgian bittersweet chocolate with organic milk, a touch of vanilla and cane sugar. This delicious, decadent drink is topped with a housemade Tahitian vanilla bean marshmallow. ‬Firecakes' hot chocolate ‪pairs perfectly with their array of handcrafted, small-batch donuts. A Lincoln Park location (just steps from Lincoln Park and the Zoo) is opening soon.‬‬
III Forks (180 N. Field Blvd.) has multiple fireplaces, serene city views that overlook Millennium Park, rich tones and cozy leather banquettes. Host a dinner party in an all-glass wine room or surround yourself with friends by the fire in the poker room. Sommelier-selected wine, 42-day aged prime steaks, fresh seafood and comfort food favorites.
— Britt Roehm