Good Eats at Weber Grill: Sizzling steaks, barbecue and seafood over an open grill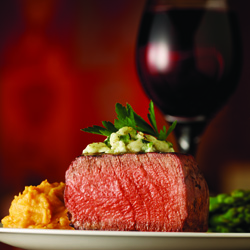 Sizzling steaks on a charcoal grill, scrumptious down-home barbecue, even great seafood and pizza 
WHERE YOU'LL FIND IT
539 N. State in the River North neighborhood. (312) 467-9696. www.WeberGrillRestaurant.com
WHEN IT'S OPEN
Breakfast: Mon.-Fri. 6:30 a.m.-10 a.m.; Sat.-Sun. 6:30 a.m.-11 a.m.
Lunch: Mon.-Fri. 11 a.m.-4 p.m.
Dinner: Mon.-Thurs. 4 p.m.-11 p.m.; Fri 4 p.m.-midnight; Sat. 11:30 a.m.-midnight; Sun. 11:30 a.m.-11 p.m.
FIRST IMPRESSIONS
Upon entering, you'll find Smoky Joe's, a cozy, fun restaurant bar that is perfect for the pre- or post-dinner drink. … To the left is the long, skinny main dining room with a bustling, open kitchen and a line of actual Weber grills sizzling just a short distance away from booths of onlookers. Spacious, comfortable dining rooms with booths and tables of various sizes lie at both ends of the kitchen area, creating a supper club-like environment. … The wonderful smells from the grills are intoxicating, even from the street.
THE ATMOSPHERE
There is an unmistakable energy to Weber Grill, no doubt created by a combination of the open kitchen and the general anticipation that comes with awaiting a meal grilled to perfection by experts, as opposed to a novice neighbor or uncle in the backyard. … Fun, relaxed vibe, with the crowd generally a diverse mix of families, groups of friends and business dinners. … Some suits, but mostly a casually dressed crowd.
MENU VARIETY

A stellar list of eight tempting appetizers like a barbecue sampler or grilled chimichurri shrimp will start you off right. Flatbread-style, grill-fired pizzas are a big hit, and the entrée salads like the smoked salmon
Caesar or the Asian sesame chicken are impressive enough to account for an entire meal. Burgers, chops, steaks, chicken, seafood and barbecue — Weber Grill has it all. The beer-can chicken is a particular favorite, consisting of a half chicken roasted with garlic, beer and Weber signature spice rub. Feel free to combine two or three barbecue items on one platter (spicy Carolina pulled pork, beef brisket, etc.), and save room for sides like whipped sweet potatoes, bourbon baked beans or grill-roasted seasonal vegetables.
WHAT WE DID DECIDE ON
Our stomachs were rumbling just from the sights and sounds of the place, so we jumped on two appetizers: the fire-roasted artichoke and spinach dip and a heaping plate of onion curls with spicy mayo and BBQ dipping sauces. We all agreed that grilling the pita chips is a nice touch, providing a unique smokey
flavor. The hearty beer-can chicken chili was loaded with pulled chicken, beans, celery, onion and spices (including a hint of curry). … For entrees, the rack of ribs hung off the huge plate and were so meaty and succulent, they easily slid clean off the bone and were served up with baked beans and cornbread. … The featured fish of the day was a rich and flavorful crab-and-spinach-stuffed trout, topped with a garlic shrimp and tomato sauce and served with garlic mashed and a spear of grilled seasonal vegetables. … The light, fluffy tilapia was breaded with parmesan, herbs and lemon butter and came with vegetables. … The hand-cut, eight-ounce filet mignon was aged 21 days before it arrived at our table. … As if we needed it, for dessert we went with the "Trio of American Classics," consisting of Big G's warm Dutch apple pie, a double chocolate bundt cake and a key lime cheesecake with Graham Cracker coconut crust. It's every bit as delectable as it sounds.
SOMETHING THAT CAUGHT OUR EYE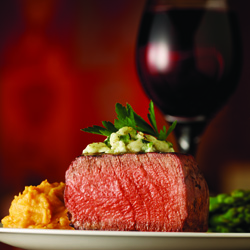 On a return trip, it might be difficult to avoid a BBQ combo of some kind, as it all looked rather enticing at a neighboring table. … The waitstaff moves quickly to bring your food at the peak of its readiness, which is a big deal when it's being cooked over flames like this. … You can be part of the active kitchen-front dining room, or choose a quieter side room if you value conversation more than watching the chefs work. Always nice to have options.
"The novelty of having a meal cooked on the monster grills makes for a unique dining experience, all in a fun, supper club-like environment."
— DAN OCHWAT, Chicago
"I love the wide variety of the menu. When you think  Weber Grill, you assume you'll find mostly steak. But non-beef eaters will have plenty of tasty options to choose from."
— JESSICA SEDGWICK, Chicago