Chicago's Signature Dishes: Chicken and waffles and a barbecue platter at Pitchfork; Chocolate chip wonton and grilled pork chop at Matilda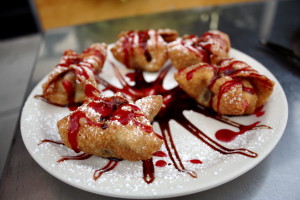 Your ads will be inserted here by
Easy Ads.
Please go to the plugin admin page to set up your ad code.
An inside look at a pair of standout dishes from two popular city establishments
By Trent Modglin

Pitchfork

2922 W. Irving Park
www.PitchforkChicago.com
Pitchfork, the newest establishment from the folks behind popular bars like Waterhouse and Rebel, is a whiskey and barbecue establishment in the old Irving Park neighborhood.
Chicken and waffles
Fried chicken and waffles seem to be all the rage these days, but few places do the Southern-inspired combination better than Pitchfork. They fry up cornflake-and-rosemary-crusted chicken tenders, put them on soft Belgian waffles and then smother all that goodness in maple butter. Tell me you can't smell that right now?
BBQ teaser platter
Pitchfork boasts that the BBQ teaser platter represents "a taste of it all," and that's exactly what it is. A mix of tender BBQ beef brisket, pulled pork and Pitchfork's award-winning ribs, all served up with flaky buttermilk biscuits to create that perfect Southern sandwich. We were already big fans of the fall-off-the-bone ribs, and this platter allows you to cure that craving while dabbling in their other specialties at the same time. Don't feel embarrassed to ask for extra napkins.
Matilda
3101 N. Sheffield
www.Matilda-BabyAtlas.com
Your ads will be inserted here by
Easy Ads.
Please go to the plugin admin page to set up your ad code.
Matilda is a fun, eclectic staple for good food and drink in the Lincoln Park neighborhood. Some bars have good food. Matilda has great food, made from scratch.
Chocolate chip wonton

At Matilda, sometimes you can take what you think you know about your typical, sweet, after-dinner experience and toss it out the window. For instance, take chocolate chip cookie dough, wrap it around a fresh raspberry and then flash fry it in a crispy wonton wrapper. Finish it off with a light drizzle of chocolate sauce, powdered sugar and raspberry sauce. Brilliantly creative. Possibly addictive.
Grilled pork chop
On a visit to Wisconsin a few years ago to visit his in-laws, Matilda owner Kevin Abercrombie took a break to taste-test pork chops. A lot of pork chops. "I couldn't find a cost-effective meat market here in the city, so we ended up finding this place off the beaten path in Wautoma, Wisconsin… a three-stoplight kind of town," Abercrombie says. "People flock to this place to see Otto. Otto the butcher." The result of the visit to see Otto: Big orders of smoked pork chops an inch-and-an eighth thick, bone-in for extra flavor, and dusted with a combination rub of black pepper, brown sugar and chili powder. It's complemented with a cheddar baked potato and blend of steamed vegetables. Not surprisingly, it's one of the favorite entrees at Matilda.
Your ads will be inserted here by
Easy Ads.
Please go to the plugin admin page to set up your ad code.