We Ask, They Answer: Q & A with former E.T. star Henry Thomas about early stardom, Brad Pitt and filming in Chicago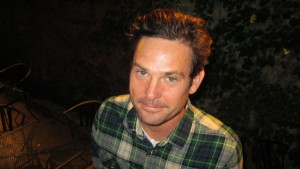 The Real Chicago sat down with the former E.T. star to discuss filming his new TV show in Chicago, working with Brad Pitt and Daniel Day-Lewis, and finding stardom at an early age
By Nicole Weddington
In 1982, when Henry Thomas was 10 years old, he landed the role as the adorable Elliott Taylor in Steven Spielberg's blockbuster E.T., a film that won him the Young Artist Award for Best Leading Young Actor in a Feature Film. E.T. held the record as the highest-grossing film of all time for 10 years after it was released, surpassing Star Wars and holding the title until Spielberg's Jurassic Park usurped it in 1993.
Thomas is all grown up now, and his new TV show Betrayal has brought him to the Windy City for filming.
Henry sat down with The Real Chicago to talk about his childhood, filming a show on ABC and what it's like to work with Daniel Day Lewis.
Q: Tell me about your new show.
A: It's called Betrayal. It's on ABC on Sundays at 9 p.m. It's set in Chicago, and it's about these two married people that have an affair with each other and their lives beyond that and how they're connected. You follow this affair into the world of this powerful family in Chicago, the Karsten family. I play T.J., Thatcher Karsten Jr. I am the son of the wealthy man that runs Chicago in our story. He's a construction guy played by Jamie Cromwell. He's one of the most powerful men in Chicago. And he probably came to power through dubious means and crooked ways at some point in his past. I play a mentally disabled guy. He was in a car accident that left him brain damaged. It's a bit of a nighttime soap [opera].
Q: How did you originally start acting?
A: Well my dad was a trumpet player, and from the time I was three, he was trying to get me to play the trumpet. I was in piano lessons from the age of six. When I was about seven and a half, my piano teacher — her name was Miss Smiley — said she did the music for this local theater group and they did plays for the museums. She used to make me sing when we played the piano and she said that I had a good voice and should sing for this play she was doing. S
o I said, "OK, I'll do it." So I did this play where I was a newspaper boy. And I basically had to come out between acts and sing, "Extra! Extra! Read all about it. Songs for sale. Songs for sale."
So I had a few weeks of doing my bit, and by the end of it, I was pretty much over my stage fright. I really liked doing the play because the only kind of performance stuff I had done before that was music. And music always freaked me out when I was a kid because my dad was always on me to have a better tone and be technically better as a trumpet player, so I felt like when I was acting, I was totally free. I could do anything that I wanted to because even if the director told you to do something a different way, you were still in control. 

Q: What was it like for you after you were cast in E.T.?
A: Everybody wanted me in their movie. I was the archetypal kid for every movie. I was super famous for about a year. As a child, it scared the hell out of me. You're regarded as an oddity and a spectacle instead of a human being. That's the worst way you can feel as a pre-teen.
Q: Legends of the Fall was the biggest film of your adult career. Were you irritated you got killed off so quickly?
A: I kept trying to convince the director to let me survive. I would tell him, "I think it would be more sad if Samuel comes back from the war, and he almost comes over the hill and has made it back to the farm, and then all of a sudden his horse throws him and he hits his head on a rock and dies right there at the house. Wouldn't that be bette
r?" He would laugh and say, "No, Henry."
Q: What was Brad Pitt like?
A: He was great. He was a very amicable guy, really nice. No pretense. We played guitar a lot and hung out on the weekends at bonfires at this house. We'd all sit around and play songs. It was a lot of fun.
Q: So around that time, you started a band in Texas?
A: I started a band in the early '90s in San Antonio. We were called the Blue Heelers. We used to gig around San Antonio and Austin and all these little towns in between. We had bluegrass instrumentation. We were kind of folk rock, but in a time that folk rock didn't exist properly. Now we would be compared to Mumford and Sons.
Originally, I wanted to start a traditional Irish folk band with some friends of mine, but none of us were actually Irish, so none of us had a good grounding in folk tradition other than country music, rock and punk rock. So what ended up happening was that the song writing was kind of like Bob Dylan and the music was more folky. We would put folk elements into rock songs. I write songs, so usually I play and sing. I'm happy not to sing, but usually it ends up happening. I don't know if I ever really like the way I sing that much, but it works for what I do. I can express myself pretty well like that, so it's OK.
But I think my voice has gotten more interesting over the years. I can sing pretty high, but I'm more of a middle-of-the-road guy. It's mostly just a sound rather than a specific tone that I go after. My voice just takes care of the melody, and I do everything else on the guitar. I don't like just playing by myself anymore. I like to have a band.
Q: Gangs of New York is one of my favorite movies. What was it like working with Daniel Day Lewis?
A: He was great. He was always in his character to varying degrees. But he never dropped the accent the whole time.
Q: Was that weird?
A: I think it would be weird if I was doing it. But somehow since it's Daniel Day Lewis, it's OK. You kind of forgive him because he's sort of a genius. So, let's allow him his eccentricities. We filmed in Rome. It was fun being there. I was there for about a year. I stayed after the film was over and kept living there because it was so awesome.
Q: What were your first impressions of Chicago?
A: It's amazing to feel like you're in a friendly place. You walk down the street and you can strike up a conversation with anybody.
Q: What do you think about the food in Chicago?
A: I love the Italian food in Chicago. It reminds me of Rome. I like to cook.
Q: So what's next for you? What other projects are you working on?
A: The last thing I worked on in L.A. before Betrayal is a film called Big Sur. It will be out in November of this year. Michael Polish directed it. That was fun. We shot in San Francisco, and I played Philip Whalen. He was a beat writer, a contemporary of Kerouac's. He also was the guy that brought Zen Buddhism to San Francisco. He created this Buddhist temple there. It's with Jean-Marc Barr, Kate Bosworth and Josh Lucas. It has a lot of good people.