Shop around the corner: Penelope's, Greenheart, Hollywood Mirror, Windward Boardshop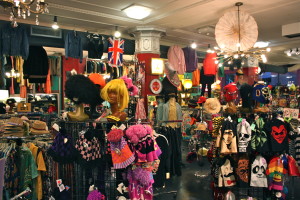 Browsing Chicago's trendy, unique neighborhood stores and boutiques
By Nicole Weddington and Zak Waltner
Penelope's
1913 W. Division
www.ShopPenelopes.com
Looking for some new digs with a worn and vintage feel to kick off the fall season? Penelope's in the East Ukrainian Village opened in 2002 with the aim of bringing young and under-represented designers to the neighborhood.
"We like to think of ourselves as classic American sportswear that is contemporary and colorful," says
assistant manager Lauren Young.
A hipster's paradise with an extensive collection of flannel shirts and man bags, this little gem also showcases a solid collection of accessories including funky socks, cool wallets, hats, purses and much more. The variety of clothes ranges from casual t-shirts to eveningwear. The store is a great place to pick up a discounted dress as summer ends and grab that lightweight hoodie for the beginning of fall at the same time.
There are always sales with items for both men and women that expand at the close of every season and a small section of paper items features unique stationary and reading material. Complete your outfit with a pair of their choice selection of shoes, as well as some unique jewelry made by local artists.
Greenheart
1911 W. Division
www.GreenheartShop.org
Greenheart is a unique gift shop with a green agenda. With a mission of being fair to its producers while being good to the earth, the shop boasts that their artisans are paid a fair wage in safe working conditions and support eco-friendly, sustainable production methods.
The jewelry section is amazing with a line made of recycled butterfly wings. The store also contains a plethora of home décor, including many items made out of recycled materials. For example, find a wall hanging made from recycled oil drums from Haiti and a clock made from a bike chain. You can also find practical gifts like an iPhone back made with recycled skateboards and a bag made of recycled upholstery.
"All of our products are either eco-friendly, fair trade or come from a social enterprise," says assistant manager Katherine Blecha.
Help a homeless woman get back into the workforce by buying a candle or benefit a youth arts program when you buy the local co-op hot sauce. The store even carries animal-friendly paper that provides a sanctuary for elephants by selling their poo. Now that's a one-of-a-kind gift that will make you feel good about where your money is going.
— Nicole Weddington
Hollywood Mirror
812 W. Belmont
www.HollywoodMirror.com
Are you in the market for a Coca Cola clock, Star Wars figurine or retro leather jacket? How about a clown wig, Hawaiian shirt or Bulls jersey from the 1990s championship run? Well, don't waste your time going to a handful of specialty stores to find the items on your incredibly strange and superfluous list. Simply stop into Hollywood Mirror and have your thirst for the unique and vintage sufficiently quenched.
Being the only location of three outside of Japan, Hollywood Mirror brings its unique blend of fashion and fun to Chicago's Lakeview neighborhood. From trinkets, to Japanese-inspired clothing and even household and baby items, this is a store that truly offers something interesting for everyone, especially in the weeks leading up to Halloween.
"A lot of people see some of our displays out front and think that we're just a costume store, but we have much, much more than that," says Celeste, the manager. "But we do have a pretty good selection of costume stuff."
If you have an off-the-wall item or gift you've been scouring the city for, or are simply looking for a funky store to browse on a weekend afternoon, Hollywood Mirror might be just what you're looking for.
Windward Boardshop
3317 N. Clark
www.WindwardBoardshop.com
Whether your passion leads you to the slopes, waves or skate park, chances are you'll be able to find what you need for your next excursion at Windward Boardshop. Fans of board sports have been going to Windward for decades — three to be exact, as the store is celebrating its 30th anniversary.
Located on Clark Street just a few blocks south of Wrigley Field, Windward Sports started in 1982 when
Lester Zalewski quit college and took out a loan with a goal to expand the windsurfing community in Chicago. Eventually, the store expanded with gear for snowboarding, skateboarding and inline skating. The city's original board shop was reborn with a total renovation in 2010 that included new ownership and a renewed passion.
"Be part of something bigger, that's a motto we have around here," co-owner Jess Bell explained.
The store has all you'll need to start shredding the terrain of your choice and look good doing it — from a full selection of surf, skate and snowboards (and all their essential components) to a wide array of clothing and accessories that cater to the board sports culture.
— Zak Waltner