First Look review: "Bye Bye Liver: The Chicago drinking play"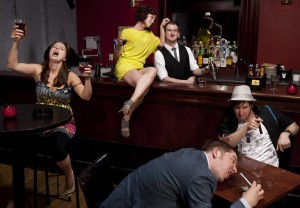 Your ads will be inserted here by
Easy Ads.
Please go to the plugin admin page to set up your ad code.
Part sketch comedy, part late-night party, BBL exposes some hilarious drunken scenarios
By Nicole Weddington
Playing at: The Pub Theater Cabaret inside Fizz, 3220 N. Lincoln Ave., every Friday and Saturday night at 8 p.m. and 10 p.m.
History: Starring Chicago comedians Aaron Ellsworth, Sherra Lasley, Jeff Strickland, Michael Barton, Tim de La Motte, Josh Dunkin and Danielle Wheeler, "Bye Bye Liver: The Chicago Drinking Play" is bringing joy to our city one shot at a time. Artistic director and owner of The Pub Theater Company, Byron Hatfield, wrote BBL six years ago and cast his college friends Josh Dunkin and Michael Barton, of the
esketch-comedy troupe NASNNIP (Not Always Shakespeare, Not Necessarily In the Park), a group founded by the three friends in Murfreesboro, Tenn. The play has since expanded to four cities across the Midwest, and its contributors are determined to bring Chicago-style sketch comedy to all parts of the globe.
Basic storyline: More of a loose outline than a storyline, the play consists of six performers led by the narrations of "The Bartender," "The Waitress," and "The Piano Player." BBL entails a series of sketches about the hilarious pitfalls of drinking while engaging the audience in social toasts, games and songs. "We are not only performing a sketch show, but we are also hosting a party," says Ellsworth. "We want pure laughter." From the girl that should not drink liquor to the awkwardness of a 4 a.m. hookup, no drunken scenario is left untouched.
Your ads will be inserted here by
Easy Ads.
Please go to the plugin admin page to set up your ad code.
What to expect: Be prepared to witness anything you would see at a bar, including cussing, drinking, sexual references and other debaucheries.Listen to the quirky keyboard player taunt the comedians with his renditions of such songs as "Two pumps and done" and "Whiskey dick." You might even get named as the audience member of the hour, ak
a "Party Face," and be called out for the entire show. Be on the lookout for every Chicagoan's late night hero, the tamale guy, being roped into a session of couples' therapy when all he wants to do is sell his tamales.
Final thoughts: I laughed so hard, I literally cried watching Ellsworth's infiltration of the girls' bathroom dressed as a woman acting drunk, and then her undeniable craving for Denny's Grand Slam in the morning. I would recommend this play to anyone who likes to have a good time and is not easily offended. It will be particularly funny to anyone who has ever worked at a bar, especially a 4 a.m. bar in Chicago. Cheers!
Visit www.ByeByeLiver.com/chicago/ for more ticket information.
Your ads will be inserted here by
Easy Ads.
Please go to the plugin admin page to set up your ad code.