The Chicago Insider: Nikki Borkovich on dinner at Volo and frozen custard at Scooter's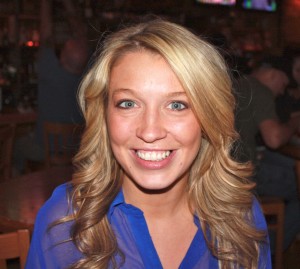 Ever wish you had an active local's opinion on how best to enjoy your own city? We have too, so here are some answers
Nikki Borkovich
How long you've lived here: About five years.
What you like best about Chicago: The different neighborhoods. Roscoe Village is like the suburbs in the city, but a completely different vibe is only 10 minutes away.
Best meal you've had recently: I went to Volo a couple weeks ago, and we pretty much ordered one of everything. The small plates are amazing. Even things like the game pate, which I never would've ordered by myself, were delicious.
Favorite big-name restaurant: Melting Pot. Delicious, and it's an interactive experience. You just have to be ready to smell like it when you leave.
Favorite "hidden gem" restaurant: Turquoise on Roscoe. It's Turkish food. I have yet to try one thing there that isn't to die for. 
Best sports bar to catch the game: Waterhouse. Always a good sports crowd with a neighborhood feel.
A great night out with friends usually includes… bouncing around to different bars, photo booths and too many shots.
Favorite store or best shopping area: Kiz Chicago on Damen & Division. Great boutique for women with the best accessories in the city.
The best way to spend a fall Saturday in the city: Getting a pumpkin-spice latte and walking around shopping. I usually hit up the pet boutiques like Sam & Willy's or Dog-A-Holics.
One thing every visitor must do here: Go to Wrigleyville during a Cubs game. It's always such a fun, ridiculous atmosphere. I like to show visitors that there's awesome sightseeing that's not downtown.
Secret Chicago spot: Scooter's frozen custard. Maybe it's not that secret. I grew up on frozen custard from a little shop, and Scooter's is the only place that compares. I could eat just the chocolate custard every day. Add caramel and bananas and it's over.
Underrated activity in the city: Any outdoor free venues. Movies, music, anything outdoors.