Shop around the corner: Fresh, unique art and apparel make it difficult to just window shop at Arts & Artisans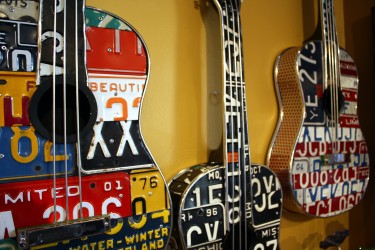 By Patricia Hall
If you thought you wouldn't be able to afford that one-of-a-kind piece of art for your home, you couldn't be more wrong. For almost 20 years, Chicago has been home to Arts & Artisans stores, showcasing a wide variety of hand-crafted art from all over the country.
"We are always seeking out existing and emerging artists with fresh,
innovative looks, great quality and affordable pricing," says owner Amy Hoffman, who attends several buying shows throughout the year.
I could tell as soon as I walked in that this is not your average gift shop. Between the wall art, glass décor, jewelry and apparel, I wasn't quite sure where I wanted to start — so I headed straight for their new merchandise.
My favorite in the new line had to be the guitars made from vintage license plates. Who would ever think to recycle license plates and then make something so cool out of them? Artist Carol Braden creates rustic American art that repurposes materials you wouldn't think to keep around. Each piece is created by hand in her Seattle studio, so no two pieces are the same. Arts & Artisans will also help you have one of these guitars custom-made.
From designer Corki Weeks, I next happened upon some glittering and clever necklaces. Even though they may seem a bit chunky, the meticulous
beadwork gives an ethereal quality to the necklaces. Weeks created a name for herself designing elaborate kaleidoscopes. Some of these are also in the store.
Arts & Artisans also carries hand-made apparel. Designed and made in California by Venzal is a collection of colorful blazers for women. With a shapeable lapel and lightweight fabric, these jackets are cut to look good on any body shape and in any time of year.
The staff is friendly and knowledgeable, making Arts & Artisans the perfect place to find a gift for that someone who seemingly has everything. I saw three things I wanted for myself in the window before I even walked in.
There are four locations in the loop (720 S. Michigan, 108 S. Michigan, 321 N. Michigan and 35 E. Wacker), but Amy warned me that while each location may carry the same popular pieces, they are all a little different. Visit www.ArtsArtisans.com for more info.