Shop Around the Corner: Handmade art, distinctive crafts and beautiful jewelry at Arts & Artisans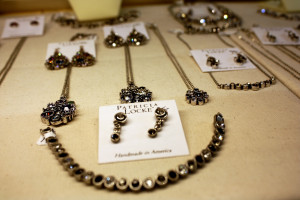 By Gabriella Mikiewicz
Arts & Artisans
321 N. Michigan
35 E. Wacker
720 S. Michigan
Ogilvie train station
The largest retailer of contemporary American crafts and jewelry today, Arts and Artisans is a one-stop shop for every occasion.
The four intimate shops have much to offer, specializing in handmade art pieces from all over the United States. Items range from hand-painted silk scarves to hand-carved wooden boxes, a variety of colorful wall art and cases of beautiful jewelry. Every month they feature a promotion on things like hand-blown glass or ceramics.
Amy Hoffman got into the business 24 years ago, two years after her parents opened the first Arts and Artisans store in Geneva, Ill., and she hasn't looked back, developing relationships in the process that often lead to custom-made gifts going straight from artists to customers.
"I do all of the buying and attend different shows that are put on for gallery owners," Hoffman says. "I hit street fairs and exhibits and every outlet possible to try to bring unique things in."
The distinctive crafts that Arts and Artisans proudly displays make it one of the last-standing American-made galleries in Chicago — not to mention a big hit with the visitor market.
"We're pretty proud that we've made it through these years," says Hoffman, "and that we continue to find new locations and have a good following."