Beyond the beaten path: Sneaky good Chicago suggestions from a well-connected hotel concierge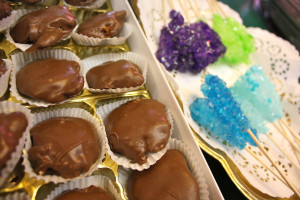 By Caitlin Meeter
Double Door
1572 N. Milwaukee in Wicker Park
The Double Door has been a rite of passage for a lot of young Chicagoans: first concerts, first beers, first nights under the el tracks. The drinks are a bit pricey and relatively uninspired, but with covers under $10 for bands that are under-the-radar amazing, it's worth it. Barring some extreme crisis, I don't think anyone has had a bad time here.
Maxwell Street Market
800 S. Des Plaines in University Village
Originally located along the street of Polish sausage fame, this weekly affair on Sundays has shuffled around for years due to gentrification. Now located on Des Plaines between Harrison and Polk Streets, you can find vendors selling anything from fresh food to carburetors and socks, along with live performances and events. Don't forget to try some carne asada tacos. Yum.
Square Bar
2849 W. Belmont
This establishment is nestled into the casual foodie district of Avondale. Their varied beer list and American pub food competes comparatively well with its more popular neighbor, Kuma's Corner. Make sure you try the American Dream — a burger sandwiched between two grilled cheese sandwiches — with their sweet potato fries, which are fried in a brown sugar batter that can be addictive.
Margie's Candies
1960 N. Western

1813 W. Montrose
Everyone raves about Fannie Mae and Frango, but those pale in comparison to the true Candy Queen of Chicago. On hot summer nights, you will see a line of people down the block outside of Margie's Candies. They are waiting for famous ice cream sundaes (topped with homemade vanilla wafers) and boxes of Margie's scrumptious turtles. Don't forget to take your picture next to the giant fiberglass ice cream cone man!
Taqueria Traspasada
3144 N California
If heaven were a taco joint, it would be this one. Go in, sit down, drink the Jamaica drink, sip the sope de fideo, sample their salsa, taste the tacos and play Pacman! But whatever you do, you must eat the salsa negro. It's the best on their pollo tacos. But longtime patrons are partial to their al pastor and pescado (complete with red cabbage) tacos.