Cool treats for summer: Where to go in Chicago for peach pie sundaes, spiked milkshakes, ice cream donut sandwiches and so much more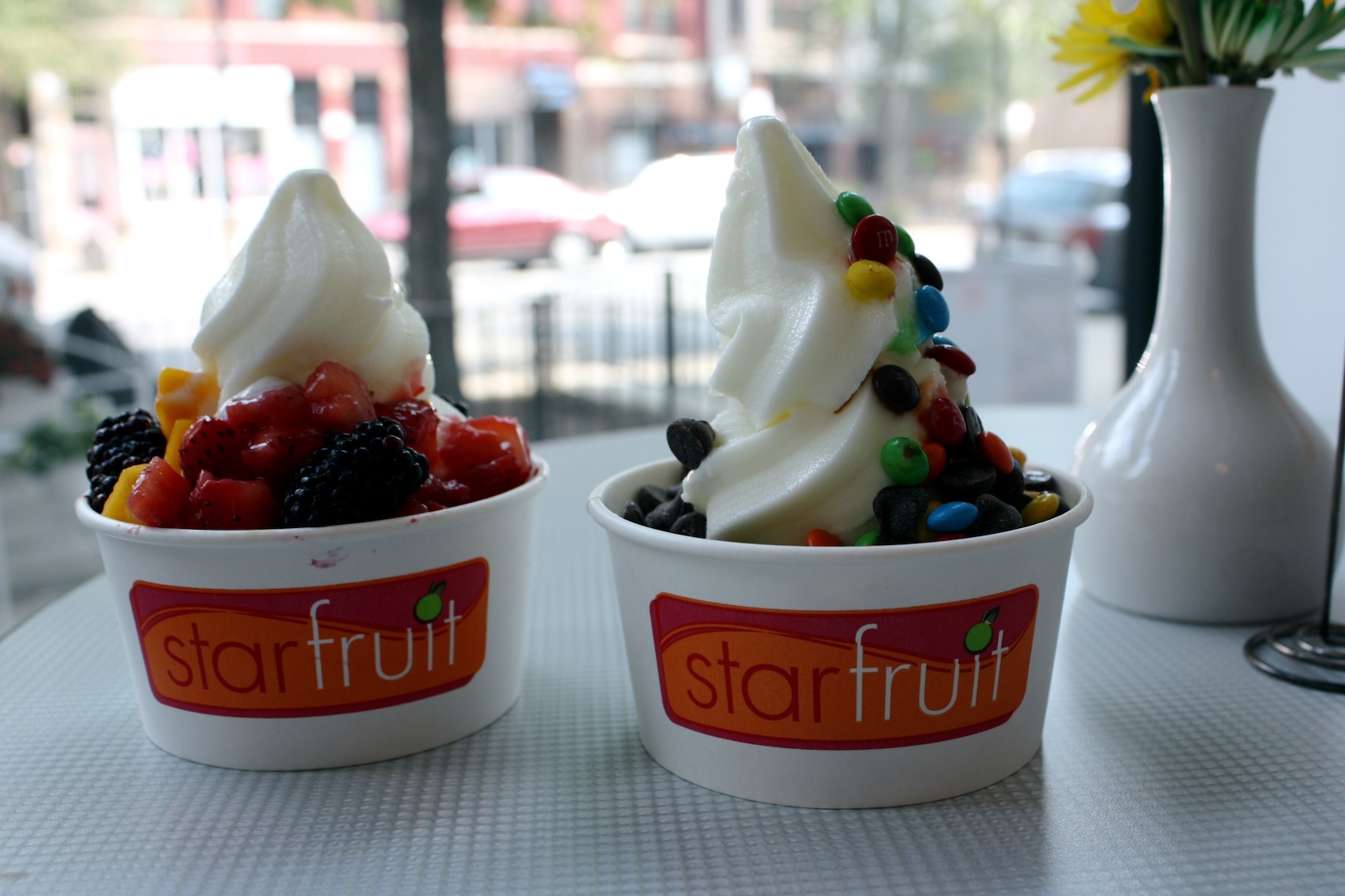 Your ads will be inserted here by
Easy Ads.
Please go to the plugin admin page to set up your ad code.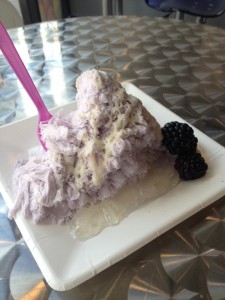 By Emily Clement
Snow Dragon Shavery
2618 N. Clark in Lincoln Park
When it's hot out… duck into Snow Dragon. The shop is a converted frozen yogurt place and still sells froyo, but get the shaved snow. You choose from a variety of exotic flavors, they pop a disk of snow into the shaver, and voila, shaved snow. Then, top it with a variety of fruits, candies and sprinkles.
Snow Dragon is known for… their shaved snow, but they also have coconut water in real coconuts, macaroons and frozen yogurt. Owner Roshan Meghani said that shaved snow is popular in Los Angeles and hopes it takes off here as well.
I couldn't resist… the taro snow with lychee jelly and blackberries. The texture is so unusual — it's almost like frozen cotton candy. Meghani recommended the taro, and its mild flavor works perfectly with sweet lychee and tart blackberry.
Firecakes Donuts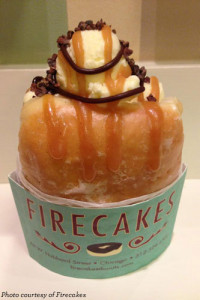 68 W. Hubbard in River North
When it's hot out… head to Firecakes for its summer special, the ice cream donut sandwich. Yeah, you read that right. An ice cream sandwich made with a donut. I know.
Firecakes is known for… their delicious donuts that come in flavors like maple-glazed pineapple and bacon, butterscotch praline and malted milk ball.
I couldn't resist… obviously, the ice cream donut sandwich. It's a square, no-hole, glazed donut filled with a brick of vanilla ice cream and a drizzle of chocolate syrup. The ice cream tastes like homemade, and the end result is melt-in-your-mouth (and on your fingers) good.
Miko's Italian Ice
1846 N. Damen in Bucktown
When it's hot out… stop by Miko's, a tiny, seasonal place operated out of a garden apartment. There is only outdoor seating, and only Italian ice, but that's really all you need on a muggy summer night.
Miko's is known for… their pretty much perfect Italian ice. It's made from real fruit, and the options change daily. Get there early if you want a full selection. Or don't, because you really can't go wrong.
I couldn't resist… the coconut Italian ice. When I asked another customer what her favorite was, I couldn't get one answer. "They're all outstanding," she said. "Coconut, mango, strawberry. We've had almost all of them." That's the kind of dedication you expect at an unofficial Chicago institution like Miko's. One taste of the coconut ice made me understand her enthusiasm.
iCream
1537 N. Milwaukee in Wicker Park
When it's hot out… cool off at this mad scientist/gourmet ice cream shop mash-up. The interior looks like something from a sci-fi movie, liquid nitrogen fog and all, but the product is as good as homemade.
iCream is known for… their unique freezing process. After customers pick what flavors they want and their mix-ins, it is frozen with liquid nitrogen. The nitrogen is super cold, so the cream freezes extremely quickly, meaning smoother ice cream.
I couldn't resist… the curry mango ice cream with strawberries mixed in. The ice cream flavors are pretty mild, so don't be afraid to pick something crazy. Or go with one of the pre-made favorites hanging on the wall. The ice cream is, as promised, super smooth and crazy cold and melts in your mouth kind of like Dippin' Dots.
Margie's Candies
1960 N. Western Ave. in Logan Square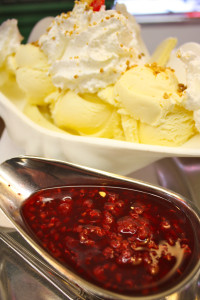 1813 W. Montrose in Ravenswood
When it's hot out… Margie's has you covered. All of their candy and ice cream is handmade, so picking a dessert is the hard part. It was crowded even at 9:30 on a Sunday evening, but you can always take your treat to go and then sit outside if you don't feel like waiting for a table.
Margie's is known for… their classic desserts. They've been dishing up banana splits, shakes and sundaes to Chicagoans since 1921. The interior reflects that; it's filled with old trinkets, vintage memorabilia and tiny jukeboxes at every table.
I couldn't resist… a banana split with hot fudge and chocolate ice cream. Of course, it comes with whipped cream, nuts and a cherry on top. The split is way too big for a single human to eat, unless it's the appetizer, entree and dessert. But, it's so good, you'll probably want to give it a try anyway.
Tallboy Taco
325 W. Huron in River North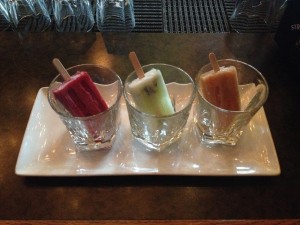 When it's hot out… go to the corner of Huron and Orleans. This summer, Tallboy Taco will have a cart on the corner selling boozy paletas. Manager Elyse Fuller says the chef plans on making a raspberry mojito and the restaurant's specialty, a pomegranate margarita called El Corazon.
Your ads will be inserted here by
Easy Ads.
Please go to the plugin admin page to set up your ad code.
Tallboy Taco is known for… their creative tacos and selection of beers and cocktails. The restaurant is located inside another (Nacional 27) and has both indoor and outdoor seating. They also have a salsa bar for those ordering tacos.
I couldn't resist… a rainbow of paletas in inventive flavors. I had a luscious raspberry, honeydew with mint leaves, and peach with chili powder. According to Fuller, the flavors will rotate throughout the summer, but if the three I had were any indication, you can't really go wrong. And, at $3 a pop, why not try them all?
Amorino
838 N. State in River North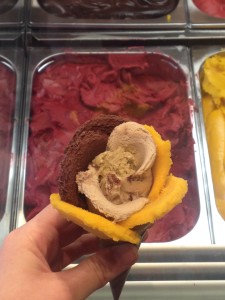 When it's hot out… head to Amorino for real European gelato. There is a plethora of flavors from raspberry to caramel to several types of chocolate. The store opens up to the street on two sides, making it feel like you could be in a little cafe in Italy.
Amorino is known for… making authentic gelato with high-quality, natural ingredients. The founders, Cristiano Sereni and Paolo Benassi, wanted people everywhere to be able to experience real Italian gelato.
I couldn't resist… getting a waffle cone with pistachio, tiramisu, chocolate and mango. Each flavor was intense and creamy like gelato should be — the mango was especially good. When done as a cone, it looks like a flower, so you can get as many flavors as you want but they recommend four to five.
Starfruit Café
1745 W. Division in Ukranian Village
108 N. State in the Loop
Also in the Merchandise Mart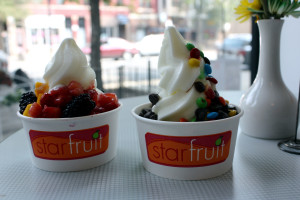 When it's hot out… stop by Starfruit Cafe for a guilt-free fix — the largest size of kefir is only 165 calories. The Division location is a small storefront in a charming little stretch on the borders of Ukranian Village and Wicker Park.
Starfruit is known for… their frozen kefir, a step up the healthy ladder from frozen yogurt. They also have fresh juices and smoothies. There are two flavors available every day, original, and a scheduled flavor. The special flavors often include coffee, black raspberry, pomegranate, pink lemonade, pear, cherry and salted caramel.
I couldn't resist… the pear kefir topped with kiwi and mochi. The frozen kefir is tart and refreshing, especially topped with fresh fruit, and the mochi adds sweetness to offset the kefir. Starfruit is a perfect pick-me-up for a hot summer afternoon or evening.
Bobtail
2951 N. Broadway in East Lakeview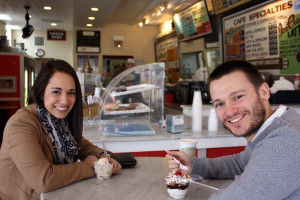 When it's hot out… the sidewalk outside Bobtail gets crowded with families, couples and groups of friends. It's no wonder, as their homemade ice cream is well known in Chicago, and only improved when incorporated into their generous and creative sundaes.
Bobtail is known for… their Signature Sunset, or merlot ice cream with dark chocolate chips. Other signature flavors include the Lakeview Barhopper (Dutch cocoa ice cream blended with Jack Daniels) and the Cubby Crunch (vanilla ice cream with sprinkles, Oreo, chocolate chips and toffee). During the summer months, they are debuting a peach ice cream.
I couldn't resist… the peach pie sundae. It is caramel sauce layered with their peach ice cream and topped with a graham cracker crumble, whipped cream and cinnamon, all served in a waffle cone bowl. It is exactly as good as it sounds. Both the peach ice cream and peach pie sundae will be featured through the end of July.
25 Degrees
736 N. Clark in River North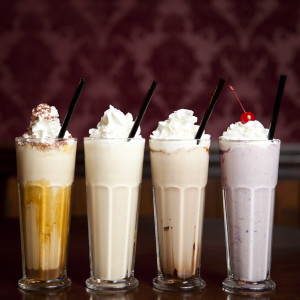 When it's hot out… head to 25 Degrees for a spiked shake. Or, if that's not your ticket, they also have spiked sodas and adult floats. And this summer, according to manager Nick Pobutsky, they will be debuting a vodka and pomegranate snow cone, perfect for a night sitting out on the patio.
25 Degrees is known for… their premium burgers, but they have much more to offer. This summer they will have a revamped cocktail menu with new creations and old favorites. And the spiked shakes are so good that they remain popular year round.
I couldn't resist… the Nola spiked shake. It's inspired by New Orleans and filled with Southern Comfort, praline liqueur and buttered pecans. The most popular shake — the Salty Caramel — is delicious too, but doesn't have the kick the Nola does. The shake is strong and sweet — and goes straight to your head.
Your ads will be inserted here by
Easy Ads.
Please go to the plugin admin page to set up your ad code.