Shop around the Corner: Reckless Records and Havilah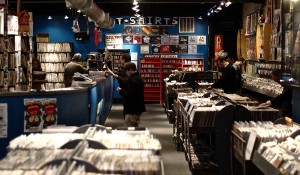 Your ads will be inserted here by
Easy Ads.
Please go to the plugin admin page to set up your ad code.
Browsing Chicago's trendy, unique neighborhood stores and boutiques

Reckless Records
1532 N. Milwaukee in Wicker Park, 3126 N. Broadway in Lakeview and 26 E. Madison in the Loop
www.Reckless.com
Music lovers! Whether you're an avid collector or just getting started, Reckless Records is the perfect place to obtain those rare and unique musical items. With three Chicago locations, the store buys and sells new and used CDs, DVDs, cassettes, video cassettes, books, video games and laser disks, as well as records,
cool posters and fun buttons. A different artist is picked three times a year to design a sweet logo for their totes, shirts and onesies too.
The familial staff is comprised of music lovers who pride themselves in helping customers find what they need; listening stations are available as well. Reckless embraces a love of discovery and leans on customer loyalty.
Musical categories are broad, including punk, rock, funk, soul, heavy metal, Latin and experimental, to name a few. Everything from Anita Baker and Rhianna to William Basinski and Velvet Underground can be found under one roof. The store is equipped with a PA system so local and touring bands can play shows inside the store, and Reckless also supports local events like its upcoming Sons of the Silent Age, a benefit on Jan. 11 where manager Chris Connelly will spin David Bowie music.
Your ads will be inserted here by
Easy Ads.
Please go to the plugin admin page to set up your ad code.
—Nicole Weddington
Havilah
869 N. Larrabee in River North
www.ShopHavilah.com
If you're looking for a head-turning statement piece for an upcoming event, cocktail party or wedding, Havilah is a surefire place to start.
The urban-inspired, contemporary boutique opened its doors in July of 2007 and has since been serving fashion-forward women in the River North area and beyond with unique lines of clothing and accessories.
Owner and buyer Rachel Kim travels to cities like Los Angeles and New York and hand picks eclectic items from trunk shows to sell in her store.
Store manager Abbey Savu says the boutique gets repeat customers because its offerings are well edited, unlike the plethora of options available at larger department stores. Not all items are fancy; the shop carries an array of casual and vintage apparel like comfy sweaters and button-up shirts. What makes Havilah special is its items are often exclusive to the boutique; it was the first to carry brands like Cameo, Naven, Alexis and Blue Moon in Chicago.
Havilah's price point isn't for the budget shopper, but if you're willing to splurge on a one-of-a-kind piece, the double takes you'll receive might be well worth it.
— Yelena Galstyan
Your ads will be inserted here by
Easy Ads.
Please go to the plugin admin page to set up your ad code.