First Look review: The engrossing "Faith Healer" at The Den Theater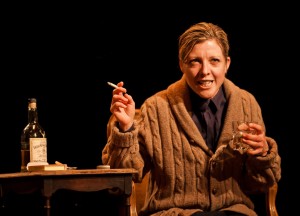 Award-winning cast returns 17 years later for another go-round that will leave you thinking
By Hilary Ward
Playing at: The Den Theater, 1333 N. Milwaukee (second floor). www.thedentheatre.com/den_productions.htm
When:  Thursday, Friday and Saturday at 7:30 p.m., Sunday at 3 p.m. through January 20.
History: The production of "Faith Healer" has a background rich with history. A remount of the original, award-winning production, this three-person cast has reunited to perform together 17 years after their first run at Steppenwolf and Turnaround Theaters. You know it's a good story when after nearly two decades the original players want another go-around.
Basic storyline: Frank Hardy is a charming Irish healer, traveling the land helping ailing locals with his supposed gift of powerful hands. We hear Frank's account of his experience, followed with his wife Grace's compelling, compassionate and shockingly different viewpoint of the same. Their tour manager, Teddy, adds humor to the mix with his alcoholic take on the matter and, again, a differing side of the same story. Finally, after being pulled away from Frank's original claims, we hear from him again, wrapping up all the tales in one surprising and curious conclusion.
What to expect: Four long monologues, totaling just under three hours. Simple scenery and pin-drop silence as the actors draw out images with their compelling tales.
What stood out: How engrossed I became in the show. Admittedly, I was wary of the idea of listening to just monologues for a few hours. But at the end of the performance, when I managed to leave my seat with furrowed brow, deep in analysis, and without my belongings, I learned I had been pulled more into the story than I realized.
Final thoughts: "Faith Healer" is a tale that demonstrates the amazing differences of the human perspective. When what seems like a simple recounting turns unexpectedly mysterious with each take, you'll start to question what the "truth" really is. A fact may be set in stone, but it is perception that can tear the truth apart. Highly recommended.