Chicago's hidden gems: Brunch at Endgrain, cocktails at Bar on Buena and shopping at Twosided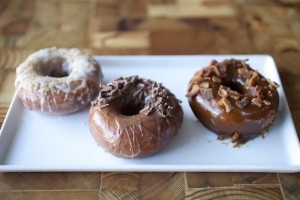 If you're searching for that special, out-of-the way experience that represents our great city, we've got you covered
Endgrain

It may look like a quiet neighborhood restaurant, but Endgrain has made quite a splash in the Chicago restaurant world. Brothers Caleb and Enoch Simpson (yes, the doughnut whisperer, Enoch Simpson) have joined forces to open this small Roscoe Village gem that even has Food & Wine Magazine bu
zzing.
First thing's first: the biscuits. Buttery, flaky, warm and every other adjective used to describe the perfect biscuit are applicable to these delicious wonders. And the doughnuts are, as expected, also fantastic. The selection varies from day to day, but Endgrain features German chocolate, vanilla bourbon, maple bacon, chocolate turtle and many more. Lucky for us, the doughnuts are available every morning at 7 a.m. sharp, even on days that Endgrain is not open for brunch.
On weekends, however, the brunch menu offers much more than the wonderful baked goods — dishes like butternut squash and ricotta crepes and braised pork hand pies will satisfy a more savory craving. Can't make it for weekend brunch? Endgrain is also open for dinner Tuesday through Saturday.
Early discoverers of Endgrain will be happy to know that they have recently acquired a liquor license, so now there's really no excuse to not go.
Endgrain is located at 1851 W. Addison. www.EndgrainRestaurant.com
— Taylor Tolbert
The Bar on Buena
One of the best dive bars in the city, The Bar on Buena is a favorite spot of mine to catch the game or hang out with friends in a cozy little space hidden away on Buena Avenue, just north of Irving Park in Lakeview (think Sheridan red line stop).
The Bar on Buena has a massive selection of beer and continuously rotates in new options throughout the year, such as the ever-elusive Zombie Dust. With such a variety, it can be difficult to find the right beer for you, which makes their affordable beer (and whiskey) flights a great way to discover a new favorite.
Sporting events are another draw for the bar, as most, if not all Blackhawks games are put up on the projection screen.
Bar on Buena is located at 910 W. Buena Ave. www.BarOnBuena.com
— Jim Luchetta
Twosided
This small shop is filled to the brim with character, providing quirky, one-of-a-kind goods to help you really show off your professional-with-a-touch-of-hipster personality. Basically, it's an emporium of awesome, generally witty things. You'll find vintage globes, frames and trinkets that will add character, class and humor to anyone's home.
Get a good laugh at the greeting card wall, where your happy/sorry/congratulatory needs are all covered in a wide scale from pleasant-but-not-grandmotherly to outrageously hilarious. For more adorable paper goods, there's also boxed thank-you notes, blank journals, stationary and gift wrap, all with their own unique, local feel.
Every inch of the store is exploding with charming items, and you'll find yourself making laps to avoid missing anything.
Twosided is located at 2958 N. Clark. www.FourSided.com
— Hilary Ward