Lollapalooza weekend recap: The Killers, Vampire Weekend, the mud and the lobster corn dogs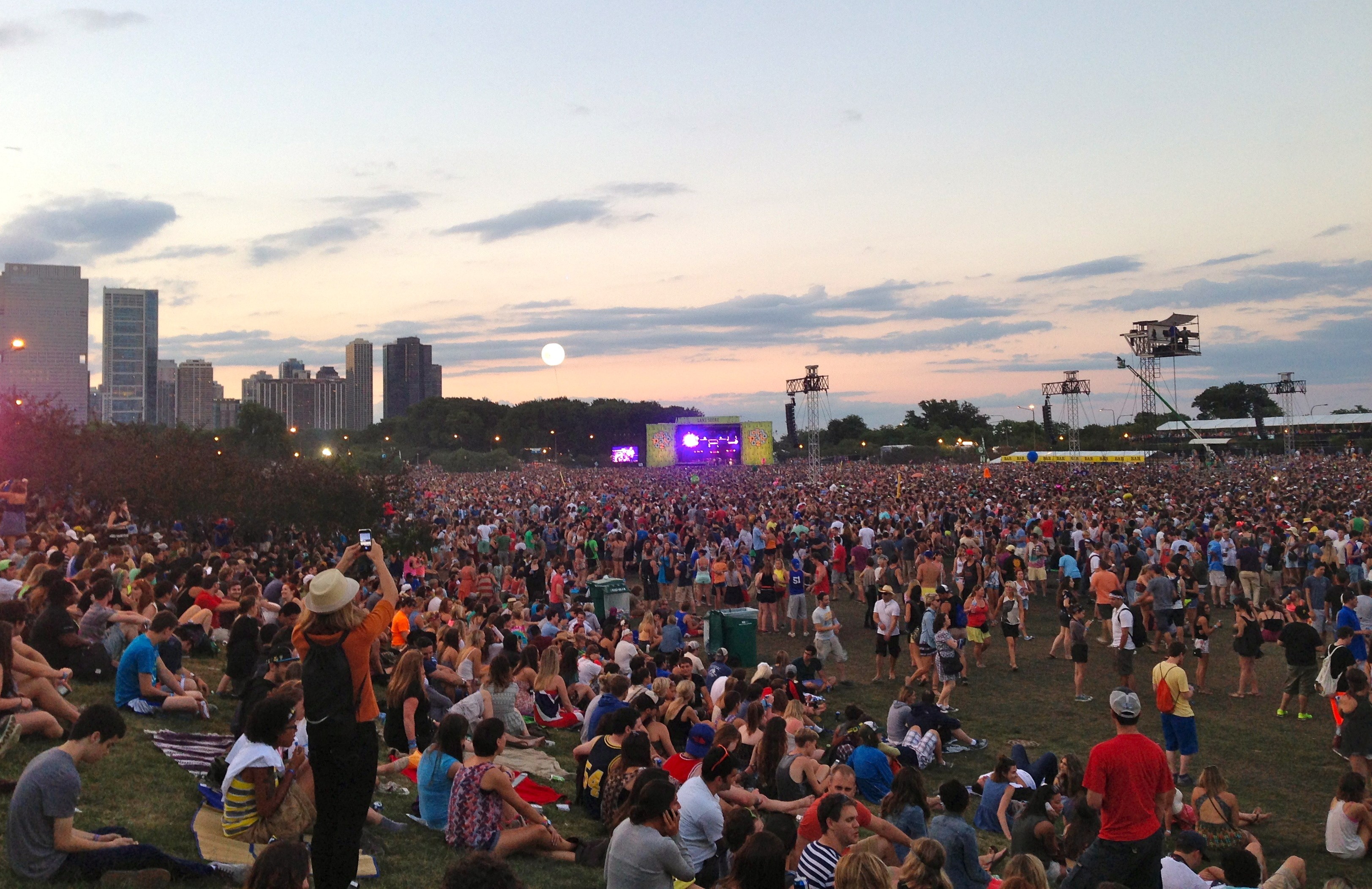 Your ads will be inserted here by
Easy Ads.
Please go to the plugin admin page to set up your ad code.
The three-day festival is over, and here's how the epic Grant Park event went down for this first-timer
By Taylor Tolbert
It's done! I feel like I can now truly say I am a Chicagoan because I experienced the chaos and excitement that is all three days of Lollapalooza in beautiful Grant Park (although I'd love to have seen it this morning…it was pretty dirty when I left Sunday night). I really lucked out in terms o
f the weather. While it was muddy and soggy the first day, no shows got rained out and it was never more than 85 degrees, so I wasn't dying of heat either.
Sunday's lineup didn't bring the most excitement for me, so I got to do what I loved doing at Coachella, which was just popping around from stage to stage to catch glimpses of many different sets and dance a little bit at each one. I took in quite a variation of musical genres the last day.
I saw everyone from 2 Chainz to Alt-J to Phoenix to Major Lazr (some of these things are not like the others…at all). Sunday was more about quantity over quality, simply because Friday and Saturday were all about seeing full sets of the bands I love. I wanted to get my money's worth, though, and I think I definitely got it by stage-hopping all day Sunday.
My absolute favorite of the day was Vampire Weekend. Their set was incredibly cool and, for lack of a better phrase, super cute. I'm all about a floral print, and they had a huge floral backdrop and columns hung from the top of the stage with a giant mirror in the middle. Their set list could not be more perfect, either. The New York-based band opened with older hits and then got going with songs from their latest album. I think it was a perfect combination of songs for the casual listeners and die-hard fans. Their music is simply contagious; nobody in the expansive crowd was standing still for any amount of time.
Overall, I enjoyed the Lollapalooza I constructed for myself. I love music festivals simply because no two groups of people have the same experience, so it's fun to talk to my friends who also went and compare stories. I missed a few sets that I would've loved to see, but life outside of Grant Park kind of interfered with my weekend. I did see everyone that I was dying to see, plus a few artists I was unfamiliar with prior to the festival. I saw at least one performance on every stage except the Petrillo, and ate to my heart's
content. I'm just in dire need of a juice cleanse now. Too much grease and fried foods.
Lollapalooza Day Two report
Two-thirds of Lollapalooza is in the books, folks! It's been quite a weekend, to say the least. After getting my bearings the first day, I feel like I could successfully conquer Day Two and not have to rely on my huge map (yes, I was that girl carrying a map of the festival with me at all times, constantly referring to it).
Again, I got a late start because I'm unpacking my apartment, and I can't find any of my clothes or anything else that I need to properly function in society for a day. So my friend and I arrived just in time to see Ellie Goulding, who was my first must-see of the day anyway. I was surprised to see that her set was relatively early and not at the Red Bull Stage, considering her huge following and everything. Her set was so much fun, though. The area around the Bud Light stage was jam packed with people, all dancing and singing along to every song she played. She has a lot of hits that are fairly ubiquitous in the world today, so you'd expect everyone to know those ones. But the crowds were shouting along with even her lesser-known songs and the ones that inevitably get buried under all of the more popular stuff.
I knew I wouldn't be able to enjoy any more music until I got my hands on one of Graham Elliot's lobster corn dogs, though, so I stopped everything after Ellie Goulding and ventured over to Chow Town for some breaded and fried goodness. I can't even really describe this thing accurately because it was so unique and so different, but it was delicious. The portion size was perfect, and it had a garlicky aioli sauce that I just wanted more of. I may have to get another one on Sunday…
There were a few other sets that I really wanted to see, but I learned my lesson ab
out crowds on Day One, so my friend and I headed over to The Lumineers' set on the Lakeshore Stage about 45 minutes early to stake our claim. They're one of the bands that both of us wanted to really enjoy, not just casually observe, and we figured they'd draw a lot of people in, so we assumed it'd be necessary to get there early. We were right. There were an insane number of people there, but thankfully it wasn't a rowdy crowd that was trying to be boisterous or obnoxious. You know the type. Everyone watching The Lumineers, however, was just there to really enjoy the music and the atmosphere. It was a great set. They're an awesome live band with such a fun, easy vibe about them. They're from Colorado, which I just automatically associate with calm and peaceful attitudes.
From there, we tried to push our way through the back of the crowd across the field to Mumford and Sons. There were SO MANY PEOPLE. So many that all capital letters is the only way I can get my point across. It was insane. I thought there were a lot of people on Friday night for The Killers, but Mumford brought probably twice the crowd. I can only assume it's because it's no secret that Mumford and Sons puts on one of the best live shows of any band out there can. They opened with hits, but scattered some lesser-known songs in there, too. The best part of the night was when, either planned or just coincidentally, fireworks started going off behind the Field Museum just to the right of the stage. I don't know whose fireworks they were, but the crowd loved it. I'm not even really sure Mumford and Sons knew it was going on. It was so cool, though. One of those moments that everyone who was there will be talking about for a long time. Marcus Mumford and his band are so incredibly talented, playing all kinds of instruments and just killing it song after song. It was another major highlight for me.
I'm not sure what Sunday has in store, but I'm sure Lollapalooza will close out the weekend with some big things. Vampire Weekend is one of my favorite bands of all time, so that's my major to-do for the day. And more food. Much more food.
Your ads will be inserted here by
Easy Ads.
Please go to the plugin admin page to set up your ad code.
Lollapalooza Day One report
I have officially survived the first of three days at Chicago's biggest music festival of the summer. Despite the rain and the muddy conditions, it was such a blast. I got a fairly late start to the day because I'm in the middle of moving from the West Loop to Lincoln Park, but I feel like I eased myself into the crazy weekend well.
After entering the park around 3:30, I made a beeline to Chow Town. The food could quite possibly be my favorite thing about any festival. I was slightly overwhelmed with all of the options, so I stuck with Mexican food from Fajita Rita's and promised myself I'd venture for something more creative the next two days. I saw that Grahamwich is serving lobster corn dogs; I must try that. Stay tuned, I'll let y'all know how it is.
My friend and I weren't in any hurry to see any bands right away, so we walked around the totally transformed park for a while before heading to any sets. I'm truly amazed at the sheer enormity of it all. I'm relatively familiar with Grant Park, but it's so different with all of the stages and road closures and everything else. Plus, having Buckingham Fountain as the centerpiece for a music festival is pretty incredible. Coachella is the only other major music festival I've ever attended, and it is literally in the middle of the desert, so Lollapalooza is quite a different experience.
Band of Horses was the first band of my day Friday. They were awesome. They're a folk rock band from Seattle that has really found their home at music festivals. As my friend put it, their live presence is incomparable to their studio recordings. This is a band you must see on stage. With the whole crowd singing along to "No one's gonna love you" and the gray gloom of the day setting in, the a
tmosphere was very relaxed and calming. Even with Perry's stage just a stone's throw away.
After Band of Horses, we traipsed through the mud to check out all of the merchandise and get ice cream (see previous Lolla post: I have a huge sweet tooth). Windsor Ice Cream Shoppe is selling chocolate chip cones, brownie sundaes and frozen cheesecake. I'll take it all, please!
Disclosure was next on my list. I've recently fallen in love with this duo of brothers from Surrey, shocking myself with how much I enjoy their electro-dance music. I'm usually much more into acoustic, laid back music, but I danced my heart out for the entirety of their 45-minute set. It was so much fun. The Grove Stage is a really cool little… well, grove that's hidden from the rest of the festival. They had everyone jumping and screaming and singing along with them. It was my favorite set so far.
My friend and I both LOVE The Killers, so we decided to forgo any other sets for the day and head straight over to the Red Bull Sound Select Stage to camp out for their headlining set. There was so. Much. Mud. We found a spot pretty close to the stage on semi-dry land to claim our stake, and just waited for Brandon Flowers to descend upon us in all his beautiful, holy glory. He and his band know what the crowds are there for. They opened with "Mr. Brightside" and busted out hit after hit after hit, all night long. Bernard Sumner, frontman of Joy Division and New Order, who had a set on the Red Bull Stage just before The Killers, joined them on stage for their cover of the Joy Division song, "Shadowplay," which I can only imagine was a huge moment for The Killers. Flowers told the crowd before they sang the song that they had actually gotten their name from a Joy Division music video.
Overall, I'd say I had a great first day at Lollapalooza. It didn't rain on us, and although I didn't see many bands at all, I eased into the whole experience and I'm ready to head out to Day Two for many more performances (with better shoes). But everything is put on hold until I get to munch on a lobster corn dog.
Other thoughts on Lollapalooza 2013
"I am 30, and this was my seventh time to Lolla. I have gone every year since I have lived here and each year seem to feel older. It doesn't help being one of the four pregnant women out of 30,000. The port-a-potties were the part that I was most scared of being a completely sober Lolla attendee, but overall, they were actually decent, and they have even added lighting over them for nighttime so you don't have to walk in and pray for nothing too weird.
I learned that the new fashion is 3/4 crop tops with mom-jean-shorts that are cut in a v-shape in the back, just to allow the perfect amount of cheek to show. It seemed like as long as you were in the 12-24 age bracket, this was what you were wearing. And it did not matter if you were 85 pounds or 185 pounds, you flaunted what you had. The bands were great. We really wanted to see both Mumford and Sons and Postal Service and were able to make it happen. Popcorn from Gramwich was the bomb and so was the chocolate chip ice cream in a waffle cone. But again, this is coming from the pregnant lady."
— Lindsey Gift Silver
"I don't know how much I can add of value; I'm pretty cynical and getting worse over the past few years. The lineup seems to be repeating itself with greater force each year, and Lolla used to be about seeing new music — the kind that was alternative, not mainstream. Lolla caters to everyone now, and the second half of the day is generally filled with acts you hear on all radio stations and have seen at Lolla at least once before, if not twice. It's a shame.
It wasn't that way in the early 1990s; it wasn't that way when it reinvented itself in Grant Park nine years ago. I caught one act I hadn't heard of that was great: Lance Herbstrong. High energy and great use of sampling. St. Lucia was a great, high-energy show in the late afternoon, which is a tough spot. Imagine Dragons was beyond boring, and Mumford & Sons shouldn't play arena size shows, ever. Nine Inch Nails and The Cure were fantastic and classic, but I'm 40, so of course I think that.
All in all, I thought the organizers improved the entrances, and I didn't think the food or beer lines were horrible if you didn't go at "meal time." The porta-potty situation is still horrendous. They need to have them cleaned throughout the day. There has to be a way."
— Jennifer Detloff
Your ads will be inserted here by
Easy Ads.
Please go to the plugin admin page to set up your ad code.