First look review: Barnum at the Mercury Theater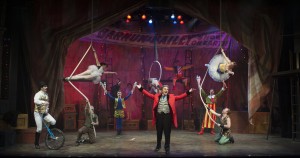 A musical glimpse at the life of P.T. Barnum with a dash of whimsy and "humbug"
By Taylor Tolbert
Playing at: The Mercury Theater

3745 N. Southport Ave.
www.MercuryTheaterChicago.com
When: Wednesdays at 7:30 p.m., Thursdays at 2 & 7:30 p.m., Fridays at 8 p.m., Saturdays at 2 & 8 p.m. and Sundays at 2 p.m. through June 27.
History: Directed by the Mercury Theater's executive director, L. Walter Stearns, Barnum is making its Chicago professional premiere in this charming theater in Lakeview. The musical originally opened on Broadway in 1980, running 854 performances and garnering 10 Tony Award nominations, including Best Musical. Gene Weygandt, who stars as P.T. Barnum, is no stranger to the stage with credits like Wicked, Big: The Mus
ical, Hairspray, Little Shop of Horrors and many more.
Basic storyline: Phineas Taylor Barnum always knew he was destined for more than a boring desk job. He longed for whimsy and flare, something more colorful than the clock factory in Bridgeport, Connecticut.
He begins to put on "sideshows" with acts like the oldest woman alive, although he might just be fooling everyone with his signature "humbug." He finally acquires a legitimate act to draw crowds, but things go awry.
Audiences follow Barnum and his cast of lovable freaks down a road of successes and failures that ultimately lead him to the big top circus that we now know as Barnum and Bailey.
What to expect: An enjoyable musical about "The Greatest Show on Earth" with amazing acrobatic stunts and talented singers. This is not an outright circus; there is much more story than show, but it's still fun for all ages.
Sylvia Hernandez-DiStasi, co-founder of the Actors' Gymnasium, choreographed incredible aerial and gymnastic tricks for this wonderfully pliable cast, which leaps around the stage like it's a playground.
What stood out: Summer Naomi Smith gives a stellar performance as the Swedish songbird Jenny Lind. A rare onstage band is featured in the musical as well, outfitted in perfect circus red and gold.
Be sure to get to the theater early to catch the clowns fumbling through the aisles and, well, clowning around with the audience before the show.
Final thoughts: It's a big production packed tightly into a small theater, but it's all done very well. The actors use the stage to its fullest potential, jumping and climbing all over the place, and the music keeps you humming well after the curtain closes.