Good Eats at Wishbone: Southern-style cooking at its finest in Chicago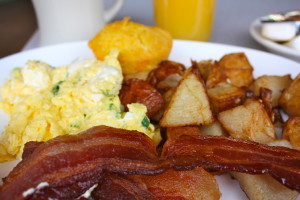 By Trent Modglin
The scene: Wishbone, a popular breakfast staple in Lakeview and the West Loop for more than 20 years, is colorful and inviting from the moment you walk in the door. Spacious and cozy at the same time, there is a healthy combination of booths and tables of all sizes, as well as a counter up front and a back room perfect for private parties and larger groups. Very kid-friendly environment with attentive servers.
Eye-catching light fixtures and plenty of aqua, oranges, reds and yellows give some warmth to the restaurant, and there is no shortage of quirky country décor, including plenty of rooster and chicken statues. Yep, roosters and chickens. Grab a booth by the huge windows overlo
oking Lincoln to do a little people-watching during your meal.
Food and drink: "Southern reconstruction cooking" is how Wishbone labels its menu, which blends plenty of Cajun flavors with solid Southern-style specialties and comfort food favorites. Examples: shrimp and grits, Carolina pulled pork, blackened catfish, biscuits and gravy, and baked fruit cobblers.
We're big fans of the crunchy French toast, which comes thick-sliced and dipped in corn flakes, as well as the salmon cakes — think crab cakes but, you know, different — served with lemon butter sauce, two eggs and your choice of home fries, black beans or grits. Their omelets, breakfast burrito, fruit-topped waffles and Andouille hash come recommended as well.
While their bloody Mary is a perfect way to start the day, don't forget the fresh-squeezed juices and lemonades, smoothies and quality selection of wine and craft beer. A newly revamped dinner menu launches this winter, bringing with it plenty of anticipation.
What caught our eye: No matter how long the line is on the weekends, the staff here is incredibly adept at seating groups quickly and efficiently. Not sure how they do it, but it's pretty seamless despite the regular crowds near the entrance. … In keeping with the Southern hospitality theme, the staff at Wishbone
happily displays the coloring done by children while they're in the restaurant. … The farm animal décor is uniquely charming, and the jambalaya is on our short list of things to try next.
We'll be back because: To put it simply, this is one of the best, most reliable places for a great breakfast anywhere in Chicago. Add to the mix the relaunch of what is sure to be a mouth-watering dinner menu in late January, and it might make you want to hunker down for an entire day.
Wishbone is located at 3300 N. Lincoln in Lakeview and 1001 W. Washington in the West Loop. Visit www.WishboneNorth.com and www.WishboneChicago.com for more information. Also visit their new venture, Yonder, a Southern cafeteria in the Maller Jewelry Center at Madison and Wabash downtown.