First Look review: "Kate and Sam are NOT Breaking Up" is a humorous, empathetic view of our celebrity obsessive ways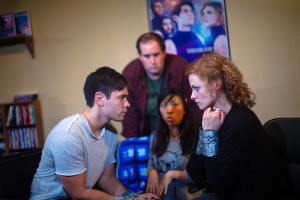 An impressive, funny and surprisingly empathetic commentary on our culture's obsession with the cult of celebrity
By Corey O'Day
Playing at: Collaboraction Room 300 Theater, Flat Iron Arts Building, 1579 N. Milwaukee Ave. in Wicker Park.
When: Thursdays, Fridays and Saturdays at 7:30 p.m. through Dec. 14.
History: The New Colony Theatre Company kicks off this season with the Jeff nominated Kate and Sam are NOT Breaking Up. The New Colony develops all of their content collaboratively, meaning that the actors themselves help to create these characters. The result is an astoundingly authentic and engaging performance.
Basic storyline: Kate and Sam are the stars of the latest tween fantasy series, Ghost Forest, and everyone's favorite couple. Their romance on screen and off is the subject of great concern for two people in particular: Bill and Becky. Bill is an awkward, lonely, self-conscious security guard, and Becky is a tiny, manipulative teenage sociopath.
Their relational dynamic is defined early on when Becky explains, "We're just internet friends" and Bill adds, importantly, "Yeah, best internet friends."
When Kate and Sam break up, these two obsessive fans go to great — and incredibly illegal — lengths to restore what they believe is the natural order of things.
What to expect: This show is an impressive and surprisingly empathetic commentary on our culture's obsession with the cult of celebrity. Kate and Sam are NOT Breaking Up is both hilariously absurd and poignant. One moment you're laughing hysterically as Becky prattles on and on, swooning over Sam and smelling his hair. The next moment you're
nearly crying as Bill explains his love for the fantasy series and how, in this world, he's a loser, but in that world, he's probably the hero.
They have built their lives around these celebrities so much that their world doesn't make sense if Kate and Sam aren't what they imagined. The audience begins to feel for these crazed kidnappers and their crumbling reality.
What stood out: The ability of the entire ensemble, including both the playwright, Joel Kim Booster, and director, Sarah Gitenstein, to gain compassion for their characters. Particularly Bill. He is a troubled, confused, angry man who just wants to be the hero. A guy who became a security guard because of John McClane, the Bruce Willis character in Die Hard. Despite the rash decisions he makes regarding Kate and Sam, we get a feeling that Bill is ultimately well-meaning, though a bit misguided.
You even feel sympathy for the spoiled and pampered movie stars who are overdosing and crashing their cars into sidewalks. In one touching exchange between Kate and Bill, Kate expresses her exasperation, explaining: "No matter how hard I try, people — people like you and Becky — get to decide who I am anyway. Why should I even bother?"
Final thoughts: Kate and Sam are NOT Breaking Up is a whirlwind of laughter, anxiety and compassion, with a gripping and surprising end. I wish I could tell you more, but after the show, New Colony requested politely: "Now don't let anybody know what you know!" What I can say is, see this show.
For ticket information check out www.TheNewColony.org