First Look review: "Three Sisters" at the Steppenwolf Theatre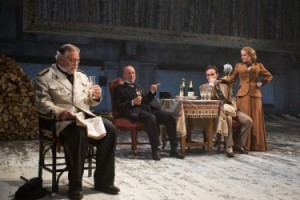 Enjoy Steppenwolf's adaptation of the classic story of a privileged family's attempt to cope with its changing fortunes
By Cheryl Mosley
Playing at: Steppenwolf Theatre Company, 1650 N. Halsted, through Aug. 26. www.Steppenwolf.org
History: Tony Award-winning ensemble members Tracy Letts and Anna D. Shapiro continue their celebrated adaptation, bringing this classic Anton Chekhov story of a privileged family's changing fortunes to the stage in Steppenwolf's final production of
the season.
Basic storyline: The concept of the play deals with three sisters — Olga, Masha and Irina — who have been living in the Russian provinces for 11 years. The sisters constantly yearn for the life that they once had in Moscow. With military men surrounding them, the sisters gain an appreciation of a bigger world, a range of activity and movements that contrast their own feelings of stability.
With disappointment serving as the main charge of the play, you begin to see how their lives shape up over the years. The ticking of time reinforces the sense of balance in the house.
During the course of the play, you will see their brother's fortune decline, their abrasive sister-in-law's takeover of the house, Olga's acceptance of a headmistress job she doesn't want, Irina's acceptance of a marriage proposal from a man she doesn't love, and Masha staying in a marriage she doesn't respect.
With all the excitement, movement and drama of the world just outside their door, these sisters realize they cannot return to their childhood or their beloved Moscow.
What stood out: The first must-see is definitely the drunken song and dance sequence that is performed by the male characters in the play. It is funny, exciting and scary all at
the same time. With all that jumping, twirling and swinging around, I was completely surprised no one fell of the stage.
A particularly poignant moment is the powerful and energetic argument between Olga and Natasha regarding their housekeeper, Anfisa. You can feel the anger, passion, and respect with each and every word that was spoken.
The play is filled with a lot of humor, which helped to ease the overall seriousness of the general theme and disappointment the family endures as a result of its crumbling social status.
Final Thoughts: Even if you are not familiar with the classic "Three Sisters" story, you will still be able to appreciate, sympathize and understand the obstacles the sisters face. My friend and I left the play reflecting on how we would have reacted if we were in their shoes and what we would have done differently.