First Look review: The dark, blues-filled "HooDoo Love" at the Athanaeum Theatre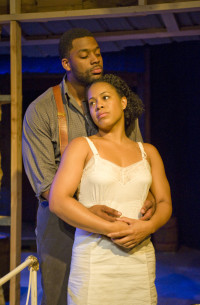 The Collective Theatre's blues-filled production centers on complex relationships and the dark side of human nature
By Nicole Weddington
Playing at: Athenaeum Theatre, 2936 N. Southport Ave.
When: Thursdays & Fridays at 7:30 p.m.; Saturdays at 2:30 p.m. & 7:30 p.m.; Sundays at 2:30 p.m. through October 21, 2012
History: Starring actors/singers Lynn Wactor, LaRoyce Hawkins, Toni Lynice Fountain, Mark Smith and Opal Demetria Staples, The Collective Theatre presents its inaugural production of HooDoo Love. The theatre company, consisting of six high school friends from Dolton, Illinois — Francois Battiste, Veronda
Carey, Le'Mil Eiland, Metra Gilliard, Jason Jones and True Blood's Nelsan Ellis as director — hooked up with the Olivier award-winning playwright Katori Hall for the premier of her sultry tale of voodoo love.
Basic storyline: Set in 1930s Depression-era Tennessee, the story centers around the romantic Toulou, who suffers in matters of the heart. Having run away from her abusive father and brother, she desperately wants her musician lover, Ace of Spades, to fall in love with her. With the help of her eccentric neighbor, Candy Lady, and her bag of tricks, she sets out to capture his love and pursue her dream of being a blues singer on Beale Street.
What to expect: Prepare yourself to be ushered into the theater while being serenaded by a live blues band, including the ghostly voice of Opal Demetria Staples. The entire cast sings, and the provocative music complements their haunting voices beautifully.
Final thoughts: Be ready for some mature themes, including some that are sexual and violent in nature. The play covers a broad spectrum of types of love, sister and brother, woman and lover, friendship and the love for oneself. The set, referred to as "oddly alienating" by its creator Henry Behel, is the perfect backdrop for this intimate production about the dark side of human nature. The small theater adds to the intensity of the scenes, which revolve around complex relationships and the great lengths that one might go in her desperate attempt to find love.
The cast's thoughts on their favorite part of the play:
Nelsan Ellis (director): "My favorite thing about the play is Candy Lady, hers and Toulou's relationship, the history of their relationship. Also, Toulou and Jib, they have a very interesting and
complex relationship."
Mark Smith (as Jib): "My favorite part is [the relationship between] Jib and Ace of Spades because of the intensity. To me, Lynn is one of the best also. The vulnerability she has is really solid. I love it."
LaRoyce Hawkins (as Ace of Spades): "My favorite scene is the one with the bumblebee woman song. It's a real fun moment in the show because the show is kind of dark sometimes. It has its ups and downs, and that's just one of the crazy ups in my opinion. We have a lot of fun with that song, so it's one of my favorite moments."
Opal Dimetria Staples (as Lillie Mae): "Me. [laughs] No, I'm just kidding. Actually, my favorite part is that I get to watch it. I'm not backstage. I have no changes. So I'm really able to catch a glimpse of some good acting tips. I have watched the show mature. I've seen it from an infancy stage. Everybody watches it during rehearsal, but then after that when the shows starts, everybody is just so busy doing their part. I get to watch it still develop while the show's going."
Toni Lynice Fountain (as Candy Lady): "I love the whole story, but my favorite part about the play is [that there are] secret hints to the audience about Jib and Toulou's relationship. That whole thing, the way that love can turn into hate."
Visit www.AthenaeumTheatre.org for more information on tickets to HooDoo Love.