First Look review: American Blues Theater's live radio performance of "It's a Wonderful Life" will warm your heart for the holidays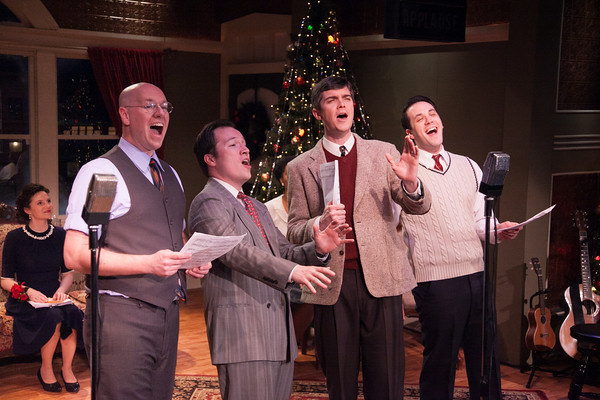 Your ads will be inserted here by
Easy Ads.
Please go to the plugin admin page to set up your ad code.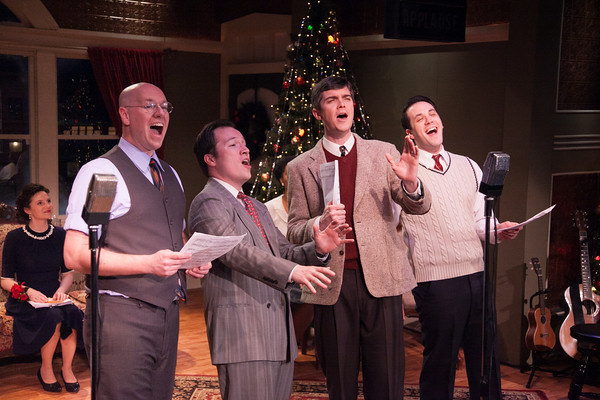 By Corey O'Day
Playing at: The Greenhouse Theatre Center main stage, 2257 N. Lincoln Ave. www.AmericanBluesTheater.com
When: Thursdays and Fridays at 7:30 p.m., Saturdays at 4:30 and 7:30 p.m., and Sundays at 2:30 p.m. through December 27, with additional holiday performances Sunday, Dec. 20 at 5:30 p.m., Wednesday, Dec. 23 at 2:30 p.m. and Sunday, Dec. 27 at 5:30 p.m.
On Sunday, Dec. 20 following the 2:30 p.m. performance, Santa Claus will be there to meet with guests and offer keepsakes to the kiddos.
Brief history: This is American Blues Theater's 14th annual production of It's A Wonderful Life: Live in Chicago! Adapted from the original short story, "The Greatest Gift" by Philip Van Doren Stern, and the Capra-directed movie, this show tugs on your heartstrings and hits all of your favorite moments with a runtime of roughly 90 minutes. It's a Wonderful Life was Jimmy Stewart's first film after returning home from combat in World War II. American Blues Theater returns to it year after year, not only because it delights audiences, but because the story embodies the American ideals of freedom, equality and opportunity that they strive to illuminate in the plays they produce and the communities they serve.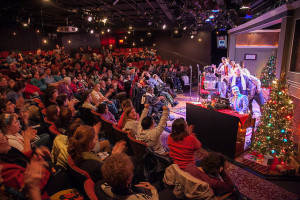 Your ads will be inserted here by
Easy Ads.
Please go to the plugin admin page to set up your ad code.
What to expect: This is a show that appreciates audience participation — there are moments of sing-along Christmas carols, prizes for name-that-tune audience quizzes, old-fashioned radio jingles about local sponsors like ComEd, the Lincoln Park Zoo, Bunches Florist and many more. Members of the cast walk through the audience handing out and collecting "audiograms" for patrons to write messages of love and encouragement to be read during various commercial breaks throughout the show. There is also a "Soldier Spotlight" moment that honors a soldier in attendance at each performance.
What stood out: The 2015 production includes a new George and Mary Bailey who will steal your heart. Zach Kenney oozes earnestness as George, and Amanda Tanguay's endearing portrayal of Mary makes you want to scoop her up into a big hug.
It is incredible the way a cast of eight becomes the entire town of Bedford Falls. John Mohrlein's performance is particularly impressive as he oscillates between portraying the angel, Clarence, sent to save our hero, George Bailey, and the story's despicable villain, Mr. Potter, who seeks to ruin him. He navigates the dichotomy effortlessly with aplomb. It's no surprise that Mohrlein is the most seasoned cast member of the show, having been part of more than 300 performances after this run. His delivery continues to be fresh and convincing.
Another amazing part of this production is the live foley demonstration by Shawn Goudie. At times it seemed he must have had six arms going in all directions with doors, suitcases, car horns, bar glasses, etc. The sound effects flowed so naturally with the performance that I almost forgot the speeding automobile was actually a man's mouth.
Final thoughts: In an age of constant stimuli and competition for our attention, it is encouraging to see that an inspiring story read by passionate people can still move an audience. While the audience was certainly entertained, it is the story itself that truly rang out in this stripped-down setting.
Your ads will be inserted here by
Easy Ads.
Please go to the plugin admin page to set up your ad code.