Indoor bouldering: Three great spots to experience the rock-climbing trend in Chicago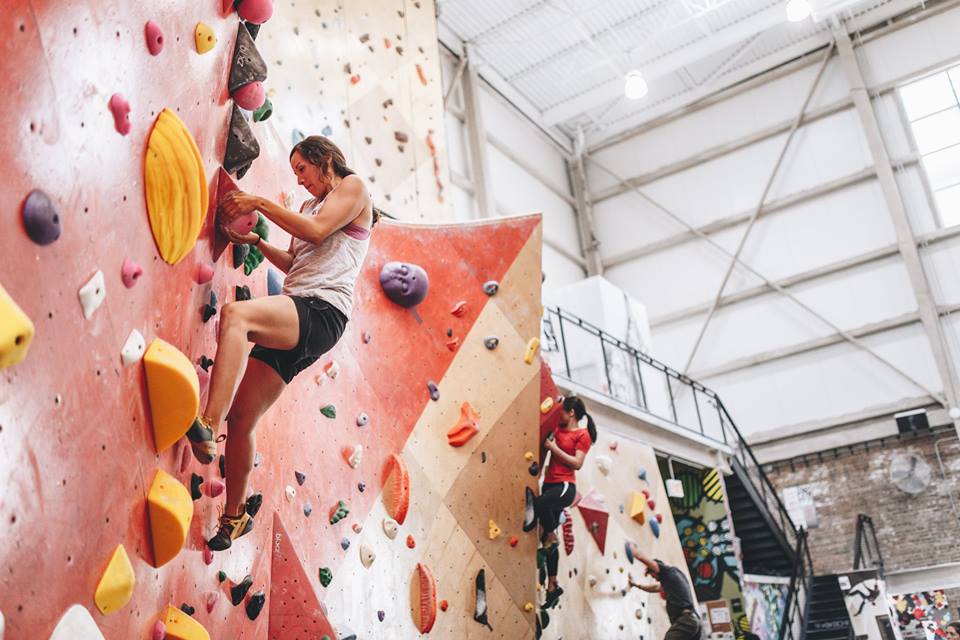 By Dante Vaisbort 
Indoor bouldering is a booming sport, and it's easy to understand why. Climbing is a full-body workout, from forearm to bicep to core to calf to brain. And the brightly colored plastic rock routes, set for those of all abilities, makes fitness training into a game. It's a cerebral, collaborative process. Climbers must work together and learn from each other to strategically plan each movement of their hands and feet.
For those who are interested in more than just climbing, most climbing gyms also boast plenty of conventional equipment: weights, treadmills, ellipticals and more. And unlike many conventional gyms, climbing gyms tend to be spotless and sterile.
In the past, climbing gyms may have been out of reach for many (pun intended), but with climbing's recent increase in popularity, new gyms have popped up all over and prices have plummeted.
Downtown Chicago is home to numerous climbing facilities: The First Ascent chain, Brooklyn Boulders and the Chicago Bouldering Collective, to name a few. Testing out gyms to determine where to buy a membership is an expensive and time-consuming prospect, so my professional climber friend, Walker, and I evaluated three of the best and broke them down for you.
Indoor bouldering is a booming sport, and it's easy to understand why. Climbing is a full-body workout … and a cerebral, collaborative process.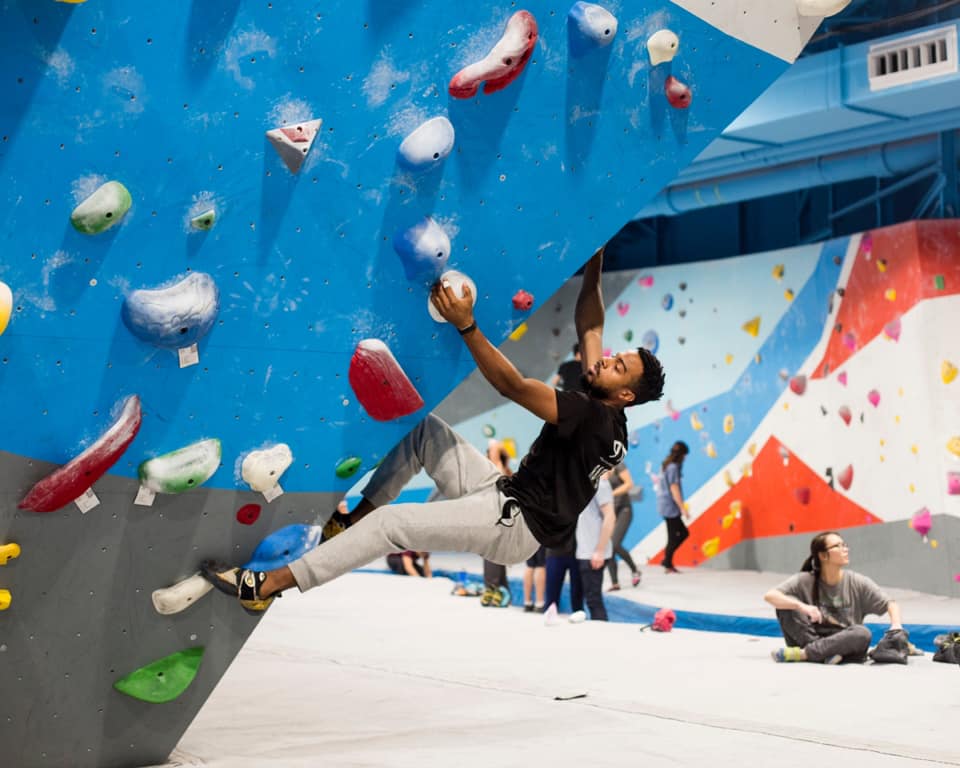 First Ascent: Block 37
Located at Block 37 as well as Uptown, Avondale and Humboldt Park
FirstAscentClimbing.com
Day pass: $15
Monthly membership: $78
First Ascent: Block 37 is a sizable gym nestled, interestingly enough, within a massive indoor shopping center. If you're looking to take a break from climbing, or a good meal after an intense workout, the Block 37 mall has you covered.
Neither Walker nor I had ever seen a gym with high-tech electronic lockers — so there's no reason to worry about security. You'll also get free rental shoes and chalk at the door if you don't have your own gear, which is a rare perk. As another bonus, First Ascent is a chain with several other locations in the Chicago metropolitan area, and one membership plan grants you access to all of them.
The variety of climbing routes at Block 37 is wide, with intriguing, diverse settings for everyone from novice to the highly experienced — though my professional climber friend Walker lamented the lack of problems above V9 (unless you've been climbing for 10-plus years, don't worry about it).
However, you can leave your harness at home — Block 37 is an exclusively bouldering facility — so belay climbers may want to look elsewhere. The conventional gym is fairly small, but First Ascent offers introductory climbing and yoga classes on a regular basis (not included in the cost of a day pass). Overall, First Ascent is an excellent and affordable fit for newcomers to indo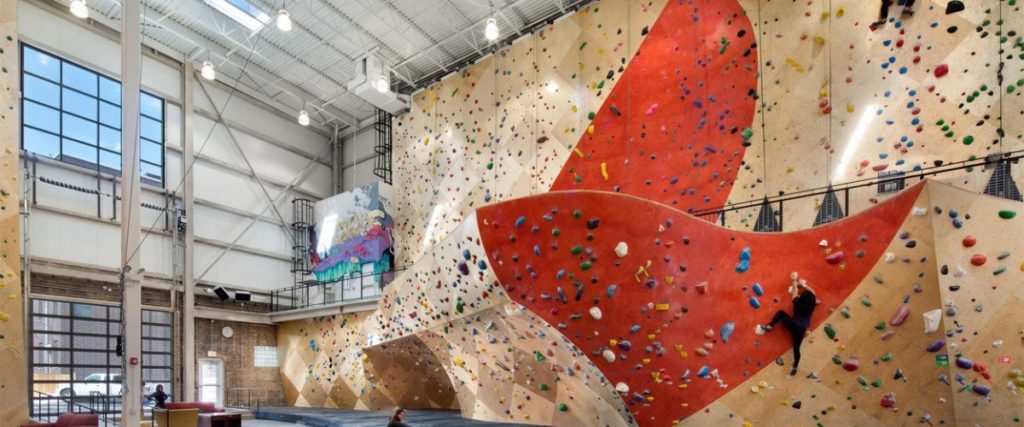 or bouldering.
Brooklyn Boulders Chicago
100 S. Morgan
BrooklynBoulders.com/Chicago
Day pass: $20
Monthly membership: $125
Brooklyn Boulders in Greektown is a more "serious" gym. The complex is massive, with 25,000 square feet of climbing walls. Unlike Block 37, there is plenty of both bouldering and belay climbing. Their conventional gym is also much larger.
Another aspect of climbing gyms that many people enjoy is the co-working spaces. Block 37 has a couple desks, but as appears to be the trend, Brooklyn Boulders' infrastructure is more extensive — hence membership at Brooklyn Boulders is more expensive. Additionally, no gear is included with the day pass.
To my surprise, Walker objected to their polished wood walls — most climbing gyms construct wall faces from a coarse plastic, which better resembles genuine rock and affords superior foot grip. If you're looking to spend several intense hours at a gym and don't mind wood walls, give serious consideration to Brooklyn Boulders.
Chicago Bouldering Collective
2334 W. Nelson
ChicagoBoulderingCollective.com
Day pass: $10
Monthly membership: $45
Located on the fourth floor of an old industrial building in the Wicker Park area, The Chicago Bouldering Collective resembles an outdoor bouldering area more than a typical gym. It's a cramped but cozy space that looks like someone's refurbished garage. Of the three gyms we reviewed, CBC appears most geared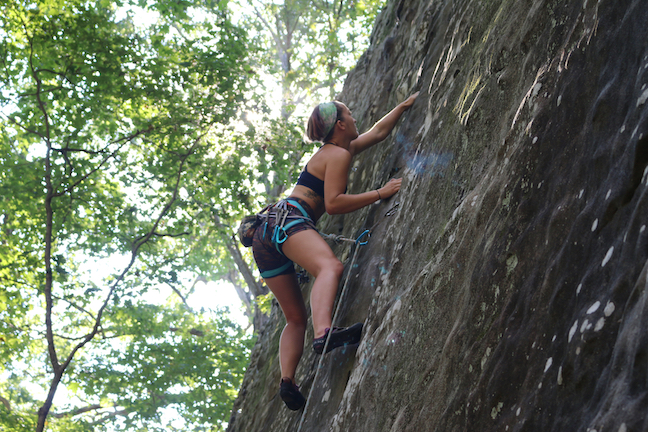 towards semi-experienced climbers.
One major difference between CBC and the other two gyms is their route system — at CBC, each hold is part of several different routes, which both conserves space and closer resembles actual climbing, where proper "holds" aren't so clear. CBC's walls are also constructed of the wood some climbers disdain, and rather than giant floor-length mats, the gym uses the crash pads folks use outdoors.
Newcomers are allowed by appointment only (the Collective is run by volunteers, and thus has sporadic hours), so plan in advance if you're considering stopping by. But what the CBC lacks in openness, it makes up for with its tight-knit community. It has an incredible culture, and gym patrons regularly visit outdoor spots together. Last month, 17 CBC members went to Jackson Falls, the best climbing spot in Illinois, and CBC members are heading to the famous Red River Gorge in Kentucky soon.
Note that the Chicago Bouldering Collective recently moved to its new location and will be re-opening in early 2019 at 2334 W. Nelson.
Our takeaways:
If you're a beginning climber, or are simply curious about the sport, either First Ascent or Brooklyn Boulders are great places to start. First Ascent lends itself more to casual workouts, whereas Brooklyn Boulders may be a better choice for those looking to spend several hours at a gym several times a week and are looking to get some business done there as well. Those interested in outdoor climbing should definitely pay a visit to the Chicago Bouldering Collective first.
Whatever climbing destination you choose, you're sure to come away exhausted and determined to complete that red V3 on the slab you were just one move away from finishing.