Signature Dishes: Fried avocado tacos and Chicago-style tofu with gouda mac 'n' cheese at Handlebar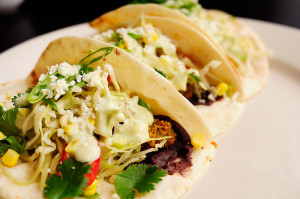 An inside look at standout menu items from popular Chicago establishments
By Harrison Schaefer
Handlebar has been a Wicker Park staple for more than a decade now, consistently serving up delectable vegetarian and vegan dishes for breakfast, lunch and dinner.
Fried avocado tacos
It's hard to describe what eating a fried avocado is like, but I'll give it a try: A mixture of nature's beautiful green butter melting in your mouth with all the indulgent glories of fried food. These tacos are killer. Each one is filled with cabbage slaw, queso fresco, refried beans and a zesty house-made ranch. However, it's important to thoroughly savor them because all three tend to disappear before you even realize it.
Chicago-style tofu sandwich and smoked gouda mac 'n' cheese

Going along with their vegetarian-friendly menu, Handlebar offers up a tofu sandwich that packs a flavorful punch. They season the tofu with several distinct flavors — pesto, garlic aioli, Dijon, giardiniera — and serve it on a couple slices of soft focaccia bread. Meanwhile, the heaping portion of smoked gouda mac is an absolute pampering of a side that provides a nice counterbalance to the fresh healthiness of the sandwich.
Handlebar also offers a full bar including a bloody Mary that gets regular shout-outs on numerous Chicago "best of" lists.
Handlebar is located at 2311 W. North Ave. in Wicker Park. For more information, visit www.HandlebarChicago.com