A night at the Joffrey: Convincing my date that ballet can be for everyone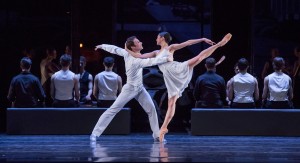 Your ads will be inserted here by
Easy Ads.
Please go to the plugin admin page to set up your ad code.
By Dana Alsamsam
Photos by Cheryl Mann
"I'll look up the directions to the theater" my date yells into the room where I'm slipping on my heels, "but babe, how do you spell 'Joffrey?'"
Though I had admired Joffrey ballet dancers since the day I put on my first pair of pink slippers, for people like my date, a ballet does not sound like their ideal night on the town. After throwing the idea at him a handful of times, he agreed to attend and was only dreading the show slightly.
The Joffrey is a world-class, Chicago-based ballet company committed to artistic innovation. They have a unique repertoire that encompasses masterpieces from the past, as well as modern, cutting-edge works. When a Shakespearean play like Romeo and Juliet is transformed into a ballet, you don't have to be a literary expert to understand the story. And you definitely don't need to be a dancer to admire the way the cast floats effortlessly across the stage.
After I answered his inquiries like "Do I have to wear dress shoes?" and "How do I know when to clap?" we were off to Auditorium Theatre at Roosevelt University, where the company performs. As the lights went down and the orchestra began to play, I whispered into his ear that if the conductor is even slightly off tempo, it can mess up the dancers completely. In the midst of a dancing fight scene, a la West Side Story, I monitored his face for any sense of thrill or elation. I was hoping he would see characters like Tybalt and Mercutio dancing and believe, at least for a few moments, that Shakespeare had actually penned the famous love story with ballet in mind.
As Juliet entered, I glanced at his eyes to see if they lit up with the nimble beauty of her port de bras, the
grace of her leaps and turns. I held my breath during a modern take on the iconic pas de deux between Romeo and Juliet and hoped that he was experiencing the same magic that I was, even if he couldn't name the steps.
Your ads will be inserted here by
Easy Ads.
Please go to the plugin admin page to set up your ad code.
As I had hoped, the performance was not lost on him. He noticed repeated gestures in the choreography, some daring lifts, the endurance of the dancers and even some musical themes from the orchestra. But among all of these, what he admired the most was the dancers' abilities to speak without talking, creating a language of movement that said more than words ever could. He knew that Juliet was asking her father to leave her alone when she did a quick enveloppe, and that Capulet was asking for order when he threw his arms out into a commanding second position.
"I wasn't expecting much from a ballet" he said to me, "especially one like Romeo and Juliet. I pretty much went to make you happy, but turns out I'm more of a dance fan than I thought!"
In the coming 2014-2015 season beginning in the fall, the Joffrey will be performing classics like The Nutcracker and Swan Lake as well as modern, original works like Unique Voices and Stories in Motion. Watching this Chicago-based company perform will be a transformative experience, whether you're an arabesque expert like me or you don't even know how to spell "Joffrey."
Joffrey performances take place at the Auditorium Theatre of Roosevelt University located at 50 E Congress Parkway. For more information on the 2014-15 season, visit www.Joffrey.org
Your ads will be inserted here by
Easy Ads.
Please go to the plugin admin page to set up your ad code.