First Look review: "Treasures of the Walt Disney Archives" exhibit at the Museum of Science and Industry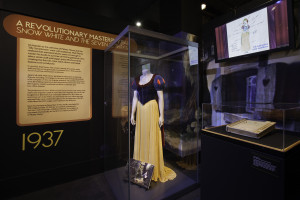 Take a walk through 90 years of history from one of the world's most recognizable brands
By Jim Luchetta 
Located at: The Museum of Science and Industry. www.MSIChicago.org
Background: Disney has come to Chicago to celebrate the iconic brand's 90th anniversary. The event organizers, the heads of the Disney Vault, picked Chicago for this milestone because the city was the birthplace of their founder, Walt Disney, in 1901. And what better place to celebrate such a vast history?
What to expect: Treasures of the Walt Disney Archives has more than 300 pieces on display, some of which have never been released to the public. There is a re-creation of Walt Disney's work space, an old cartoonist's desk adorned with sketchings of famous Disney characters, and several costumes worn in famous Disney movies like Captain Jack Sparrow's wardrobe (complete with dreadlocks and compass!).
It's honestly hard to fully describe the sheer volume of historical artifacts in this exhibit, but a good start would be to call it mesmerizing. Disney fan or not, 90 years of set pieces, costumes, workspace equipment and more from one of the most recognizable brands in the world is downright impressive.
What stood out: To zero in on only a few things that stood out is not an easy task. A walk through this exhibit is a whirlwind of images that catalogue the rise of the Disney empire from its humble beginnings to
where it stands now. Everything here is a major piece of history; from the toy model they used as the Nautilus in 20,000 Leagues Under the Sea to an old, worn-out piece of clothing that was used in Snow White for live capture, everything in this space is worthy of your time.
Final thoughts: The Disney exhibit is worth your time because, regardless if you are a fan or not, it's easy to appreciate the history that's on display. With more than 300 pieces, this showcase will captivate you and your family with ease. It really is a must-see for an in-depth appreciation of one of the world's most recognizable and entertaining companies.