Inside Scoop: Chicago Restaurant Week, free museum days, Bluegrass and Blues Fest and deals around town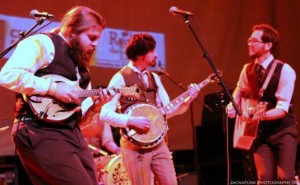 Your ads will be inserted here by
Easy Ads.
Please go to the plugin admin page to set up your ad code.
Learn what's hot and what's happening in Chicago this winter
Chicago Restaurant Week Jan. 26-Feb. 6
This year's Chicago Restaurant Week begins slightly earlier than in years past and has actually been extended to 14 days. From Jan. 26-Feb. 6, Chicagoans can dine at a variety of downtown and suburban restaurants for $22 prix-fixe lunches and $33 or $44 prix-fixe dinners. If you're into the Chicago food scene as much as I am, you know it's vital to make those reservations as early as possible
Here are three suggestions for both lunch and dinner during the 2014 Chicago Restaurant Week. Keep in mind, lunches tend to be better deals compared to dinner, as many restaurants offer their regular menus (and you save $11 or $22 off the price of dinner).
Lunch
1. Blackbird: Chef Paul Kahan's West Loop restaurant was voted one of Chicago's top five restaurants by Gourmet Magazine, not to mention it has a Michelin star. Dish we're most excited about: Wood-grilled sturgeon with roasted leeks, potatoes, caviar.
2. GT Fish & Oyster: This River North seafood mecca offers a nice escape from the harsh Chicago winter. The fresh seafood, combined with the nautically-themed restaurant, makes for a lovely weekday or weekend lunch. Dish we're most excited about: Lobster roll.
3. Travelle: Located on the second floor of The Langham hotel, this Mediterranean restaurant offers fine dining in a beautiful space, overlooking the Chicago River. Dish we're most excited about: Pomegranate-braised lamb shank.
Dinner
1. Cichetti: Chef Michael Sherrin of Trencherman heads up the kitchen at this newly-opened Venetian small-plates spot. Dish we're most excited about: Gnocchi with braised pork shank.
2. David Burke's Primehouse: Steakhouses are always a great bet during Restaurant Week, especially when you can score an appetizer, filet and dessert for under $50. The Primehouse dry-aged steaks are worth considering for a Restaurant Week lunch or dinner. Dish we're most excited about: Classic filet mignon.
3. Embeya: This stunning Asian-fusion restaurant in the West Loop always offers a three-course lunch for $21, so skip that. Instead, head over for their prix-fixe dinner served family style. This is bound to be one of the best deals during Restaurant Week. Dish we're most excited about: Thit heo kho (braised pork belly).
— Amanda Topper, ChicagoFoodies.com
Free weekdays at the Museum of Science and Industry
The Museum of Science and Industry is offering free general admission for Illinois residents on weekdays in January.
Run in a human-sized hamster wheel. See lightning strike indoors, manipulate a tornado, climb inside a historic locomotive, dissect a real eyeball, witness fiery chemistry at work, become an inventor and learn to dive and surface a submarine.
Free museum entry also makes it a great time to see the temporary exhibit Treasures of the Walt Disney Archives, spanning nine decades of marvelous Disney innovation and history.
The Museum of Science and Industry is located at 5700 S. Lake Shore Dr. and is open from 9:30 a.m.-4 p.m. these days. www.MSIchicago.org
Chicago Bluegrass and Blues Festival 
Your ads will be inserted here by
Easy Ads.
Please go to the plugin admin page to set up your ad code.
The Chicago Bluegrass & Blues Festival (CBB) is ready to celebrate its fifth birthday. The wintertime roots fest returns with 17 shows spanning three weeks in January and February.
CBB is anchored in eight shows over three weeks at the newly-minted Concord Music Hall, the West Loop's City Winery and Evanston's SPACE.
Visit www.Facebook.com/cbbfestival for more information and a full show schedule.
Valentine's weekend and Oscar-nominated shows at the Music Box Theatre
Friday, Feb. 14: The Princess Bride. Rob Reiner's romantic fairy tale gets a new take for Valentine's Day with audience interaction. Pre-show entertainment includes a costume contest where attendees may dress up as one of their other favorite characters.
Saturday, Feb. 15: Casablanca Sweetheart Sing-Along matinee. The Music Box's annual screening of the eternal classic Casablanca is preceded by a special Valentine's Day Sweetheart Sing-Along featuring a selection of memorable love songs complete with projected lyrics and organ accompaniment.
Saturday Feb. 15: The HUMP! Tour. Outspoken sexpert Dan Savage hosts the sexiest, funniest, most creative dirty movie fest in the world. Since 2005, the HUMP! Film Festival has challenged ordinary people to become temporary, weekend porn stars by making their very own five-minute dirty movies for a chance to win big cash prizes.
Academy Award-nominated documentary short films: Jan. 31-Feb. 6
The Music Box celebrates Oscar season with its annual showcase of the documentary short films nominated for this year's Academy Awards. Nominations will be announced Jan. 16.
The Music Box Theatre is located at 3733 N. Southport. www.MusicBoxTheatre.com
Great deals around town
The Grid
On Monday evenings guests are treated to "buck a shuck" oysters, bottles of wine are half-price on Wednesdays, and Monday through Thursday from 4-6 p.m. pizza is only $5. Located at 351 W. Ontario. www.TheGridChicago.com
$20.14 prix fixe at Nacional 27
Nacional 27 welcomes in 2014 with a "$20.14" prix-fixe menu Monday through Thursday evenings in January. Dining and lounge guests visiting on Thursday evenings can add a little spice to their night, as complimentary salsa dance lessons take place at 7:30 p.m. Visitors to the lounge also benefit from half-priced tapas from 5-7 p.m. Monday through Friday. Located at 325 W. Huron. www.N27chicago.com
Pork Chop late-night specials
Chicagoans looking to grab a bite and keep the party going in the West Loop can indulge in the restaurant's new late-night specials like half-off appetizers, $1 select appetizers (sliders, tacos, wings a
nd fries) and a burger, beer and shot combo for only $10. Enjoy these specials Monday -Thursday starting at 10 p.m. and Friday and Saturday starting at midnight. Located at 941 W. Randolph. www.ChicagoPorkChop.com
La Madia wine and pizza
The River North restaurant offers a specialty wine (red and white) every day for $6. Dining in a group? Try the "pizza party" menu (salads, pizza and dessert served family-style) for $14 per person. Located at 59 W. Grand. www.DineLaMadia.com

Half-price Thursdays at Waterhouse
This Lakeview favorite offers an early start on the weekend with half-price beer, sangria and well drinks on Thursdays. Their craft beer list is something to write home about, and the sangria is a favorite no matter what time of year it is. Located at 3407 N. Paulina. www.WaterhouseChicago.com
Your ads will be inserted here by
Easy Ads.
Please go to the plugin admin page to set up your ad code.