Chicago Insider: Katie Leimkuehler on Pequod's pizza, Akira fashion and her favorite Thai and karaoke spots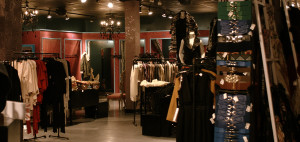 Your ads will be inserted here by
Easy Ads.
Please go to the plugin admin page to set up your ad code.
Name: Katie Leimkuehler
Occupation: Author of Shy Town Girls.
How long you've lived here: Seven years. It's crazy how time flies!
What you like best about Chicago: You can't beat summer in Chicago. Nothing compares. The city comes alive unlike any other place. It's definitely the best three months of the year. I also love the people in this city. The friendly Midwestern attitude is at the heart of the people who live here.
Best meal you've had recently: Hands down Pequod's Pizza. I'm a huge pizza fan, and I can never get enough of theirs. Pepperoni, green peppers and onions is a recipe for deliciousness!
Favorite big-name restaurant: Tavernita. I love the tapas-style food and the ambiance.
Favorite "hidden gem" restaurant: Sai Mai Thai. It's a fabulous little Thai place right around the corner from me on Armitage that has the most amazing food including their pad Thai and Panang curry. I would be lying if I said they didn't know me there.
Best sports bar to catch the game: Kirkwood. It's always a great crowd of people with a fun and lively atmosphere, especially in the summer. They have one of the best outdoor patios.
Your ads will be inserted here by
Easy Ads.
Please go to the plugin admin page to set up your ad code.
A great night out with friends usually includes… A BYOB restaurant or grabbing dinner and margaritas at Cesar's and then hitting up Four Farthings for karaoke. It's a deadly combination, but always an entertaining one!
Favorite store or best shopping area: I adore Akira and Pipers Boutique. Their style is right up my alley — classy, chic and stylish.
The best way to spend a summer Saturday in the city: First off, there is no place like Chicago in the summer. It's essentially spring break 2.0 for adults. Head to North Avenue Beach and play a pick-up game of volleyball, or better yet, drinking beer and boating on the lake. How can you beat that?
One thing every visitor must do here: Grab drinks at the J. Parker rooftop. It has a fabulous view of the skyline with even better cocktails.
Secret Chicago spot: Nike Training Club on Armitage in Lincoln Park. They offer free fitness classes for women above their store every week. It's an incredibly warm and welcoming place.
Underrated activity in the city: Segway tours. They are actually a lot of fun and a cool way to see the sights of the city.
And the bonus question…. What's one place you hear great things about but have yet to try? Eataly. I've been to the one in New York, but haven't made it to the new one in Chicago. I can't wait to check it out.
Your ads will be inserted here by
Easy Ads.
Please go to the plugin admin page to set up your ad code.