Chicago Insider: Ernest Wilkins on dining at Au Cheval, drinks at Lumen and Revolution, and where to find the "Hangover Killer"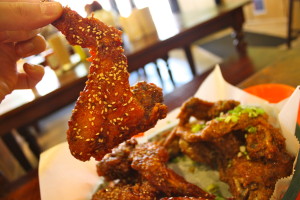 Name: Ernest Wilkins
Occupation: Digital producer at RedEye
How long you've lived here: 23 years (not counting two years in Atlanta and three in Tallahassee, FL)
What you like best about Chicago: The "get it done" mentality. There's a lot less unnecessary BS in this city. Chicagoans are who they are, for better or for worse.
Best meal you've had recently: The pan con chicharron sandwich at 4 Suyos in Logan Square. I call it "The Hangover Killer." It's good anytime though.
Favorite big-name restaurant: Pequod's and Big Star.
Favorite "hidden gem" restaurant: Crisp. Crisp, Crisp, Crisp. All day, every day.
Best sports bar to catch the game: Two Way Lounge in Logan Square, Anthem (Division), Rebel (Wrigleyville), The Ogden (West Loop) — depends on the team I'm watching.
A great night out with friends usually includes… pre-gaming it at Rossi's, then heading to dinner. (I don't go to dinner with more than four people. Life is so much easier that way.) Somewhere like Au Cheval is a good look. Then a stop at Lumen — they take care of me every time I'm there. Lotta love. Late-night eats (Boiler Room, Jubilee, Dimo's pizza) might happen, then after-hours in my backyard.
Favorite store or best shopping area: Fat Tiger Workshop, Leaders 1354, Haberdash, the Men's Store at Saks Fifth Avenue.
The best way to spend a winter Saturday in the city: Hit the Bang Bang Pie Shop for a breakfast sandwich, then grab a stool at the Revolution Brewpub in the early afternoon. Try everything. Go to dinner, catch a Bulls or Hawks game, then take your drunk ass to bed.
One thing every visitor must do here: Leave the Loop.
Secret Chicago spot: Not telling. Yes, that's lame. No, I don't care.
Underrated activity in the city: UIC basketball games. Always super cheap, and there's a bunch of great bars around that way.
What's one place you hear great things about but have yet to try? Anything that costs a lot of money. A lot of the buzz restaurants are still too rich for my blood.