Shop Around the Corner: Stationary, scented candles and fashionable clothing at Art Effect in Lincoln Park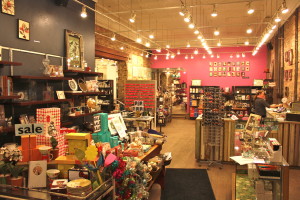 Browsing Chicago's unique, trendy stores and boutiques
By Taylor Tolbert
Art Effect
934 W. Armitage
www.ShopArtEffect.com
Chicagoans knows how easy it is to spend hours upon hours window shopping on Armitage Ave., especially during the cold winter months. There are tons of fun stores and quirky boutiques, but one truly stands out among the rest. Art Effect, just off the brown line, is equal parts women's clothing and jewelry boutique, home décor retailer, and everything-else-you're-looking-for gift shop.
What originally began as a clothing and jewelry boutique has turned into one of Lincoln Park's most beloved one-stop shops. Art Effect offers stationary and frameable prints, deliciously scented candles and fashionable clothing. Beloved brands like Jonathan Adler, Dogeared and Rosebud Perfume Co. are just some of the names that fill the shelves.
To say this store is versatile would be an understatement. Shoppers can come in one day for gifts for a bride-to-be and return the following day for a quirky children's book for a niece or nephew.
The best way to get the point across is this: If you had 24 hours to give a friend a makeover, plan a dinner party for her and make her into the greatest friend ever (or at least the best gift-giver), go to Art Effect. You'll only need 45 minutes to find everything you need.