The Big City Blog: Taking a day off to enjoy spring in Chicago… finally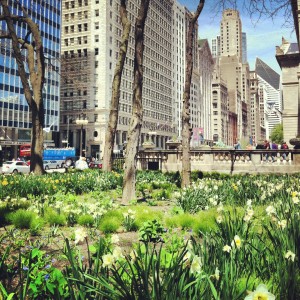 It's been a long wait for decent weather, but a walk through the flower-filled Millennium Park on a 70-degree day can cure what ails you
By Taylor Tolbert
I have officially survived my first winter in Chicago. As a recent transplant from sunny California, it wasn't easy. I moved here knowing that Midwestern winters were rough, but I can safely say that no amount of prior knowledge prepares someone born and raised in 75-degree Decembers for the biting winds and that damn sleet. What I had no knowledge of, however, was how terrible "spring" would be. I figured that once I made it through March, April would reward my thinly-worn patience with sunshine and iced-coffee weather. I was mistaken. Instead, April just brought more rain, some snow, and a lot of cold.
I had all but given up on spring a few weeks ago when I saw that things were finally looking up. Words cannot describe how happy I was to be able to finallywalk outside without six layers of clothing on. My faith in Chicago was finally restored.
Unfortunately, between work, school, writing and life's other obligations, I had no time to enjoy the weather until this past Sunday. I found myself with a rare day off — no school, no work and the homework could wait. I was going to rediscover the great outdoors and rewrite my love letter to Chicago. (Cheesy, sure, but it's true.)
I live in the eastern part of the West Loop, so I'm not far from Millennium and G
rant Park. I know it's a tourist trap most of the time, but it's really beautiful, and the flowers and greenery are quite a sight for my sore eyes. Not to mention, the people-watching is second to none at the Bean. "Scoot back so it looks like I'm holding it in my hand! Now what if I bend down and make it look like it's balancing on my head! Do I have it? Scoot back more!" That kind of stuff. I live for it. It's nice to just walk down there sometimes and sit for a while.
Equipped with a book and an iced coffee, I headed down to the park. It was packed, naturally, but I walked around a little bit and took in the sights. Major compliments to whoever does the floral planning around the city. It's on point. If you've been in the Loop at all in the last few weeks, you've certainly seen all of the colorful tulips and daisies scattered throughout. Lurie Garden, nestled in Millennium Park, isn't quite in bloom yet, but it's always gorgeous with the city's skyline providing background for the flowers and the neat water feature.
Speaking of water features, I realized that Buckingham Fountain would be up and running again by this point, so I headed down there. My former suburban California self would be shocked by how much I walk in Chicago. I don't have another option most of the time, what with my lack of automobile, but I really do find myself walking a lot. The fountain is another one of my favorite parts of the downtown parks, especially in the early evening.
I wish I had a crazy story to share about my day off (especially since it happened to be Cinco de Mayo), but really I just walked around the park, enjoying the sunshine and the wonderful city that I was cursing not so long ago.  I read a book in the garden at the Art Institute, a great little nook of South Michigan Avenue, and watched a little bit of a riveting chess game at the "chess party" on the sidewalk right out front, where anyone can play a game for just a few bucks. The parks in Chicago are some of the best I've ever seen, especially in a major city. I really love Millennium Park and Grant Park because there are great views of the skyline wherever you look, but you're surrounded by nature at the same time.
Chicago isn't home to me, but it's where I live now and where I've chosen to spend an integral part of my life. I really do love it, I just forgot my reasoning for a few months because it was so damn cold and I was being a whiney baby. I would like to offer my sincerest apologies to the city and thank it for very quickly reminding me why I was drawn so strongly to it. Thanks, Chicago. You rock, never change. Unless you want to alter your winter weather habits, then by all means, proceed.