Good eats at Brasserie 54: A romantic spot for a French "Sunday Supper in Chicago"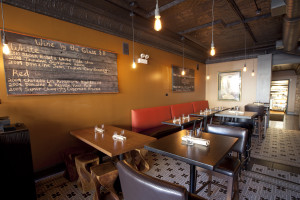 Enjoy this intimate setting for affordable French food in Andersonville

By Darcy Horath
Location: 5420 N. Clark
www.Brasserie54.com
The scene: Unassuming and dimly lit, I nearly walked past Brasserie 54 on the way to their "Sunday Supper." Once inside, with the intimate seating and crooner music, I left like I had stumbled into a Parisian brasserie off the River Seine.
Food and drink: On Sundays from 3-9 p.m., Brasserie 54 offers a three-course "Sunday Supper" for only $20. It began with a cream of tomato soup that warmed me up, but the real standout of the course was the thick, rustic bread with which it was paired.
My date and I decided to split entrées — he ordered the hachi Parmentier (aka Frenchmen's shepherd's pie), and I ordered the poisson du jour: lake trout. The fish was a tad under-seasoned, but the pie was wonderful. Swirls of mashed potatoes over succulent beef made each bite a delight.
Traditionally, the dinner ends with a choice of dessert, but after reading the extensive cheese list, we asked if we could end with a cheese platter instead. The chef was accommodating, and we were served a trio that paired beautifully with our 2009 cabernet — cottonwood-aged cheddar, fromage d'afinois and petit basque. 
What caught our eye: The dim, romantic lighting in the dining room created an amorous ambiance. The fireplace on the far wall paired with the low-hanging industrial light bulbs and a good bottle of wine made Brasserie 54 perfect for a date night.
We'll be back because… after tasting a few items off of the limited Sunday menu, we're dying to try the beef bourguignon!