Signature Dishes: The buffalo chicken rolls and turkey on a pretzel at Waterhouse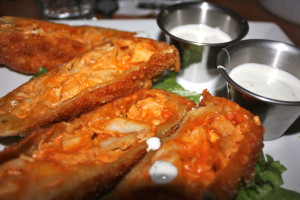 An inside look at a pair of standout menu items from popular Chicago establishments
By Trent Modglin
Waterhouse
3407 N. Paulina
www.WaterhouseChicago.com
Waterhouse is a Lakeview staple known for its tasty food and sangria, sidewalk patio, great daily specials and extensive craft beer list. Family-owned and operated, with sister establishments like Rebel in Wrigleyville and Pitchfork on Irving Park, Waterhouse will be rolling out a worthy collection of new menu items this summer.
Buffalo chicken rolls
This can't be called a new phenomenon anymore, but Waterhouse was where I first carved out and, later, satisfied my addiction. And it's the place that still does them best. Grilled buffalo chicken breast, shredded Monterrey Jack and crumbled blue cheese wrapped in a crispy shell. The tender chicken has a slight kick and is complemented by the crunchy egg roll-like shell. This is one of the most richly delicious appetizers you will ever sink your teeth into. And don't you dare feel guilty afterward.
Turkey on pretzel
There are a lot of places that offer turkey sandwiches, but there are not a lot of places that do them well. Waterhouse starts their version off right, with hand-carved, locally sourced turkey breast. No deli meat here. And they're not skimpy with it. This sandwich is loaded with turkey and topped with avocado, bacon, lettuce, tomato, Swiss cheese and a hint of Dijon mustard. The key for us? A soft pretzel roll is the perfect way to serve it up. And don't forget the sweet potato fries.