Shop Around the Corner: Find some hip urban streetwear at Leaders 1354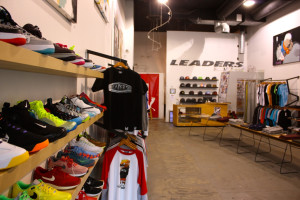 By Harrison Schaefer
Leaders 1354
672 N. Wells
www.Leaders1354.com
Looking for some cool new streetwear before summer hits? Leaders 1354 has a large selection of hip, urban clothing including shirts, hoodies, hats and a wide variety of sneakers.
Located in a storefront in Chicago's River North neighborhood, Leaders 1354 provides an intimate shopping experience with knowledgeable and friendly staff members who are willing to take the time to show customers around the store.
The Leaders' brand (often abbreviated "LDRS") is displayed prominently on much of the store's clothing, creating a unique logo for wearers (like Jay-Z and other celebs). Leaders wholesales its branded clothes to dozens of stores around the country and also carries a large online presence for those looking for a crack at the popular limited runs of shirts and hats.
All of the t-shirts, sleeveless shirts and hoodies — with both male and female options — are made of high-quality material that makes them equally comfortable and durable, the perfect combination for strolling around Chicago's streets with our changing weather.
With the motto "Stay ahead of the curve," they also have a location called LdrSkate in the historic Hyde Park neighborhood that offers a full skate shop with skateboard decks, trucks and wheels in addition to a full selection of clothing.