Shop Around the Corner: Feel like a kid again at Timeless Toys in Lincoln Square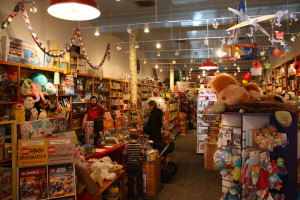 Browsing Chicago's unique, trendy stores and boutiques
By Brian Thalhammer
Timeless Toys
4749 N. Lincoln Ave.
www.TimelessToysChicago.com
Walking through the doors of Timeless Toys is like traveling back in time. Maybe a generation or two ago, when quality merchandise, charming neighborhood stores and one-to-one customer service was the norm instead of today's mass-produced approach at toy superstores.
Real toys, not those cheap ones you pick up at the big chain stores, are what rest upon the shelves and hang from the ceilings. You find yourself cruising through the aisles, looking for that one toy you had as a child (Lego or train sets, old-school building blocks or Raggedy Ann dolls, perhaps), or chauffeuring your own child down memory lane, all while being considerate of your wallet.
"We were having a hard time finding good, quality toys for our son," shopkeeper Martha Burrows explains as the inspiration behind opening the unique store with her husband 20 years ago. "Now, people of all ages come here to see the creative things we have to offer."
Timeless Toys is truly a spot that deserves recognition, having been open for two decades in the same Lincoln Square neighborhood. It's an addictive go-to spot for books, puppets, robots, stuffed animals, baking sets, you name it.
"It would be impossible not to find something to love here," says Debbie Podmore. "I stopped in for 10 minutes for my niece's birthday present and stayed for an hour. It's that kind of place."