Chicago's hidden gems: Lito's Empanadas, Eva's Cafe and Susie's Drive-In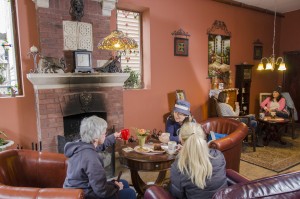 Your ads will be inserted here by
Easy Ads.
Please go to the plugin admin page to set up your ad code.
If you're searching for that special, out-of-the way experience that represents our great city, we've got you covered
Lito's Empanadas
I haven't run across many places that sell empanadas, so when I'm in the mood for plump, deep-fried treats, I always head to Lito's Empanadas.
This little place has 11 types of Colombian empanadas generously stuffed with fillings ranging from your basic beef or chicken to Nutella and banana. They're the size of your fist, yet each empanada will run you only about $2.50. If you want a quick snack, just grab one, or if you're ravenous I recommend three.
Another thing I love about Lito's is that they deliver, or you can place your order online and pick it up in the shop. Opting for pick-up is a good idea because seating is pretty limited. These pastry crescents travel really well, so expect your meal to still be steaming when you bite into it at home.
Lito's Empanadas in Lincoln Park is located at 2566 N. Clark. www.LitosEmpanadas.com
— Amanda Parker
Eva's Cafe
Miss those coffee shops that don't keep you in line for half an hour and let you enjoy yourself without all kinds of commotion? Eva's Café, located in Old Town, is the place to be when you want to get away from the other hustle-and-bustle coffee shops.
Your ads will be inserted here by
Easy Ads.
Please go to the plugin admin page to set up your ad code.
"A lot of customers come to Eva's because we offer a quiet and slow environment, which is often hard to find in other places," says Victoria, Eva's manager and daughter of the owner. "People come here to study or get work done, and Eva's offers them a place to do just that, as well as enjoy a lot of what we have to offer on our menu."
They aren't lying. Not only does Eva's serve some of the best coffees and lattes, but they can back them up with fresh, delicious sandwiches and pastries (the turkey pesto sandwich is a personal favorite). With a gentle, warm brick décor and a fireplace to cozy up next to on cold days, Eva's is sure to cure any stress-induced blues and satisfy those hungry bellies.
Eva's Café is located at 1447 N. Sedgwick.
— Brian Thalhammer

During the golden age of rock n' roll and muscle cars, drive-ins were the place to be.
To this day, Susie's Drive-In continues to honor that era with 65 hand-made milkshakes created by their team. Susie's has a full menu consisting of hearty burgers, hot dogs, a long list of sandwiches from Polish to Italian beef, and their ever-so-famous cheese fries in a hard taco-shell bowl. And being open 24/7, it's perfect for those late-night cravings.
"Their milkshakes are truly the ones you remember enjoying when you were just a little kid, and you can never get enough of them," said a patron we couldn't argue with.
Susie's Drive-In is located at 4126 W. Montrose.
— Brian Thalhammer

Your ads will be inserted here by
Easy Ads.
Please go to the plugin admin page to set up your ad code.