The Big City Blog: A musical, deep dish and the Redhead Piano Bar — a very Chicago night on the town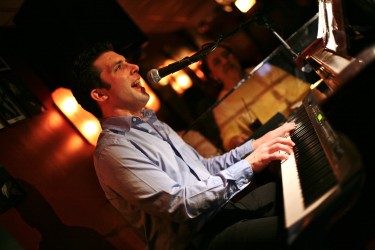 Your ads will be inserted here by
Easy Ads.
Please go to the plugin admin page to set up your ad code.
By Emily Clement
I've lived in Chicago for nearly six years, which certainly isn't enough to make me a local, but just long enough to forget that it's a world-class city with almost literally unlimited options for entertainment, food and drinks. So when, on a recent foggy Tuesday night that would normally be spent at barre and then sitting on the couch until it was late enough to go to bed, I had tickets to see Chicago, my roommate and I decided to take the opportunity to be touris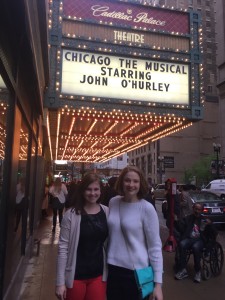 ts in our own city.
Crime, deep-dish pizza and live blues and jazz: Can you think of three things more quintessentially Chicago? Or a better way to spend your Tuesday night, even if it means getting less than four hours of sleep before work the next morning?
The musical Chicago played at the Cadillac Palace Theater for just a week, courtesy of Broadway in Chicago, and was a much more delightful way to experience the city's crime and corruption than watching the evening news. Plus, it has a stellar cast: John O'Hurley stars as Billy Flynn, with Dylis Croman as Roxie Hart, Terra C. MacLeod as Velma Kelly and Paul Vogt playing Amos Hart. Matron "Mama" Morton is played by Roz Ryan who, if you are a '90s kid, you know as the voice of muse Thalia from Hercules ("Honey, I think you mean Hunk-ules!")
The show really was an absolute blast from start to finish. I can't imagine anyone not liking it, because it's just such a fun show. Like Roxie says (or coos, rather): "Who says murder's not an art?" Yes, the show takes place mostly in prison and the courtroom, but the bailiff is wearing a mesh shirt! And the defendant is wearing bedazzled shoes and dancing around her chair. And if you don't like "Cell Block Tango," I really can't help you.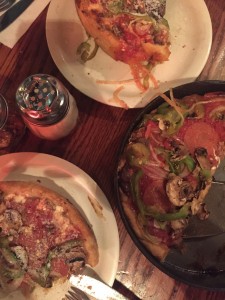 Your ads will be inserted here by
Easy Ads.
Please go to the plugin admin page to set up your ad code.
Pizza was not originally on the docket, but turned into a necessary pit stop when we realized how hungry we were after three hours of watching other people work hard on stage. To keep to our classic Chicago theme, we went to the original Pizzeria Uno on Ohio Street. The debate over who has the best deep-dish pizza is contentious. (Pequod's? Lou Malnati's? Gino's East? Does it matter?) I won't try to add anything to the mix, but I can confirm that the pizza was cheesy and flavorful with a crisp crust, so mission accomplished. After waiting the requisite 45 minutes, we were ravenous and made short work of the Numero Uno.
Next up was The Redhead Piano Bar for drinks and live music. I've said it before and I'll say it again: The drinks at the Redhead are made strong. They have a long menu of creative variations on martinis, as well as a healthy wine, scotch and champagne list. A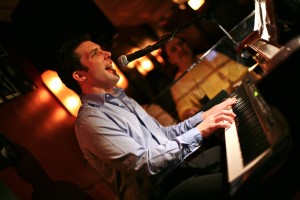 fter the first round, we each tried "Sonya's Juicy Peaches" at the recommendation of our waitress, who warned us it is almost too delicious. She was right.
Technically, the Redhead is an old-school piano bar and Chicago institution, and the music runs the gamut from rock to swing, jazz, pop and blues. Even at midnight on a weekday, it draws a considerable crowd. Phil Baron and Billy Sullivan were Tuesday's act, with Baron on piano and Sullivan on guitar, playing a range of old standards and requests to locals and tourists alike. It was the perfect place to wrap up our very Chicago night out, even if we did stay until 2 a.m. waiting to hear Billy Joel. Oh, and the song playing when we walked in? "Sweet Home, Chicago," of course.
Your ads will be inserted here by
Easy Ads.
Please go to the plugin admin page to set up your ad code.