The Local Corner: Exploring the Damen and Roscoe intersection in Chicago's Roscoe Village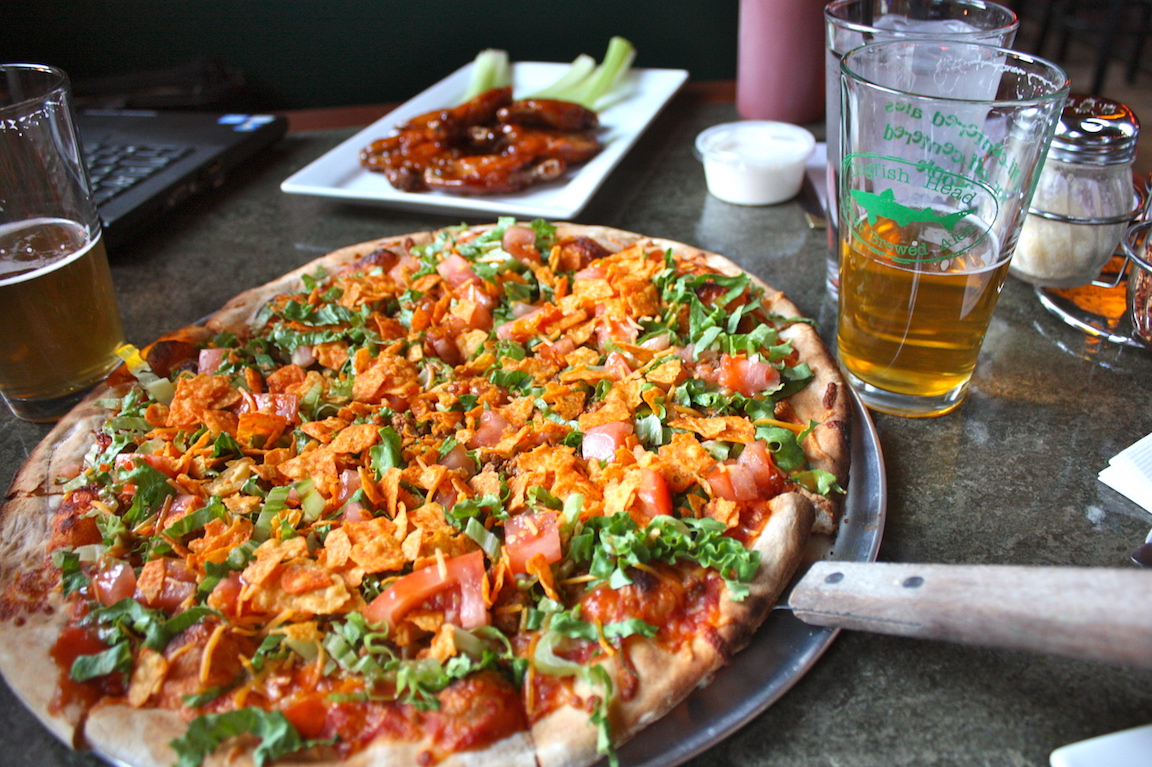 Your ads will be inserted here by
Easy Ads.
Please go to the plugin admin page to set up your ad code.
Exploring Chicago's neighborhoods one intersection at a time
Featured corner: Damen and Roscoe in Roscoe Village

By Rachel Summerfield
Shangri-La Vintage
1952 W. Roscoe
www.Facebook.com/ShangriLaVintage
This friendly and authentic vintage shop sits right at the crux of Damen and Roscoe, where it has been owned and run by Debbie and Jim Gallo since 1992. Bellbottom jeans, feathered hats and carpet bags gleam and wink all the way to the ceiling. While the shop is ever popular with theatre students, musicians and fashionistas, don't forget about Shangri-La's appeal when it comes to prepping for themed parties and events. The store carries a range of garments from the 1950s through the '90s, carefully arranged by decade. Especially impressive is the collection of handpicked '80s belts. It may be cozy, but it is not overwhelming, and each item has its own place. As Debbie says, "When I see sparse, I run!"
Riverview Tavern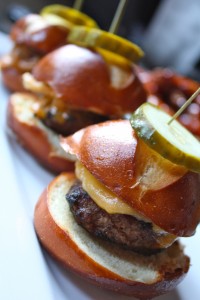 1958 W. Roscoe
www.RiverviewTavern.com
The staff at the welcoming Riverview Tavern pride themselves on making their fare as fresh, elevated, and from-scratch as possible, including creative burgers, pizza, grilled cheese sandwiches, even their house ketchup. If that doesn't get you, come down and smell the tantalizing baking pizza crust that wafts from the bar's prized wood-fire oven. I recommend the funghi pizza — fresh mozzarella, portabella mushrooms, basil and truffle oil with a crunchy, flaky crust and a spiced, buttery olive oil base. Riverview also boasts great daily specials and a robust craft beer list, and definitely try the famous "Hail Mary Fill Your Face" bloody Mary, garnished with kitchen-sink fixings like a mini-cheeseburger and a slice of pizza. Yep, you read that correctly.
Commonwealth Tavern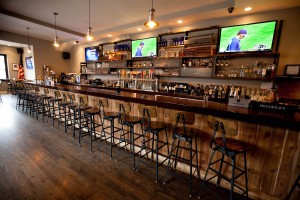 2000 W. Roscoe
www.CommonwealthChicago.com
The partners behind Commonwealth describe it as "not like your average Wrigleyville bar," instead recognizing the gastropub as a notch-above-the-rest alternative and new neighborhood staple. The atmosphere is upscale but still inviting, with big open windows and modest plaid booths against hearty raw-wood paneling — a feature the partners created themselves during renovation. Commonwealth brings in all sorts of customers, but especially attracts 20-somethings looking for that select bar experience and Roscoe Village families with hungry kids. The bar keeps the majority of its beers on its impressive 20-spout tap, switching out a third for what's new and hot per season and staying especially true to pale ales and IPAs.
Kitsch'n on Roscoe
2005 W. Roscoe
www.Kitschn.com
Famous for its over-the-top quirky vintage vibe, Kitsch'n on Roscoe is chock full of pop-culture references and stashes of '70s décor. It features a tiki bar and outdoor seating areas for your dining experience, as well as a wide range of cocktails and entrees, some of which have ascended to cult fame. The restaurant's slew of awards — many of which praise its comfort food, family ambiance and status as a prodigious "hangover breakfast" place — speak to chef and owner Jon Young's creativity and passion.
Volo Restaurant and Wine Bar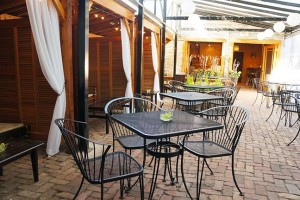 2008 W. Roscoe
www.VoloRestaurant.com
Roscoe Village is home to one of Chicago's best hidden-patio experiences, and it comes with all the wine you and your group could possibly want. Volo boasts 30 wines (including limited reserve), a full bar and spaciously beautiful patio. Grab a small plate of choice organic ingredients, a sampler of artisanal cheese or a rich dessert to go along with your wine by the taste, half-glass, glass or mini carafe amidst a chic yet comfy ambiance.
Your ads will be inserted here by
Easy Ads.
Please go to the plugin admin page to set up your ad code.
Orange With a Peel Chicago
2011 W. Roscoe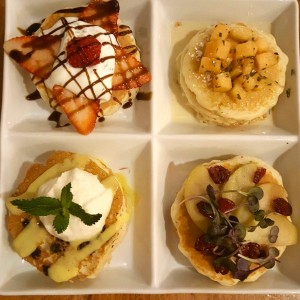 www.OrangeRestaurantChicago.com
This popular brunch spot's eclectic, charming interior — blue ivy chandeliers and local Chicago artists' work lining the sage green walls — matches its creative entrée selection. Come here for the locally trademarked "frushi" (fruit sushi), fresh made-to-order juice menu at every table and rotating pancake flights dreamed up by executive chef Luis Pindter (my version was an incredible herb theme: basil with basalmic, strawberries, and basil-infused whipped cream, rosemary with cantaloupe, thyme with maple-caramelized apples, and mint chocolate chip with honey ricotta, all on top of mini stacks of light, fluffy pancakes). The "ever-changing" aspect of the menus, art and entrees, along with the quality organic ingredients and service are what keeps Orange fresh and contemporary — and its diverse clientele coming back for more.
Costello Sandwich & Sides
2015 W. Roscoe
www.CostelloSandwich.com
After 17 years in Roscoe Village and 13 years in Lincoln Square, Costello's is a well-established neighborhood favorite, known for its quality ingredients, fresh-baked focaccia, and side orders like soups, salads and mac & cheese. Its varied and creative rotating menu of baked sandwiches features classics with a spin (such as "The Mess" with Italian deli meats, fries and coleslaw on the sandwich), grinders and wraps, with plenty of vegetarian options too.
Roscoe Village Bikes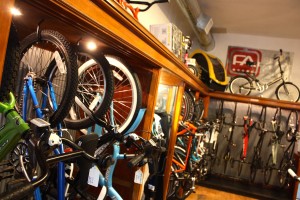 2016 W. Roscoe
www.RoscoeVillageBikes.com
Celebrating its 10th summer, Roscoe Village Bikes is a helpful shop for those who love two-wheeled transportation. Co-owners Alex and Lesley Tweedie meet all types of customers, from commuters to triathletes to college freshmen getting their first city bikes. New bikes hang neatly on a tin-backed wood rack, while further back, the store transitions into an open-air service shop for tune-ups that include anything from basic repairs to installing stroller flats. Roscoe Village Bikes also features a range of accessories, including handmade recycled-jersey caps and bags by local artists.
Little Threads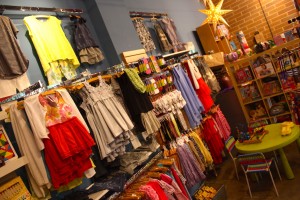 2033 W. Roscoe
www.ShopLittleThreads.com
Featuring a wide spread of colorful children's clothes over its brick and pale blue walls, as well as a kiddie play area, Little Threads is the ultimate children's boutique. Enjoy the bright, family vibe as you shop for natural teethers, adorable sunglasses or a hip indie wardrobe (featuring the latest from Tea Collection) for the babies through preteens in your life.
A Pied
2037 W. Roscoe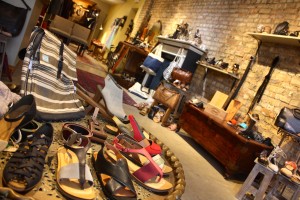 www.APiedShoeBoutique.blogspot.com
With its reclaimed wood, exposed brick and Persian rugs, A Pied looks and feels like an elegant little boutique in Europe. Shoes of every kind, every style (running the gambit from mod to classic), and from both name brands and indie designers line the walls or are cleverly displayed on tables, trunks and pretty cabinets. The name, meaning "on foot" in French, is apt. Trudy Robinson and Matt Foley wanted the store — now in its eighth year — to prove that a shoe can be beautiful, unique, well made and trendy, as well as versatile and "crazy comfy" for the urban flâneur about Chicago. Trudy brings a personal touch to the shoes' design by handpicking heel types and leathers. Regular customers from all over the country seek her keen eye to size up the perfect shoe for them (I can personally attest to this!).
Your ads will be inserted here by
Easy Ads.
Please go to the plugin admin page to set up your ad code.