Inside Scoop: Free Millennium Park concerts and movies, Tuesdays on the Terrace at the MCA, farmers' markets and deals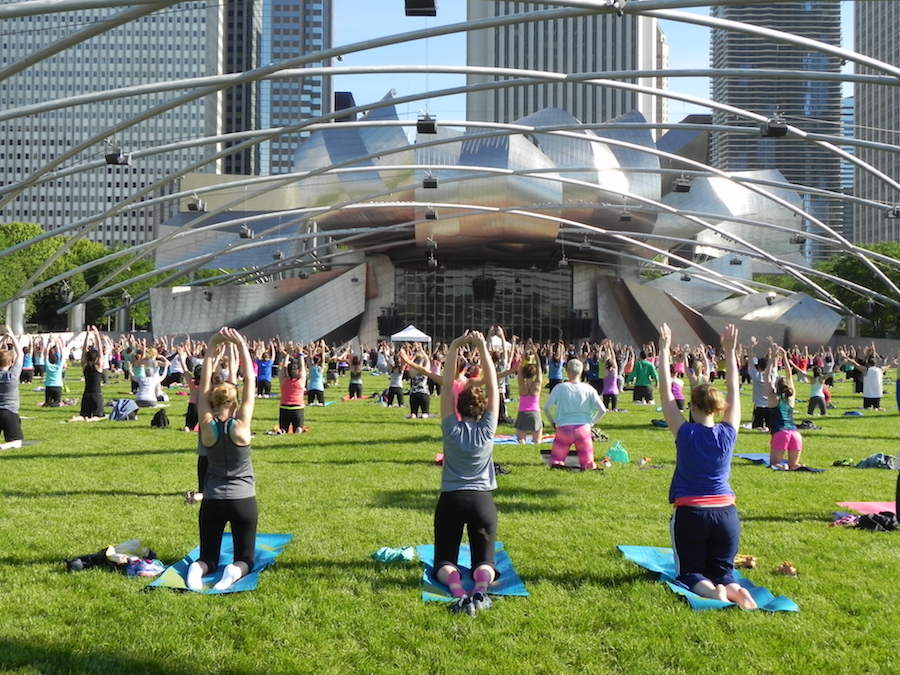 Millennium Park's free summer workouts June 1-Sept. 3
Jump-start your weekend with summer workouts in Millennium Park on Saturdays from June 4-Sept. 3, beginning at 7 a.m. Guests are invited to stretch, kick and dance the summer away each Saturday as instructors take them through Tai Chi, Yoga, Pilates and Zumba classes accompanied by live music, DJs and drumming. All workouts are free and take place on the Great Lawn. Throughout the summer, the 45-minute classes are taught by different instructors, offering plenty of variety.
Additionally, for Chicagoans and visitors looking for a midweek workout, Wednesday Yoga returns this year on Wednesdays from June 1–Aug. 31 from 7:30-8:15 a.m. For more information and schedules, visit www.MillenniumPark.org
Millennium Park Summer Music Series June 6-Aug. 25
The 2016 Millennium Park Summer Music Series will offer an exciting lineup of 18 free outdoor concerts every Monday and Thursday from June 6-Aug. 25 at the Jay Pritzker Pavilion in Millennium Park. The music series (formerly Downtown Sound and Made in Chicago: World Class Jazz) has been reimagined to feature a wider variety of genre-defying music from top local, national and international artists.
Performances begin at 6:30 p.m. and take place rain or shine. Visit www.MillenniumPark.org for more information.
33rd annual Chicago Blues Festival June 10–12 in Grant Park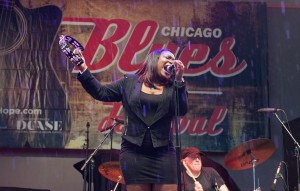 The three-day festival will open with a celebration of the 45th anniversary of Chicago's Alligator Records and conclude with a special tribute to the legendary Otis Rush featuring notable friends and other musicians he has influenced throughout his career.
The Chicago Blues Festival is free admission and open from 11 a.m.- 9:30 p.m. daily. Visit www.ChicagoBluesFestival.us for more information and schedules.
Millennium Park Summer Film Series June 21-Aug. 30
The popular Summer Film Series returns to Millennium Park on Tuesdays from June 21-Aug. 30 at 6:30 p.m. Guests can grab a seat at the Jay Pritzker Pavilion or lounge on the Great Lawn as crowd-pleasing movies like Ferris Bueller's Day Off, Finding Nemo, A League of Their Own, Grease and Silence of the Lambs are presented on a state-of-the-art 40-foot LED screen.
Visit www.MillenniumPark.org for a full movie schedule.
38th annual Chicago Jazz Festival Sept. 1-4
The 38th annual Chicago Jazz Festival will take place in Millennium Park and the Chicago Cultural Center (78 E. Washington) Sept. 1-4, showcasing the greatest jazz artists from Chicago and around the world. Admission is free, and the range of artists comprising the festival runs the gamut from jazz legends celebrating momentous occasions to commemorations of key contributions by lost giants, from influential modern masters to crucial new voices in the music's continuing evolution.
For the latest information on the Chicago Jazz Festival, visit www.ChicagoJazzFestival.us
MB Financial Park at Rosemont hosts "Country in the Park" and "Rockin' in the Park" free summer concert series
MB Financial Park (5501 Park Place, Rosemont) will celebrate the summer season with the return of two popular free summer concert series. MB Financial Park will host "Country in the Park" concerts Tuesday evenings from May 31-Aug. 30, featuring some of Nashville's most popular emerging country music artists. "Rockin' in the Park" concerts are scheduled to return Thursday evenings from June 2-Sept. 1, featuring the music of classic cover bands.
All concerts run from 7-10 p.m. and are surrounded by food and beverage tents on the park's great lawn. Admission to the concerts is free. Outside coolers are prohibited. Parking is available at the MB Financial Park parking garage and is free with validation from any of the park's venues. All "Rockin' in the Park" concerts will be followed by a musical fireworks display. Fireworks displays will also conclude select "Country in the Park" performances. Visit www.MBParkAtRosemont.com for more information.
Tuesdays on the Terrace and farmers market at the Museum of Contemporary Art
Every Tuesday this summer, the Museum of Contemporary Art Chicago hosts free, outdoor activities, including the popular Tuesdays on the Terrace live jazz series and the SOAR (Streeterville Organization of Active Residents) Farmers Market.
From June 7-Sept. 27, Tuesdays on the Terrace features Chicago's quintessential jazz musicians performing outside on the MCA's terrace. Visitors can experience the musicians up close with open seating and enjoy dining al fresco, or bring a blanket and relax with a cocktail on the sculpture garden lawn. The performances take place from 5:30-8 p.m. In case of rain, the event takes place inside the MCA café.
Also on every Tuesday from June 7-Oct. 25, the MCA hosts the SOAR Farmers Market on the front plaza from 7 a.m.-2 p.m. Vendors at the European-style outdoor market offer a colorful variety of fresh fruit and vegetables, cut and potted flowers, baked goods, cheeses and spices.
Every Tuesday at the MCA is Community Free Day, when Illinois residents receive free admission and the museum is open late until 8 p.m. The MCA is located at 220 E. Chicago Ave. www.MCAChicago.org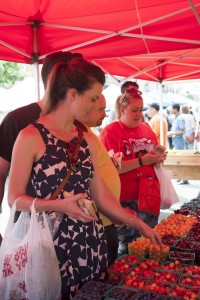 Chicago farmers markets are open for business
Some 50 of these popular markets, spread throughout the city's neighborhoods, sell fresh fruits, vegetables, plants and flowers, as well as other prepared food items.
For a full list of the 15 Chicago-managed markets as well as over 35 independently run markets in the city, visit www.ChicagoFarmersMarkets.us
Second City's Sunday Bloody Mary Sunday brunch show is back
Nothing says summer in Chicago like brunch and comedy. UP Comedy Club is proud to bring back the smash-hit Sunday Bloody Mary Sunday. Don't miss the experience we here at The Real Chicago called "a great and unique way to spend a weekend morning." The perfect activity for groups looking to keep the party going or nurse wounds from the night before.
Brunch shows are on Sundays at 11 a.m. from May 1-Sept. 25. www.UpComedyClub
Laugh Out Loud Theater opens in North Center
Looking for a good laugh in a new establishment? Laugh Out Loud, a fixture in the northwest suburbs for nearly a decade, opened a city location in Chicago's North Center neighborhood in late March. The theater hosts improv comedy shows every Friday and Saturday night at 7:30 p.m. (family friendly) and 9:30 p.m. (more adult oriented), as well as occasional open-mic nights, improvised Broadway musicals and more on select weekdays.
Laugh Out Loud Theater is located at 3851 N. Lincoln Ave. For show times and tickets visit www.LaughOutLoudTheater.com
— Giselle Dominguez
Deals around town
The Franklin Room in River North hosts whiskey nights on Sunday, where from 5-10 p.m. there is a $1 whiskey menu. Also, on weekdays, stop by between 11:30 a.m.-2 p.m. for $1 beers or glasses of wine and $3 martinis with a $12 minimum lunch purchase (limit two drinks per person). They're not done there: $1 oysters every day from 5-6:30 p.m. and $15 carafes of wine every Monday. The Franklin Room is located at 675 N. Franklin. www.FranklinRoom.com
Blackfinn Ameripub has added new drink and food specials to their weekday happy-hour menu from 4-7 p.m., including $5 select drafts, $6 wines, $7 cocktails on tap and $8 flatbreads and appetizers (chicken parmesan sliders, quesadillas, fried chicken tacos, etc.). Blackfinn is located at 65 W. Kinzie in River North. www.BlackfinnAmeripub.com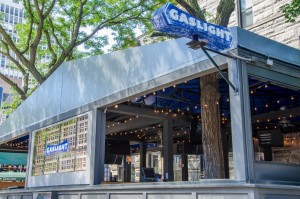 Gaslight is hosting an acoustic brunch the first weekend of every month this summer, including live music and specials in their Lincoln Park beer garden. Doors open for brunch at 11 a.m., and there will be two different artists each weekend, with music and brunch lasting until 3 p.m. Brunch specials include $10 mimosa packages, $8 bloody Marys and $5 trop bombs. Gaslight is located at 2450 N. Clark. www.GaslightBar.com