The Big City Blog: Red Lion reopens, wine and shopping with Sassy City Chicks, and the Grant Park Music Festival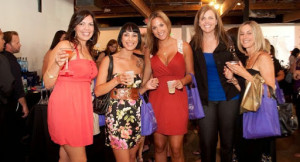 By Trent Modglin and Clare Edlund
Sassy City Chicks Chicago hosts day to "Shop, Sip, Socialize and Get Pampered"
Taste Milestone's variety of cabernet sauvignon, chardonnay and red and white blends at Sassy City Chicks' Shop, Sip, Socialize and a Day of Pampering on Sunday, July 27, from noon-5 p.m. at the Drake Hotel.
Bring your girlfriends and get in on hot sales on clothing, jewelry, skincare, candles, accessories and more.
Visit www.SassyCityChicks.com to purchase tickets.
ACTIVATE turns downtown alley into a free public art celebration Aug. 1
Chicago Loop Alliance (CLA) will transform the Chicago Theatre alley into an urban celebration with ACTIVATE on Friday, Aug. 1 from 5-10 p.m. The free pop-up event is the third of five to immerse the public in a spectacle of sound, art and performance.
Guests who RSVP in advance at www.LoopChicago.com/ACTIVATE will receive a complimentary drink ticket at the event, with additional wine and beer available for purchase on site. This event is presented in partnership with The School of the Art Institute of Chicago.
National Oyster Day at Hugo's Frog Bar and Fish House
1024 N. Rush
www.HugosFrogBar.com
Celebrate National Oyster Day on Tuesday, Aug. 5 at Hugo's Frog Bar and Fish House. The signature entrée will be offered for $1 all day long. You can have them fried, Rockefeller or on the half shell.
Gaslight gets a new home
2450 N. Clark
www.GasLightBar.com
Located in the former home of Mickey's in Lincoln Park, the new Gaslight (formerly on Racine) has transformed that "college bar" appearance to more of a beach theme. Go sit in the patio before summer is over and try some frozen cocktails, one of 40 canned beers, and a tasty mahi-mahi taco.
The Red Lion Pub reopens (finally) in Lincoln Park
2446 N. Lincoln Ave.

At long last — after six years — the Red Lion Pub has re-opened in Lincoln Park with a facelift you'll have to see to believe. Owner Colin Cordwell finally tore down the original building from 1882, which was widely believed to be haunted, and rebuilt a stately British pub, complete with high archways, plenty of literature, artwork, English memorabilia, three fireplaces and an "Africa Room" upstairs.
It's the ideal place to grab a pint and a specialty item like the shepherd's pie, fish and chips or curried fries. Try the sweet and savory onion toffee rings as a starter and "The Watson," a sandwich made of thick-sliced house salt beef with mustard and horseradish pickle slaw on pumpernickel bread.
And don't be afraid of the "intelligent conversation" that tends to happen here.
Grant Park Music Festival Part II: August Rush
Jay Pritzker Pavilion
205 E. Randolph
www.GMPF.org
One more month remains of the musical festivities at Grant Park. If you have not had the chance to catch a concert yet, here are some upcoming performances in the month of August.
Brahm's Symphony No. 4 — Friday, Aug. 1 at 6:30 p.m. and Saturday, Aug. 2 at 7:30 p.m.
The Seven Deadly Sins — Wednesday, Aug. 6 at 6:30 p.m.
Northern Lights — Friday, Aug. 8 at 7:30 p.m. and Saturday, Aug. 9 at 7:30 p.m.
Bolcom and Mozart — Wednesday, Aug. 13 at 6:30 p.m.
Daphnis and Chloe, a world premiere by William Bolcom — Friday, Aug. 15 at 6:30 p.m. and Saturday, Aug. 16 at 7:30 p.m.