Chicago's hidden gems: Books at Armadillow's Pillow, coffee at the Bourgeois Pig and hookah at Ambrosia Cafe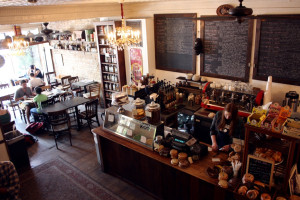 If you're searching for that special, out-of-the way experience that represents this great city, we've got you covered
The Armadillo's Pillow bookstore
The Armadillo's Pillow is a quaint bookstore in Rogers Park and a wonderland for any book lover. Specializing in
uncommon and hard-to-find used books, this shop values the quality and individuality of each product they place on the shelves.
While picking up a Spinoza philosophy book from 1942 with the original owner's signature and admirably intact covers, a customer can feel as if they've uncovered buried treasure. That sense of eccentricity comes with each and every purchase.
The packed-to-the-ceiling labyrinth of shelves leads customers to corners where they will find anything from a vintage map of Philadelphia to a French translation guide or rare vinyl records. In addition to the collection of books, the store also offers old-time collectibles, incense, folk art and hand-crafted jewelry by Eliza Jane.
The Armadillo's Pillow is located at 6753 N. Sheridan Road. www.ArmadillosPillow.com
— Dana Alsamsam
The Bourgeois Pig coffeehouse
The Bourgeois Pig is a chic, historic-looking café that might make you feel like you are back in the 19th century. Tucked away on Fullerton Avenue in Lincoln Park, The Bourgeois Pig has been around for 20 years and is a great place to read, do homework or enjoy a creative sandwich, pastry or salad.
If you can find a seat upstairs, there are very private corners with beaded-door entrances. You can sit in an antique cushioned sofa or even a schoolhouse desk — this is the quietest area in the café if you're cramming for your final or need an escape to read that novel or have a quiet conversation.
The food is homemade and outstanding. Try a hot mixed berry scone or a delicious panini. Not to be overlooked, the baristas are very experienced, outgoing and down to earth.
"This place is very Irish, very British, and very Scottish," says first-time customer Anam Sarder. "Even when people are talking nearby, it's cozy enough to concentrate on what I'm reading."
The Bourgeois Pig is located at 738 W. Fullerton in Lincoln Park. www.BPigCafe.com
— Clare Edlund
Hookah at the Ambrosia Cafe
While smoking is not highly appraised in our society these days, some people find hookah to be a socially acceptable experience — as well as an art form of sorts.
The idea behind hookah is for groups to gather around a three-foot tall pipe filled with water vapor and topped with coals, and smoke flavored tobacco out of a nozzle attached to a hose. The hookah creates a light buzz and allows for an evening of relaxation and socializing.
Ambrosia Cafe, located near DePaul University, has comfortable seating, TVs, music and an ample selection of vapor flavors — house flavors include sex on the beach, white peach, strawberry margarita, blue mist and wildberry. It's open until 3 a.m. on the weekends and usually packed with a younger crowd looking to wind down from a long week.
Ambrosia Café is located at 1963 N. Sheffield. www.AmbrosiaHookah.com
— Clare Edlund