Good Eats at Girl and the Goat: Stephanie Izard's West Loop hotspot was everything this writer expected and more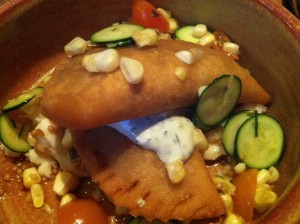 Your ads will be inserted here by
Easy Ads.
Please go to the plugin admin page to set up your ad code.
By Taylor Tolbert
I'd been wanting to go to Girl & the Goat for years now. For those less familiar, it's the highly celebrated restaurant of Top Chef season-four winner Stephanie Izard, who seems like the coolest chick on the planet. In December 2012, she opened the slightly more affordable, far more casual Little Goat Diner, which I have been to a few times and love. But it's just across the street from Girl & the Goat, so I always end up staring longingly through the window.
The first thing we tried was the grilled baby octopus with beans, pistachios, guanciale and lemon vinaigrette. I was uneasy about ordering octopus because I've never had it any way other than calamari, but it was crazy good. So many different flavors and textures complementing each other well.
Our next courses came perfectly timed after the first: goat empanadas and green beans drizzled with fish sauce vinaigrette and topped with cashews. The empanada shell was cooked perfectly, with a little bit of crisp but not too much crunch. It was presented beautifully with colorful radishes, grilled blueberries, asparagus salad and miso-harissa aioli, adding a light and refreshing counter to the warmer, heavier flavors of the empanada. It was a nice first experience with goat.
Your ads will be inserted here by
Easy Ads.
Please go to the plugin admin page to set up your ad code.
Next up was the plate I was most skeptical of, but also most excited about — the wood oven-roasted pig face with a sunny side egg, tamarind, cilantro, red wine maple and potato stix. When I read "pig face," I imagined an actual pig's face served on a platter. And that terrified me. It was delicious, though (sorry, vegetarians), and as it turned out, just shredded pork hidden under an egg.
The pork was salty, the maple added a sweetness, the potato stix brought the crunch (I'm salivating while writing this). I've never heard of a dish similar to this, which is exactly why I was so excited to eat here in the first place.
After all of this, dessert. It's the moment I look forward to most in every meal (except cheese plates… don't even get me started), but I knew I wouldn't find typical desserts on this menu. Our server said the miso-butterscotch budino was the best dessert he's ever had, so how could I turn down that endorsement?
It came out very quickly, which was good for my dining partner because I don't do well when I wait for dessert. I honestly don't know what to say about this other than I'd have to agree with our server. Miso-butterscotch budino with bacon toffee, glazed pineapple and candied cashews. Have mercy. The whipped cream tasted so fresh, there was a butter cake in the middle of the whole thing that was to die for and the budino itself was so rich.
Girl & the Goat was the best dining experience I have ever had, all aspects considered. The food was perfection, our server was great (and honest, which I appreciate) and the decor and atmosphere were just right. I found it refreshing that the service and food were of the highest quality, yet the restaurant had not an ounce of pretention. I'll be back as soon as my bank account recovers.
Girl and the Goat is located at 809 W. Randolph in the West Loop. www.GirlandtheGoat.com
Your ads will be inserted here by
Easy Ads.
Please go to the plugin admin page to set up your ad code.