The Local Corner: Exploring the Milwaukee and Wolcott intersection in Wicker Park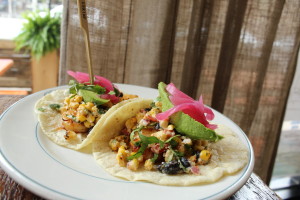 Your ads will be inserted here by
Easy Ads.
Please go to the plugin admin page to set up your ad code.
Exploring Chicago's neighborhoods, one street corner at a time
By Taylor Tolbert
Photos by Corey O'Day

Antique Taco

1360 N. Milwaukee
www.AntiqueTaco.com
Tacos are having their day in the sun right now, aren't they? They certainly are in Wicker Park. Antique Taco sets itself apart from the crowd, though, with great snacks and appetizers to accompany their delicious tacos. Things like habanero popcorn and chili cheese curds are tasty treats, and their salad is perfectly summery with strawberries and pomegranate vinaigrette mixed in with kale, spicy peanuts and cheese, among other things. And after you've enjoyed all of their savory delights, they've got a wonderful little dessert menu to satisfy your sweet tooth.
Antique Taco has a great space, with recovered wood tables inside and a few outside on their patio as well. The atmosphere is lively, the lines are never too long (worth any wait, though), and you might even get inspired to do some arts and crafts for your apartment after seeing the Pinterest-esque décor.
Emporium Arcade Bar
1366 N. Milwaukee

www.EmporiumChicago.com
Space Invaders and beer — what more could you need for a fun-filled Friday night with friends? Emporium Arcade Bar will provide just that, and so much more, at this unique Wicker Park favorite. Combining the comfortable atmosphere of a neighborhood bar and an incredible craft beer and whiskey list with the nostalgia of old-school video games (they even require tokens), it's a surefire way to lose track of your night and have a great time. They've got games like Frogger, Pac-Man, pinball, Super Mario Brothers and all the others that you've been secretly dying to play for the last decade or more.
Filter
1373 N. Milwaukee
Coffee houses can tend to be a dime a dozen in a big city, with most feeling fairly indistinguishable from one another. Not the case with Filter. Comfy, mismatched couches and chairs, tons of power outlets to charge up and delicious food all help set Filter apart. Whether you need a place to hunker down for an all-day study session or a meeting spot for a casual date, Filter is it. Along with great drinks, they boast some of the best sweet potato fries around. They've got plenty of seating, too, so you'll never have to hover over someone and wait to steal their seat (don't lie, you've done it), and the staff is very pleasant and helpful.
Nori
1393 N. Milwaukee
www.NoriChicago.com
Nori's mission was to open neighborhood sushi bars in friendly, welcoming areas. They've certainly done that here in Wicker Park. Great staff and delicious sushi are what you'll find in this cozy corner sushi bar. Along with all of the staples you'd expect at any sushi restaurant, they have some colorful and original rolls to spice up your table, and you won't bust your bank account sampling the tasty Japanese fare.
Your ads will be inserted here by
Easy Ads.
Please go to the plugin admin page to set up your ad code.
Nori isn't just sushi, though. They've also got some great Thai cuisine, rice dishes, noodles and donburi. Stop by for a bento lunch or BYOB night with friends.
Floyd's 99
1409 N. Milwaukee
www.FloydsBarbershop.com
By this point, rock & roll in pretty synonymous with great hair, so a rock & roll barber shop only makes sense, no? Floyd's 99 Barber Shop, with six Chicago locations and tons more across the country, promises a fresh haircut for men, women and children while also guaranteeing great music and quite a unique atmosphere. Their services range from all-over color or highlights to a straight razor shave or beard trim. The greatest part about it? The music doesn't have to stop when you leave the store. Floyd's boasts its own radio station, accessible through their website.
Brooklyn Industries
1426 N. Milwaukee
www.BrooklynIndustries.com
Cool t-shirts, reasonable prices and a great mission statement are what you'll find at Brooklyn Industries. They guarantee that everything they sell has been made in environmentally-friendly factories, they're highly conscious about sustainability and all of their stores are 100-percent wind powered. Along with all of that, their stores are built with sustainable materials. You definitely won't feel guilty about shopping here.
Because they put so much effort into being "green," a natural assumption might be that they'd be lacking in the stylish trends and accessories available in other Wicker Park stores. But you'd be wrong. Brooklyn Industries carries incredibly unique and very fashionable clothing for men, women and children. Started in Brooklyn, they now have 15 stores in New York, one in Chicago and one in Portland.
Ragstock
1433 N. Milwaukee

www.Ragstock.com
When you first enter Ragstock, it may be a little overwhelming. There are just so many clothes. Anything you could be looking for — leggings, shorts, crop tops, dresses, jackets, tank tops, you name it — is in this store. They've got new clothes as well as recycled fashions for both men and women, all at great prices. This is definitely the place to go for any summer festival wardrobe. Expect the latest trends and tons of basics, as well as hip, funky accessories that won't break the bank.
Personal Privilege
1448 N. Milwaukee
Personal Privilege is a modern, fun boutique with all of the latest trends for women. They carry unique brands you won't find many other places in the city, and clothes for an array of occasions — all at an affordable price. The staff is friendly and approachable, happy to help you find the perfect outfit for a date night or work event.
Your ads will be inserted here by
Easy Ads.
Please go to the plugin admin page to set up your ad code.