Shop Around the Corner: Vintage vinyl at Gramaphone Records and shoes and jewelry at City Soles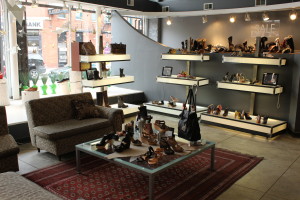 Your ads will be inserted here by
Easy Ads.
Please go to the plugin admin page to set up your ad code.
Browsing Chicago's trendy, unique neighborhood stores and boutiques
Gramaphone Records
2843 N. Clark in Lincoln Park

www.GramaphoneRecords.com
Gramaphone Records, across the street from the Landmark Theatre, has been a neighborhood staple since 1969. Stepping into the store will incite a bout of nostalgia when you see the scuffed linoleum floor and inhale the smell of used vinyl, but the modern beats of Chicago house and electronic music that play on the sound system keep you firmly grounded in the here and now.
"There are people who never stop buying vinyl," co-owner Jason Bradley says. "We're a little more electronic oriented, but we do carry a little bit of rock."
The store's developing rock section carries blues to indie, but the real specialty of Gramaphone is the overwhelming house and electronic selection. Bradley explained that it's not uncommon for Europeans to come and clear out the local house music section because so much of it isn't pressed outside of the U.S. anymore.
The store has other unique aspects like the nine vinyl and three CD listening stations with headphones plugged in to sample the tunes before purchase. Gramaphone also boasts a host of former employees who are famous Chicago DJs like Derek Carter, Mark Farina and DJ Heather to name a few.
— Richard Ray
City Soles
1566 N. Damen in Wicker Park
www.CitySoles.com
The name may suggest shoes, but City Soles offers Chicagoans much more than just that pair of sandals that everyone and their mother will be wearing this summer. The store has a wide variety of unique shoes and brands you won't find anywhere else in Wicker Park, maybe even all of Chicago, as well as a great selection of jewelry, handbags and other accessories for both men and women. Their friendly sales associates are well-versed in all of their styles and brands and always willing to help.
Your ads will be inserted here by
Easy Ads.
Please go to the plugin admin page to set up your ad code.
Perfectly situated just steps from the Damen blue line stop, City Soles has found success in its Wicker Park home for 18 years now, perhaps because of the vast spectrum of clientele that it serves.
"We cater to everyone from young girls to 80-year-olds," general manager Tarri Breeden said. "There really is something for anyone who walks in."
While the shoes are great, what really caught our eye was the distinctive jewelry in the store. City Soles features a number of Chicago-based jewelry designers, as well as a fewfrom out of town and even international, with different lines and pieces being rotated frequently. As with their shoes, you'll find rings, necklaces and other beautiful pieces — from more traditional to bold and funky.
The wide range of pricing is another excellent feature of City Soles. Their shoes start at around $20 and hit every price point up to $700, so you can pop in for an inexpensive pair of sneakers or spend your hard-earned paycheck on those pumps you've had your eye on all year.
If you're hesitant at all about your fun new kicks, don't worry. City Soles boasts a "compliments guarantee" on any new pair of shoes you purchase. If you don't get feedback from your "fans," as they say, they'll discount your next pair; that's how confident they are.
— Taylor Tolbert
Your ads will be inserted here by
Easy Ads.
Please go to the plugin admin page to set up your ad code.