Inside Scoop: The Chicago Riverwalk, summer film series, new Manet exhibit at the Art Institute and Navy Pier's new rooftop venue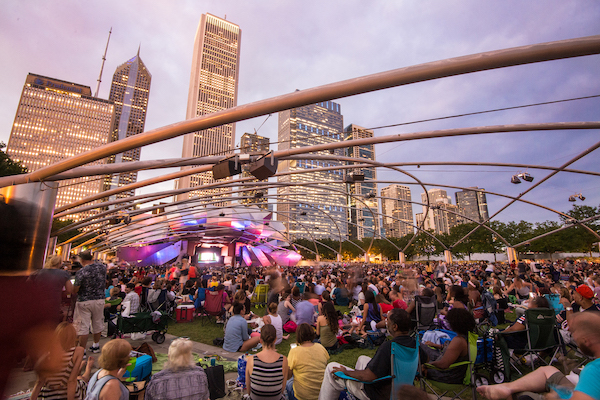 By Trent Modglin
Millennium Park Summer Film Series
A very popular experience at the Pritzker Pavilion throughout the summer is the Millennium Park Summer Film Series on Tuesdays. Bring a picnic, kick back and take in a flick — from family classics to cult favorites and blockbusters. The crisp images from a state-of-the art 40-foot LED screen and the concert hall-quality sound from the Pritzker Pavilion provide a memorable movie experience. Films begin at 6:30 p.m. Upcoming showings include Frida, Wonder Woman, The Wiz, 10 Things I Hate About You and more.
Grant Park Music Festival
You know summer is in the air when the Grant Park Music Festival kicks off in the Pritzker Pavilion in Millennium Park. For more than 80 years, this weekly music festival, with an evening in downtown Chicago as the perfect backdrop, has captured the hearts of locals and visitors alike. The festival's 30 free concerts generally run Wednesdays and Fridays at 6:30 p.m. and Saturdays at 7:30 p.m. through Aug. 17 and include Tchaikovsky's Swan Lake, Gershwin's Piano Concerto and Beethoven's Missa Solemnis, among others. For information about the Grant Park Music Festival, visit GPMF.org
Chicago Riverwalk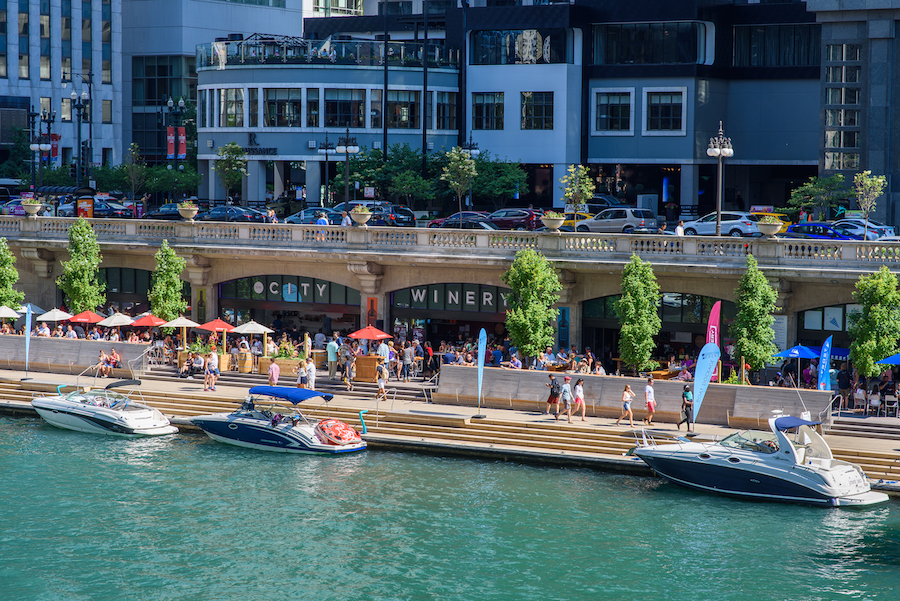 The Chicago's Riverwalk is the kind of place that, if you didn't know it was there, could easily be missed. And that would be a big mistake. Because trust us, you don't want to miss the Riverwalk. Especially in the summer.
The Riverwalk, if you don't know by now, is a winding, open-air 1.25-mile pathway located on the south bank of the main branch of the Chicago River, running from Lake Shore Drive to Franklin Street, beautifully connecting the lakefront with the heart of downtown.
Officially opened in 2015, it's been a popular outdoor escape for locals and tourists alike, full of city energy and relaxation potential at the same time. There are boat excursions to be taken, restaurants and bars to be visited, live music to be listened to, and tours, kayaks and leisurely strolls to be enjoyed. And did we mention it's one of the best places in the city to just sit back and people watch or soak up the parade of boats floating by and other incredible sights?
So the next time you're downtown, be sure to take time to traverse down a flight of stairs and discover the vast entertainment possibilities of the Riverwalk, quietly nestled just below the bustling city. But beware: You may not want to make plans for later in the day, because the Riverwalk has a way of keeping you occupied.
Along the Riverwalk, there are boat excursions to be taken, restaurants and bars to be visited, live music to be listened to, and tours, kayaks and leisurely strolls to be enjoyed.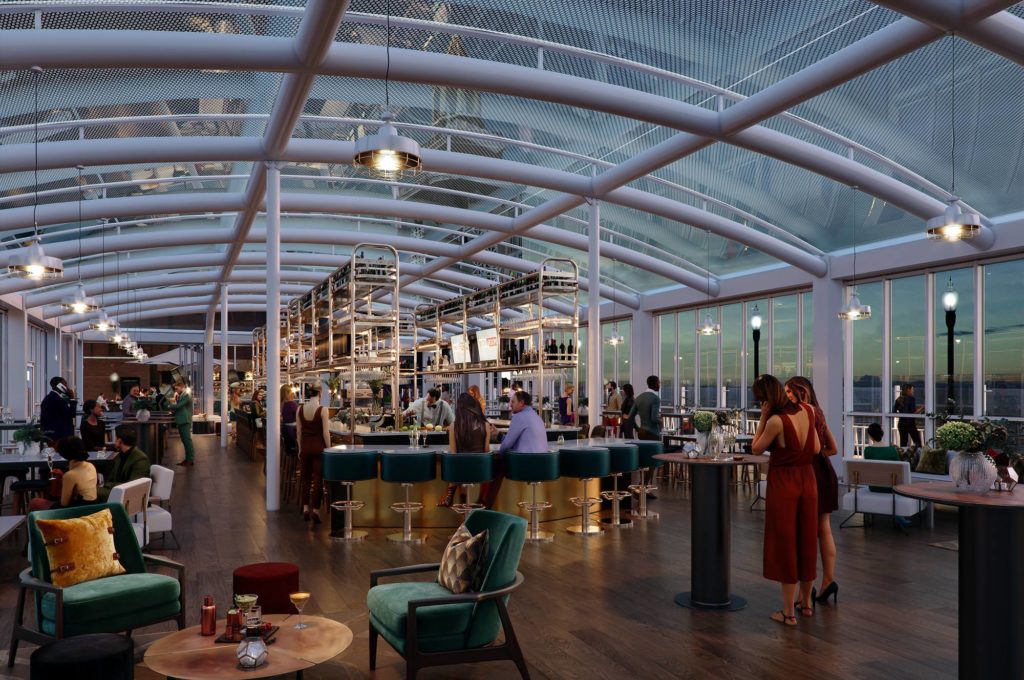 Offshore, the nation's largest rooftop venue, opens on Navy Pier
An exciting new addition to Navy Pier this spring is Offshore, the largest rooftop venue in the entire nation. Perched atop the third floor of the Festive Hall, this stylish 36,000-square-foot all-season space offers a splendid panoramic view of the skyline and Lake Michigan, as well as a radiant bar and impressive culinary team. This summer, Offshore's 20,000-square-foot terrace — with its entertainment and gaming area and seven fire pits — figures to be a popular hangout spot for sure. NavyPier.org
Wired to Wear at the Museum of Science and Industry
Chicago's world-renowned Museum of Science and Industry offers a plethora of vibrant learning opportunities about spacewalks, the science of storms and German submarines from WWII. Brand new at the MSI is Wired to Wear, an 8,000-square-foot exhibit that highlights how wearable technology — smart clothing and devices that are designed to expand the capabilities of the human body and make us safer, stronger and healthier — is redefining what we previously believed was humanly possible. Featuring more than 100 inventions from brands, artists, designers and engineers hailing from 15 countries, this exciting new exhibit represents many of the most innovative ideas from this emerging field. Jackets that help you see in dark areas, tattoos that turn the body into a musical instrument and jet suits that travel at more than 30 m.p.h. — the future is here. This exhibition is not included in museum entry and requires an additional, timed-entry ticket. 5700 S. Lake Shore Dr. MSIChicago.org
Manet exhibit at the Art Institute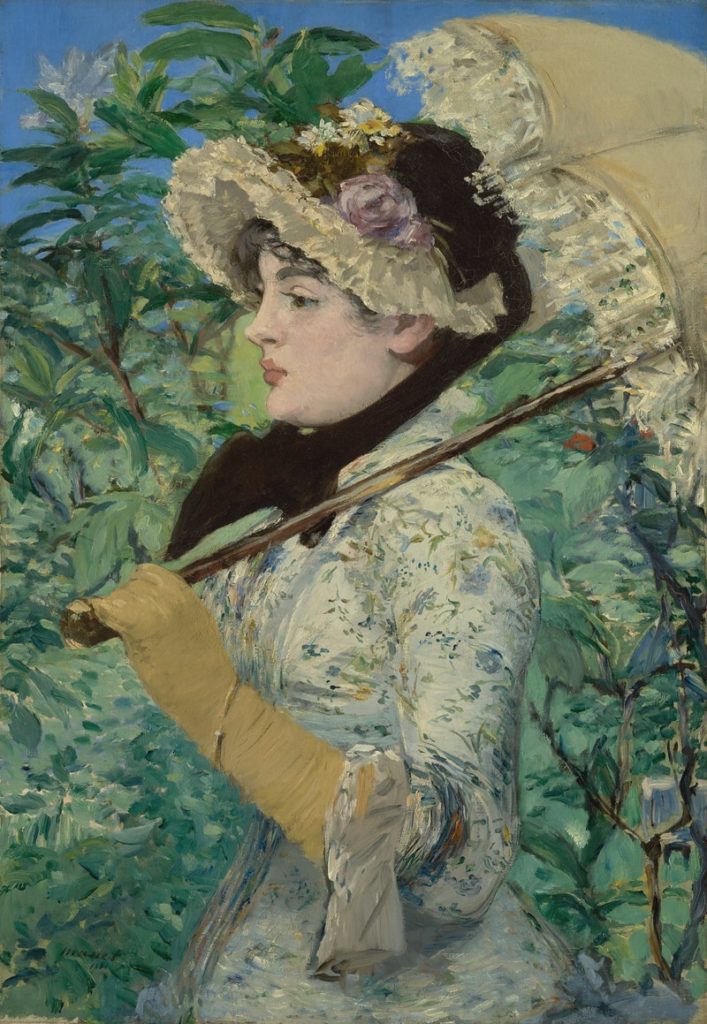 The famed Chicago Art Institute is home to one of best, most expansive art collections anywhere in the world — and exploring it can easily occupy an entire day if you allow for it. Having just opened in late May is the highly anticipated Manet and Modern Beauty display, the first exhibit the Art Institute has devoted exclusively to Edouard Manet in more than 50 years. It's focused on an important period in the painter's career when, by the late 1870s, he had begun to transform and focus his artistic style toward a combination of modern art and fashionable femininity.
From striking portraits of beautiful women to intimate letters and floral illustrations, the exhibit showcases Manet's influence on the impressionists and sensitivity to the changing times. Enhance your visit throughout the museum with an audio tour or the Art Institute's free app. 159 E. Monroe. Artic.edu
Chicago Detours new West Loop food tour
Offering fun and educational guided walking and bus tours of Chicago architecture, history and culture, Chicago Detours (and its five-star ratings on Yelp and TripAdvisor) takes aim at much more than just the highlights. On the popular Factories to Calories Fulton Market food tour, visitors will explore the dramatic transformation of the city's most rapidly booming neighborhood — the West Loop and Fulton Market District — during a one-mile stroll. Catch a glimpse of the area's factory and meatpacking history while enjoying a taste of its impressive gastronomic present and future with stops at Publican Quality Meats, J.P Graziano sub shop and Haymarket Pub & Brewery, where you'll get to sample some specialty food items. 312-350-1131. ChicagoDetours.com