The Chicago Insider: Beth Gibbs on Gene & Georgetti's steaks and shopping on Southport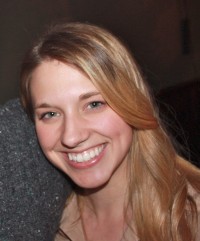 Ever wish you had an active local's opinion on how best to enjoy your own city? We have too, so here are some answers
Name: Beth Gibbs
Age: 26
Occupation: Consultant
How long you've lived here: Going on four years.
What you like best about Chicago: The fact that it is a big city with tons of things to do, but with a Midwest culture.
Best meal you've had recently: I recently discovered Las Tablas which is a Columbian steakhouse in Lakeview. Great sangria (by the pitcher), and their skirt steak is to die for with a top-secret rub.
Favorite big-name restaurant: Gene & Georgetti. Best steak I have ever had.
Favorite "hidden gem" restaurant: Not sure if it is "hidden" per se or just new, but the restaurant Southport and Irving has a great brunch ($10 bottomless mimosas), weekly dinner specials and just all-around good food.
Best sports bar to catch the game: Kirkwood, but maybe because it is an Indiana bar.
A great night out with friends usually includes… enjoying one of the many BYOB restaurants in Chicago, potentially a few beers at a great neighborhood bar, and then unlimited laughs at a friend's rooftop deck.
Favorite store or best shopping area: The Southport Corridor in Lakeview has some great boutiques and several cute accessory stores. Plus, when you get tired of shopping, there are plenty of bars, restaurants or coffee shops to pop into.
The best way to spend a winter Saturday in the city: Going to a nice, long brunch at one of the many great places in Lincoln Park/Lakeview and then hitting the ice rink at Wrigley Field.
One thing every visitor must do here: Get out of downtown. There are so many great neighborhoods where you can find great food, fun bars and cool shops. Without it, they are not really seeing the real Chicago.
Secret Chicago spot: I am not sure how secret it is, but I just recently went to a Chopping Block cooking class, and it was amazing. The instructors were energetic and fun, and the food turned out delicious.
Underrated activity in the city: The touristy things in the city. As a local, sometimes it is fun to pretend to be a tourist and learn a little bit more about the city.