First Look review: Crude, outspoken and incredibly funny, "The Book of Mormon" lives up to the hype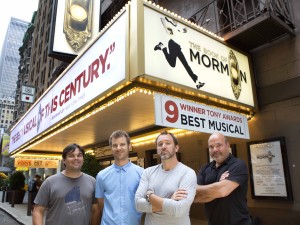 Living up to the hype and more, the 'South Park' creators bring their incredibly funny — and outspoken, flippant and crude — musical to Chicago
By Leah Karabenick
Playing at: Bank of America Theatre, 18 W. Monroe.
When: "The Book of Mormon" is slated to run through at least June 2. Broadway in Chicago will conduct a pre-show drawing at the box office, making a limited number of tickets available at $25 each. Entries for that day's performance will be accepted in-person when the Bank of America Theatre box office opens each day. Two hours before curtain, names will be drawn at random for a limited number of tickets at that price. Winners must be present at the time of the drawing. Otherwise, performances are currently sold out through March 3, but tickets are still available March 5-June 2.
History: Emerging on Broadway in March of 2011, "The Book of Mormon" has become what publications such as the New York Times, have dubbed "the best musical of this century." With nine Tony Awards, a Grammy and the highest-charting Broadway-cast album in more than four decades, the irreverent comedy is having a pretty nice run. It has been featured on stages in New York, Chicago, Denver and LA, and it's expected to debut in London at the end of March.
Basic storyline: Brought to you by Matt Stone and Trey Parker, the creators of the ground-breaking TV show "South Park," "The Book of Mormon" follows two Mormon missionaries from Utah to Uganda, where the locals live in fear while under the rule of a vicious warlord. The missionaries — Elder Price, the overachieving egocentric and Elder Cunningham, the endearing moron — naively set out to acclimate new recruits who remain much more preoccupied with the realities of AIDS, famine and poverty. The Elders' "This is going to be just like The Lion King" enthusiasm is promptly squashed upon realizing that their mission is seemingly impossible. Their journey is not without self-doubt and growth, an appearance by Satan, and a lot of humor, as Parker deems it, "at God's expense."
What to expect: If you're not easily offended, you can expect to partake in a two-hour, full-audience symphony of uncontrollable, continuous fits of laughter. Thus resulting in impeccable abdominal muscle definition. Also, expect to shake your head and feel slightly guilty for laughing at some of the jokes, but rest assured, most everyone else in the theater is on the same page.
What stood out: Comedic, envelope-pushing genius and shock factor aside, "The Book of Mormon" features truly astounding vocals and brilliant acting. Additionally, there might be a memorable song about having intercourse with frogs, but I don't want to give away everything.
Final thoughts: "The Book of Mormon" is outspoken, flippant and crude, but it's just so ridiculously funny. So whether it means skipping the presents this holiday, turning your rent in late or getting a second job, I would suggest shelling out the scalper's ticket price. "The Book of Mormon" was hands-down the best play I've attended in all of my years.
Visit www.BroadwayInChicago.com for ticket information.